Lucky ones are those who started to use internet back in the 1990's, when majority of domain names were only starting to get grabbed up. These days, finding a good domain name is not an easy task, especially when it comes to finding one for your new business or project.
Even the name CodeCondo came about by pure guessing and creativity, the site was definitely going to be about "code" related things, and "condo" simply adds that nice touch of being a place to check out once in a while. You can, of course, try and buy a domain with a significant margin, but let not that bother you too much.
Read more: 9 Typography Apps and Tools for Web Designers
There are still tools and scripts out there that will help you to find good domain names for a reasonable price, which is what this post is going to be all about; how to find a name for your upcoming business or project. Hope you enjoy and let us know what kind of names you were able to come up with.

Lets get all the hip stuff out of the way straight away. The following generator can be used to generate Hipster-ish brand names that are available for domain registration as well. Some of the names are actually quite decent, but if anything – it might inspire you to go after a name that you perhaps wouldn't have thought of otherwise.

This is my favorite one, because it allows for a lot of flexibility and you can actually find genuine, usable domain/brand names through using this tool. Enter your keyword and select the options to begin your search. Easy as that.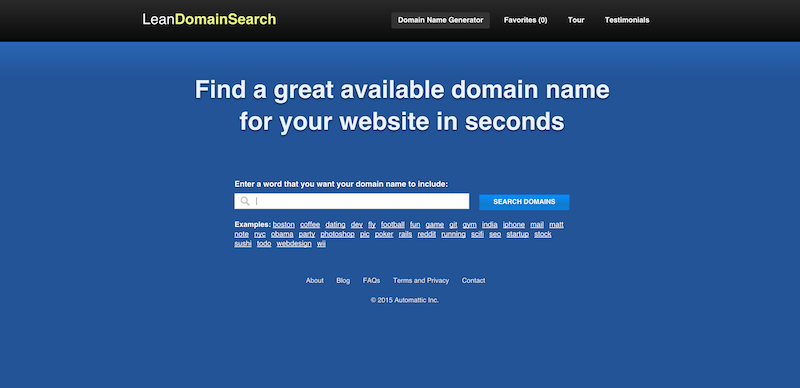 Another great domain/brand searching site. You only have to enter a name or a phrase that you're after, and the output is all the available domains containing that name. Some of the searches I did returned thousands of available results, definitely worth spending time on.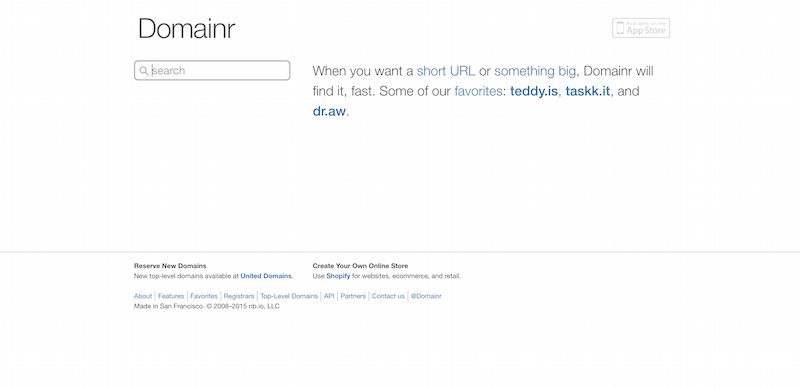 If you're after funky and clever domain names, Domainr is a good place to begin your search. We're already aware of domains such as Dr.aw, and Ma.tt – chances are you can find something similar if you so desire.

This is more of an tool for checking whether your newly found business name is available in different extensions, and even social media. Might save you a bit of time in the long-haul.

Enter a name that you're looking for and then use the append/pre-pend features to find something that suits your current needs. A lot of randomization going on with this tool, but who knows what you might find; it certainly is easier than having to manually check all those domains yourself.

Is your company/brand name short? Some like to keep it short and sweet, definitely, so here is a a great domain searching application that only requires of you to enter a phrase and everything else is done for you. I tried it out a few times and got some good results, what about you?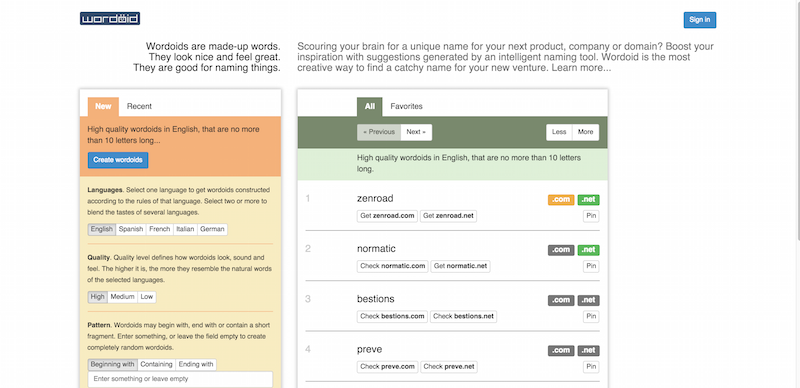 Scouring your brain for a unique name for your next product, company or domain? Boost your inspiration with suggestions generated by an intelligent naming tool. Wordoid is the most creative way to find a catchy name for your new venture.
A distinctive name may become one of your most valuable assets. Wordoid helps you find a good name by inventing new words. Automagically. They follow the rules of phonetics and roll off the tongue. They sound like real words, though you won't find them in a dictionary. Wordoid allows you create them in several languages, including English, Spanish and French.
Generating a Name for Your Business or Project
So, how was it? Do you think you've found a new favorite way of digging deep into the domains that are still available for grabs? Surely a lot of your favorite ones will have been all snatched up by now, but you never know when you're going to find that piece of diamond in a palm full of sand.