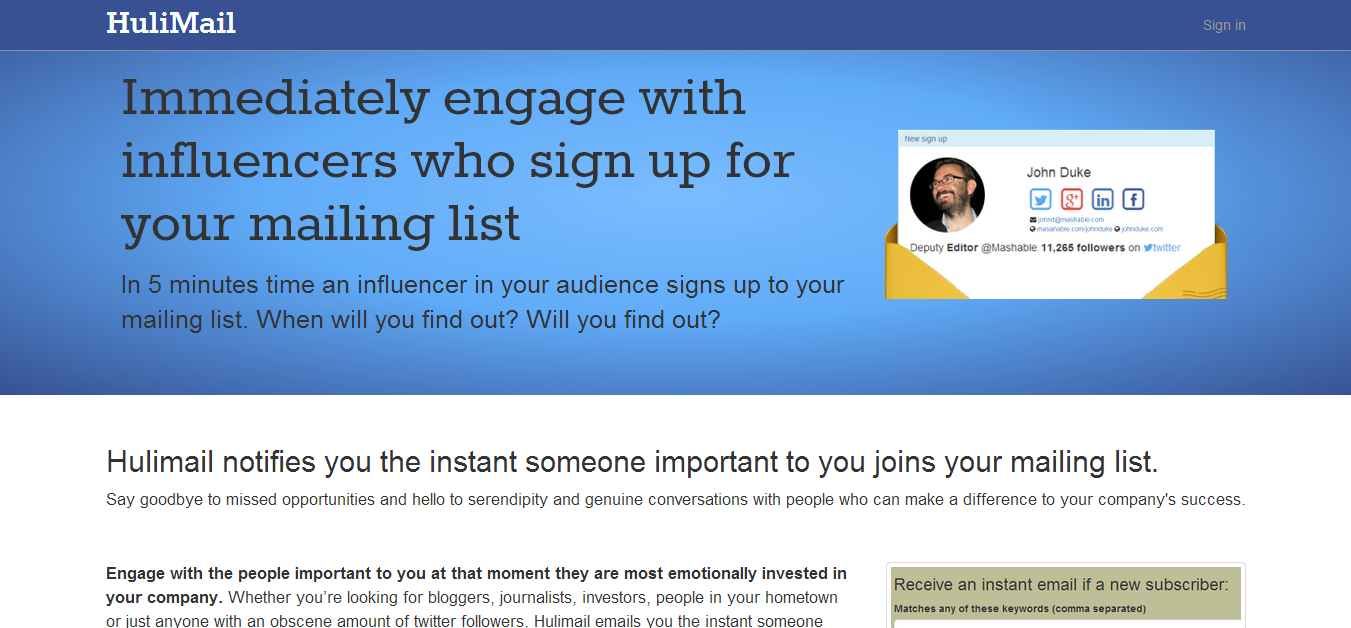 Emails newsletter service providers are always looking at ways to improve the usability and functionality of their product, to make lives easier for marketers, and bloggers who collect emails from their blogs and projects. I'm still collecting other data, and for now I'm not putting any focus on building a huge email list, but that doesn't mean I don't keep an eye on the industry and how it is evolving.
HuliMail is a new product launching really soon, offering those who collect emails – a way of connecting with specific subscribers on their list, as quickly as five minutes after their initial signup. I'm puzzled, as to how it works and where does the initial functionality comes from, but it can be integrated with MailChimp and so I'm guessing it's somehow getting the data from there.
I'm just wondering, where does the name come from – as so many email signup forms are only a single email box, and there is no name or anything else of that nature involved, I'm sure it cannot be that easy to guess the real person behind an email address. I'm hoping someone from HuliMail will join us in the comments to discuss this matter.
The above snapshot gives us a glimpse of how the platform is going to work, and how easy it is going to be to setup a campaign for monitoring influential – specific – person who signup to your list. I do like the idea and the concept, and I hope we will get to see more of this.
It's especially appealing when you think of the ever growing industry, and how meaningful content is becoming more and more important, which in turn forces people to create something that others would love to read on daily basis – and if a journalist happens to pick up your list, he is probably interested in hearing more. You can then take this to your advantage – in a smart way – and generate extra exposure!