Advanced data mining tools and data storage solutions have enabled modern businesses to store and access large sets of raw data. These huge chunks of data, when organized and analyzed in a systematic way reveal new and important business insights allowing business owners to make informed decisions and increase revenue.
Hence, there is a growing demand for data visualization tools that can allow business owners to visualize complex data and discover relevant trends and patterns within the industry. There is a range of tools available which display statistical data through bar charts, pie charts, infographics, and more. But, assessing different sets of visualized data separately does not provide the required competitive edge for businesses. Hence, what they are looking for is a platform that allows combining the results of different data analytics tools on a custom dashboard.
Thankfully, there is a range of dashboard creation tools that enable companies to visualize different sets of data on a single screen and compare the results with in-depth analysis. These platforms allow companies to create and manage multiple custom business dashboards and build analytics dashboards for various use case scenarios. So, let us check out the list of 10 such platforms that allow generating custom analytics dashboards based on various metrics related to marketing, SEO, resource allocation, sales, and more.
1. SignX (Old eSign+)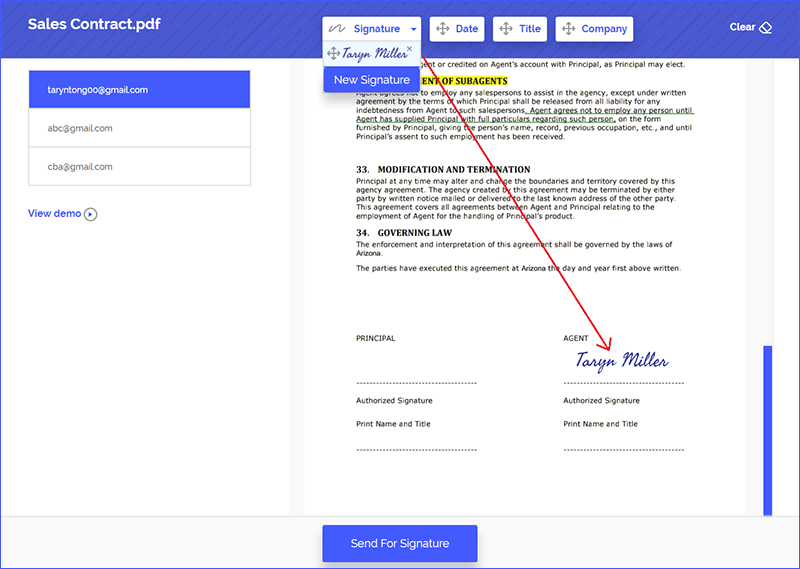 When it comes to having a top-notch dashboard that makes electronically signing documents very easy, SignX is just one of the best. SignX has a lot of easy to use features on its dashboard that is just ready to use to complete all e-signature solutions. There is a bulk send feature that can be used to send documents to multiple signers and there are also reusable templates that are used to simplify business processes. On the SignX dashboard, you can manage multiple users in your admin account using the multiple users support feature. On SignX, you have the opportunity to view your dashboard live on a monitor in such a way that enables you to get a birds-eye view of your document status and your sharing activities.

HappyMetrix is another prominent tool for building data analytics dashboards using key metrics. It offers several ready-to-use data widgets as well as dashboard templates which allow creating beautiful custom data dashboards with ease. The tool also integrates with a range of platforms like Mailchimp, Facebook, and Google Analytics. Besides, Happy Metrics allows sharing data dashboards with others over the web or export as a PDF. The tool has a presentation mode that enables viewing live dashboards on a large display, monitoring key metrics, and managing multiple dashboards.

DashThis is one of the best tools for delivering data visualization solutions for enterprise-level companies as well as small businesses. The tool has been designed for digital agencies to effectively gather client data and demonstrate it in the form of visuals through reporting dashboards. The tool also generates a specific URL on dashthis.com as well as allows creating a custom URL that represents the company brand. Besides, DashThis offers a ton of other great features, such as scheduling and mailing lists, ready-to-use widgets for easy chart creation, and web analytics reporting for SEO, PPC, and social media websites.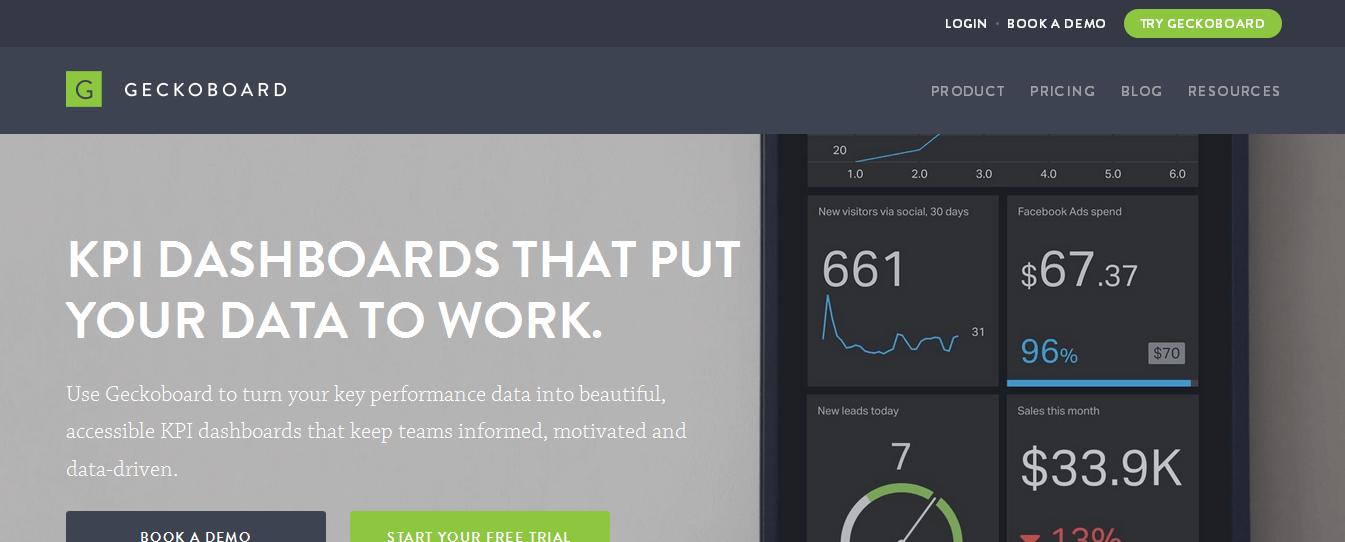 Geckoboard is one of the most widely used enterprise-level analytics platforms in the market. The platform allows creating custom dashboards using pre-built widgets and templates. Geckoboard offers 60+ in-built integrations with third-party tools like Google Analytics, Salesforce, MailChimp, and Zendesk which allows adding custom data into the dashboards. Besides, the platform provides other features, such as KPI dashboards, multi-dashboard view, support for adding custom CSS, and more. Geckoboard is an ideal solution for generating KPI dashboards using specific metrics for sales, operations, support, and marketing.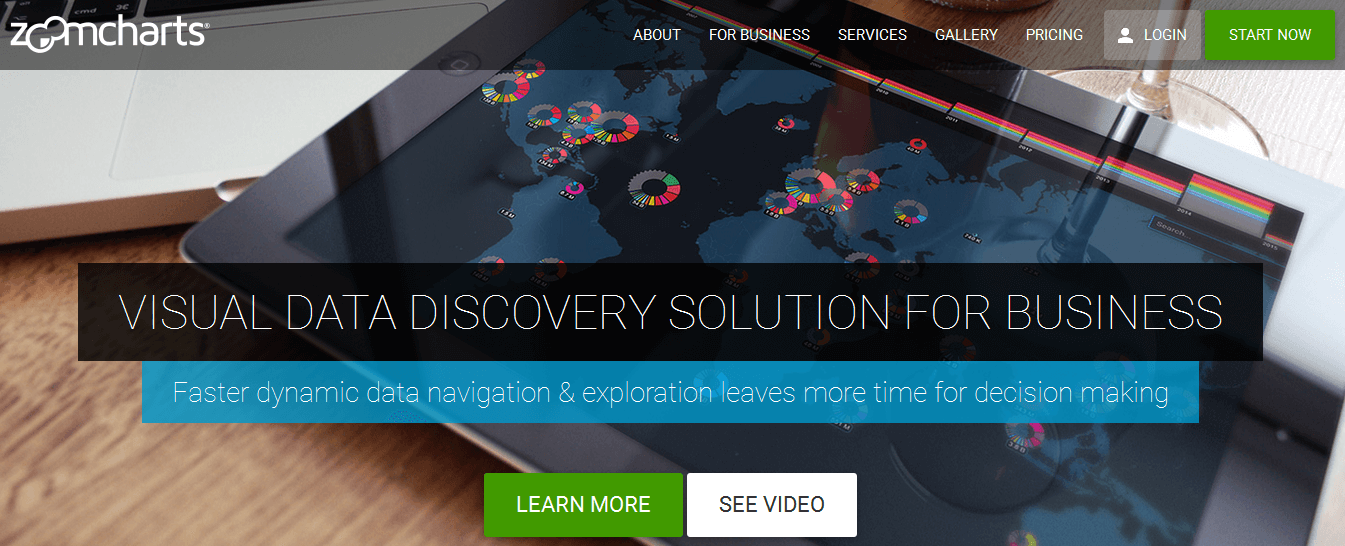 ZoomCharts is one of the leading analytics platforms that deliver business intelligence and data visualization solutions to modern businesses. The platform uses JavaScript and Canvas to render a variety of charts, including time, net, pie, and geo charts. Besides, it allows creating an array of custom dashboards and works with various databases, such as MySQL, PGSQL, MongoDB, Oracle, and Excel. The platform is optimized for various touch-screen devices and web applications and supports multiple operating systems, such as Windows, Android, and iOS.

MicroStrategy provides cloud-based, advanced analytics solutions for large enterprises and modern businesses. The MicroStrategy platform integrates with a range of databases and offers pre-built tools for creating insightful data visualizations. It also allows creating a variety of custom dashboards for delivering business intelligence and data reporting solutions. Moreover, MicroStrategy enables modern businesses to build enterprise-level productivity, security, and analytics applications.


Google Analytics is another powerful platform for performing data analytics and creating data visualizations for start-up firms, small companies and large enterprises. The platform allows creating custom analytics dashboards as well as interactive reports and charts using pre-built widget types. One can also use dashboard configurations of shared dashboards created by others. Google Analytics is widely used by content marketers, SEO professionals and business owners for creating custom dashboards for data discovery and analytics solutions in various scenarios, such as measuring conversion rate, measuring the number of active users, performing keyword searches and more.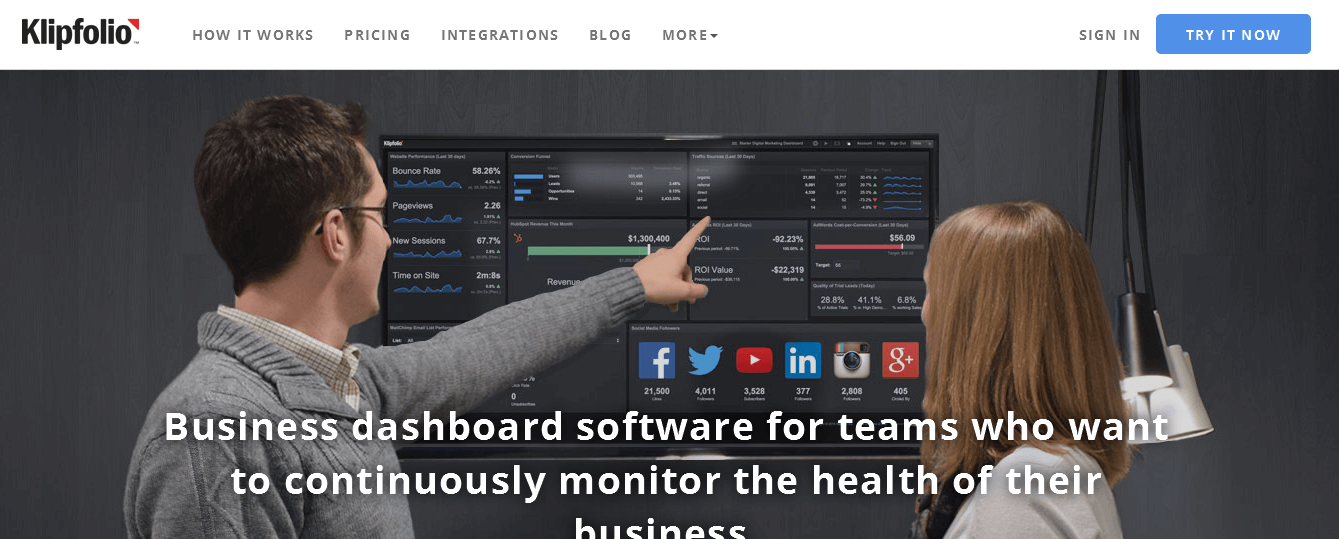 Klipfolio allows building custom business dashboards for a range of departments and services, such as marketing, sales, operations, customer support, user experience, and more. The platform also allows integrating dashboards with a range of analytics and productivity applications, such as Buffer, Adobe Analytics, Bitly, Basecamp, Asana, and Freshdesk. Klipfolio provides a huge library of pre-built metrics and visualizations for generating custom dashboards, which includes 300+ templates for monitoring over 50 services. The platform integrates with several cloud applications, databases, and file-sharing services offering a huge selection of data sources for creating analytics dashboards.

Cyfe is a robust online business dashboard software application that allows monitoring a range of data types in various categories, such as marketing, social media, sales, analytics, support, infrastructure and more.  Cyfe offers a range of pre-built widgets for dashboard creation from popular service providers, such as Salesforce, Google Adwords, FreshBooks, Instagram, Twitter and more. It also provides other good features like custom widgets, custom data sources, real-time reports, multiple data export options and support for TV mode.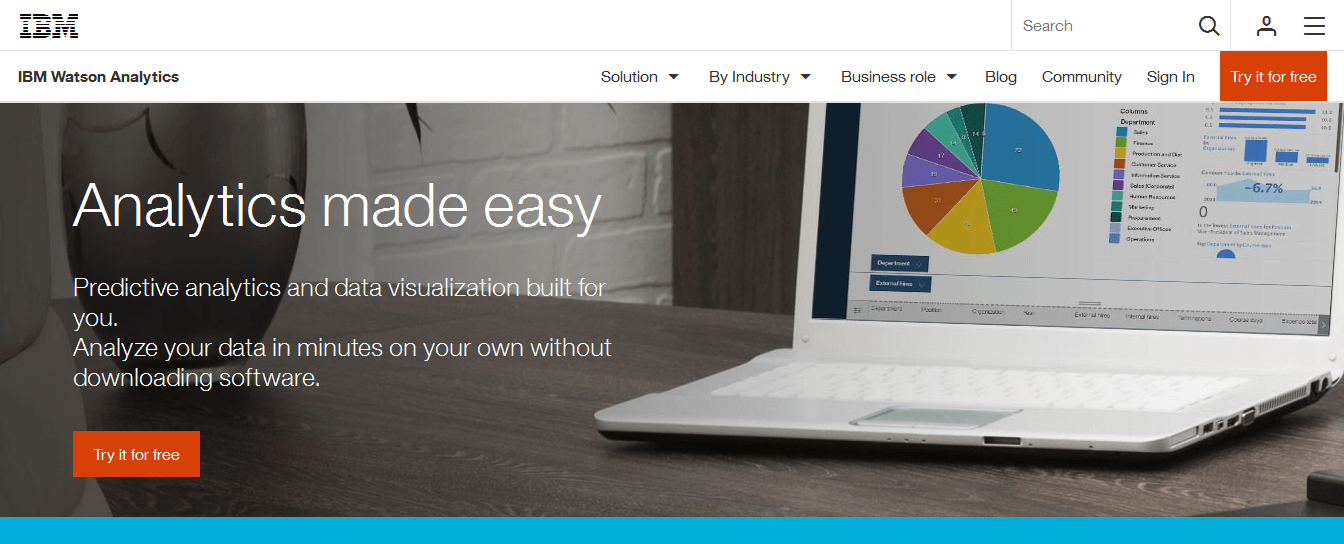 IBM Watson Analytics is an advanced analytics platform for delivering enterprise-level, data exploration and data visualization solutions. It is a cloud-based data discovery service with robust capabilities which allows creating interactive dashboards and infographics with ease. The application performs advanced predictive analytics for a range of industries, such as banking, insurance, education and telecommunications. One can create compelling infographics and custom dashboards which reveal important data trends and insights from various business perspectives, such as marketing, I.T., sales, HR, Finance and Operations.
Conclusion: –
I am sure that the names mentioned in the list will prove to be useful for companies who want to leverage the power of data discovery and analytics for enhancing their business revenue prospects. Most of the platforms offer different premium plans depending upon the nature of the business goals. Moreover, certain features like integration with specific applications and support for building mobile applications may vary according to different platforms. So, it is prudent for business owners to do their bit of research before choosing the best suitable platform. There are several different dashboard creation tools in the market. So, if you want to mention any new name or share any feedback, then you can write in the comments section below.