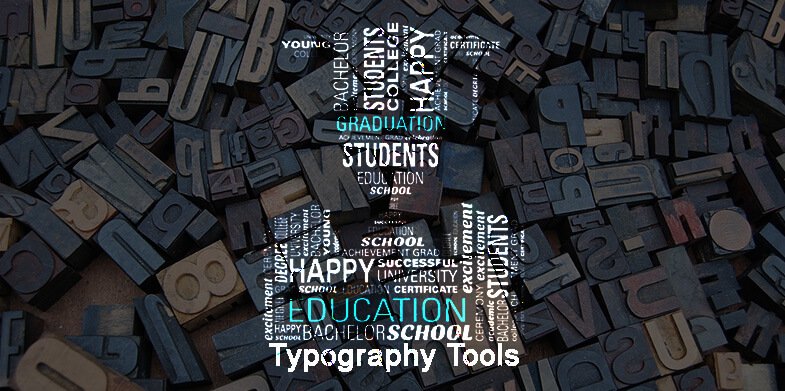 Modern web development technology plays a huge role in enhancing the overall user experience of the web, be it websites, web apps, games or blogs. It allows digital marketers and web designers to produce and publish quality content that engages online visitors and delivers a great user experience in reading, navigation or browsing. Through modern animation and graphic design effects, website owners are now able to enhance the visual appeal of a user interface. Today, there are several software tools as well as web-based solutions which cater to the web design and digital publishing needs of business owners. Web designers and web content publishers focus on the role of various UI elements in delivering a good user experience.
Fonts are an important part of any digital or creative project, be it blogs, banners, advertisements or presentations. It is an important UI element which influences the overall visual appeal of every content copy on the web. It determines the readability, user experience and engagement factor. Today, there are a range of web-based tools which can help website owners, digital marketers as well as web or graphic designers in their web projects. Similarly, there are some popular web-based typography tools which can come in handy if we want to increase our understanding about various typefaces, font combinations and such other aspects which are important in web designing or publishing. So, let us check out 10 web-based typography tools for web designers and digital marketers.

Typecast is a useful tool for web content publishers which allows access to over 90,000 web fonts. Content marketers can easily customize various style and size elements, such as layouts, pixels, text size, letter spacing and line height. Typecast allows designing HTML/CSS prototypes of web pages with images, lists, page borders and buttons. One can also customize HTML elements, add custom CSS elements and share prototypes by URL.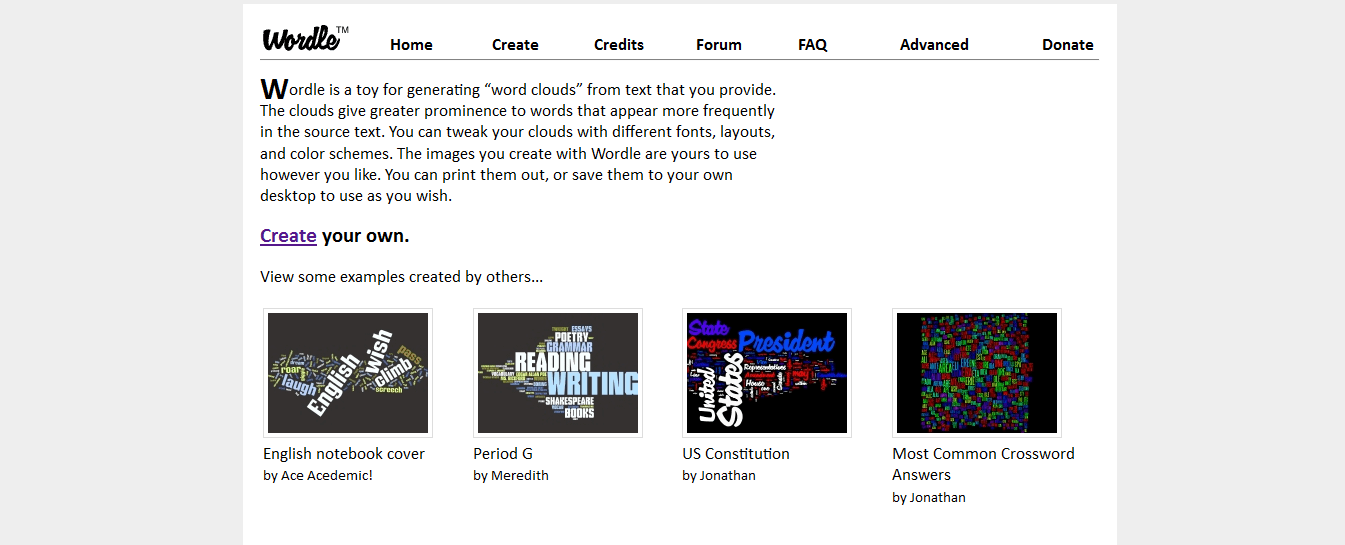 Wordle is a fun tool which creates beautiful word clouds from any given text. It is a useful tool for bloggers and social media writers to generate images of interesting word clouds and use them in their posts. Wordle generates an image file for your word cloud which you can save or print as well as use it for personal or commercial purposes. Content marketers and web designers can experiment with different word clouds using features to customize fonts, layouts and colors.

Fontshop is a huge online repository of different types of font families, foundries and font types. Web designers and digital marketers can check out different font types from a selection of web fonts and can buy them for their web designing projects. A free plugin called Fontshop Plugin CC is also available which allows previewing over 150,000 fonts directly from within Adobe Creative Cloud. Fontshop provides a variety of fonts under various categories, such as Featured Fonts, Web Fonts, Free Fonts and more.

If you want to quickly test a bunch of fonts and see how they look on your website then you should check out Typewonder. It is a tool which allows web designers to preview over a hundred fonts by simply entering a website's url and the website generates the respective code for making it easy to embed in to websites. Typewonder extension is available for Google Chrome and support for Firefox and Safari will be included soon.

The State of Web Type is a hands-on resource to find information on browser support for type and typography features. Web and font designers can look for information in categories, such as font kerning, font family, historical ligatures, CSS font loading and more. The tool offers information about support from various browsers and their versions, such as Google Chrome, Firefox, Opera, Safari and the Android Webkit.

Fontstruct is an amazing tool for font designers and digital marketers to create fonts using geometrical shapes. Designers can download their newly-built fonts as True Type Fonts and can use it in their projects. One can keep their fonts private or can share with other users as well as explore thousands of fonts in the font gallery created and shared by other Fontstruct users.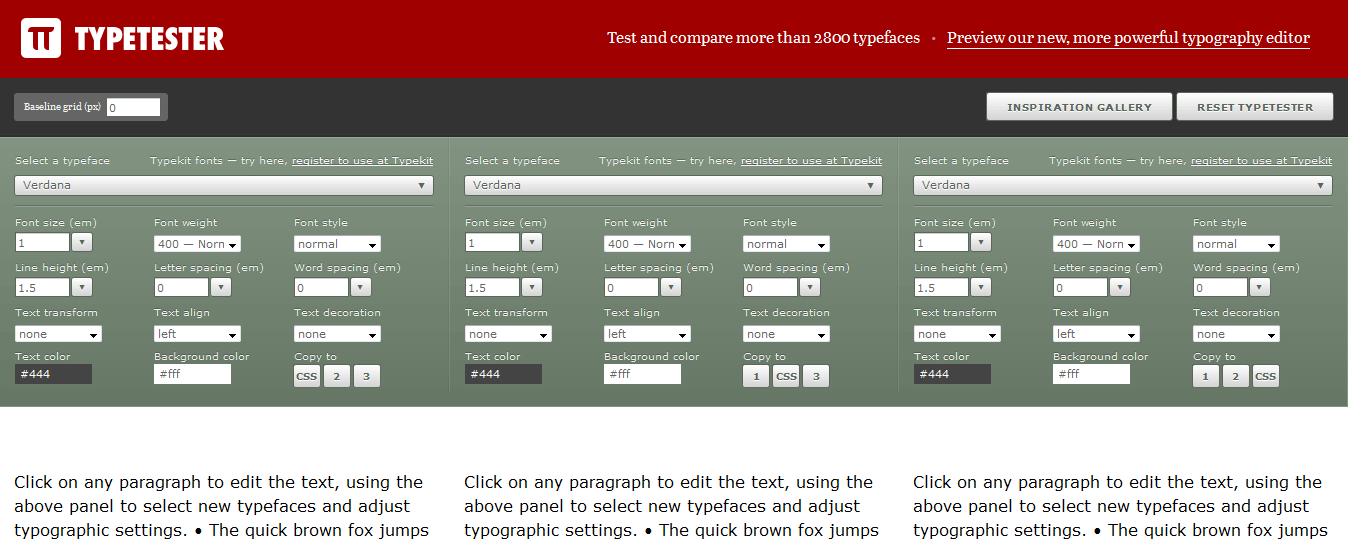 Typetester is a popular web-based tool which allows previewing and testing over 2800 typefaces for web projects. It allows content marketers to benefit from the availability of thousands of interesting web fonts for various digital projects rather than just relying on system fonts. The tool allows adjusting typographic settings for text and fonts, such as weight, size, alignment, spacing and background color.

Typeit is another useful tool for content publishers, bloggers and social media writers. The tool provides a web-based solution for typing foreign characters in more than 20 different languages, such as German, French, Spanish and Swedish. The tool also provides support for typographical and mathematical symbols, multiple character sets, text-editing features, various keyboard shortcuts, editing commands and special buttons.

Prototypo is a robust online tool for font designers to design their own fonts which they can use in various personal and commercial projects. It allows designers to experiment with their font design skills and ideas to create original typefaces as well as create their own custom fonts or logos for client projects. Prototypo allows customizing fonts using over 30 parameters as well as export fonts to .otf format to use in any web project or desktop application.

Fonts In Use is an online destination to find information about various popular font types in use and the industry to which they cater. It is an online public repository which is frequently updated with new additions from users. One can create an account with the application and explore the public archive as well as add fonts along with category, copyright information and more.
Conclusion:
With that we have reached the end of our list. There are several web-based tools available for exploring typography from various angles, like marketing, creative designing or advertising. If you have information about any other useful, web-based typography tools then do mention them in the comments section. Thank you.