Despite the wide variety of existing trading platforms, such as Amazon, Etsy, or Aliexpress, creating your own marketplace is a very promising area. Confirmation of this can be found on the chart from Statista, according to which, the e-commerce market has long continued to grow by 15-20% per year.
In the nearest future, we will see a rapid increase in the number of online marketplaces. This is due to the fact that more and more people want to get their share of this cake since creating a marketplace is a very profitable business. To do this, just look at the profits of existing players, such as Etsy.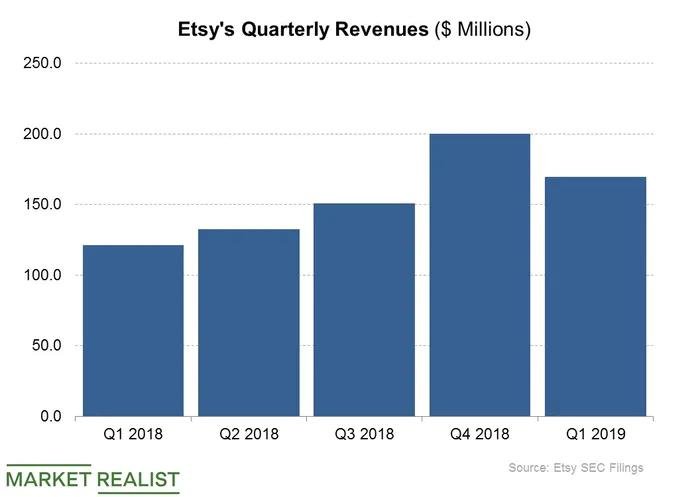 A few obvious things, but still: the marketplace is a two-way online platform where visitors can buy goods from different sellers. The site is an intermediary between sellers and buyers, sometimes performing additional functions, such as organizing delivery. Why are they so popular? Because users can buy almost any product using a convenient payment method. We can say the same about sellers. When placing goods, they do not have to spend money on marketing strategies and advertising, since the trading platform provides them with customers. Thus, trading platforms help new companies grow and increase their target audience, and new sellers attract users and increase the popularity of the platform. However, let's move from common truths directly to the development of the online marketplace.
Currently, the web development market offers several types of solutions:
Online marketplaces based on free CMS

Out-of-the-box online marketplaces

Powerful eCommerce online platforms

Custom-developed online marketplaces
Let's look at each of the types in more detail.
Trading Platforms Based on Free CMS
In the low-cost software development segment, WooCommerce for WordPress, MODx, Opencart Marketplace Extension, Multi-Vendor Marketplace, Commerce or Ubercart for Drupal are considered to be the "best" free solutions for creating online marketplaces. On the Internet, you can find hundreds of free and paid plugins for solving online marketplace tasks in the B2B, B2C, and C2C segments.
The development of such websites requires 2-4 months.
The development of marketplaces on ready-made free templates is suitable if you decide to experiment, check the market demand, or just do something interesting. Such a tool is not enough for serious business and coverage even of the local market. Those who ventured to start a trading business on free CMS, either two years later ordered a new site or remained in the fourth or fifth echelon.
An experienced owner of such an online marketplace will name the following problems:
The platform stops working when the number of products and customers increases.

It is almost impossible to create and implement non-standard functions necessary for business development.

There is a serious threat of hacking, especially when you have achieved success and become noticeable.
Out-Of-The-Box Online Marketplaces
The software development market offers a variety of out-of-the-box solutions for online marketplaces – from dubious developments in PHP to well-known platforms. The difference in the cost of these licenses is huge. Starting from $ 2,000, with the acquisition of which you become a hostage of endless paid services, up to $ 23,000 for a rather prestigious solution. To the cost of the license, you need to add the costs of improvements and implementation.
Summarizing the experience of customers, we can conclude that the development of cheap out-of-the-box solutions is dangerous and short-sighted. The only plus is the implementation period – an average of 1 month. If the budget is small, it is better to use well-known CMS templates, which are at least well studied. You can build a business on well-known solutions, but sometimes licenses and implementation can cost more than custom online marketplace development.
Powerful eCommerce Online Platforms
Only a few companies in the world offer eCommerce online platforms for the premium market segment. Market leaders are SAP, Oracle, IBM, Magento. In addition to the high cost of these licenses, there is a limited number of good specialists who have experience in their implementation. On average, the implementation period for such eCommerce online platforms is 5-12 months, and the cost can reach up to $2,000,000.
An example is Oracle ATG Web Commerce from Oracle, designed in Java. The cost of a license starts at $ 500,000 in the first year and $ 110,000 in subsequent years. Implementing projects on Oracle will cost more than a million dollars.
The cheapest product in the premium segment is Magento Enterprise, with a cost of $22,000-150,000 per year. Phillips and Nestle's sites were developed on the basis of this PHP online platform.
Custom Online Marketplaces
Custom online marketplace development has both pros and cons. This approach allows you to get a platform that:
fully meets the specifics of your business;

meets technical requirements for processing large amounts of data;

exempts from problems of licenses and copyright issues;

allows you to automate the entire chain of order processing and trade;

allows you to

improve your product

unlimitedly.
The disadvantages are the limited number of development companies with experience in developing such complex projects, implementation deadlines, and the "high" cost of work compared to development on free templates.
Simple solutions for online marketplaces from scratch cost from $ 15,000 to $ 50,000, complex development on Node.js, with applications and various integrations can reach quite large numbers. At the same time, custom development allows you to start a project with a simple solution and add functionality as the business requires it.
Since the design, user interface, and most of the functionality is developed independently or with the help of a technical partner, you can make the site unique and maintain flexibility in the development process and the subsequent development of the platform. Although this development approach is relatively expensive and requires three months or more, it is still the best choice if your project is advanced, innovative, and requires a special approach.
Tips to find top developers for the online marketplace
To get a working website and not be left with nothing at the very end, you need to approach the selection of a contractor with special care and request a quality guarantee directly in the contract, for example, a

code warranty

.
Look for those who offer expertise and solution options. A really good team will not only do its job according to

project specification

 but will also help you determine the most optimal way to solve the problem.

Explore history, portfolio, and company reviews. If a company has not developed anything more complicated than an online store, you should not trust it with the creation of a custom online marketplace. Experience is capital. You need to consider that it is normal when this capital raises the cost of development services. The main thing is that the team offers expertise at the proper level.

Do not neglect the drafting of legal documents. It is better to draw up 2 contracts: for the creation of technical specifications, design, and architecture, for the final calculation of value and then for the provision of services. All project documentation must be created before the start of the project.
What is important to do besides finding artists?
In parallel with the development, prepare a launch plan: create a timeline, identify the main marketing messages, and the main channels that you will use. Different industries/regions/markets require different launch strategies – try and choose the most suitable one.

Senior developer Roman Vandolyak from MassMedia Group also advises thinking about competitive advantages. How will your marketplace be fundamentally different from the others on the market? Focus on these benefits.

If you have conducted market research (and by this time you should have already done it), then you know your users well. Speak to them through social networks and advertising.

Follow these recommendations and by the time the first working version is ready, you should have formed a group of users interested in the project who will be ready to join the platform.
***
Developing an online marketplace is a complex and responsible process that can take up to six months and cost quite a lot of money. Therefore, before starting development, carefully analyze the niche, determine the strategy of the online marketplace, as well as the means of monetization. With the right calculation, the right marketing, and PR events, the ROI of the marketplace will be from about 1 to 3 years, and then the platform will work for a profit. Of course, this is only in the case your online marketplace is really good from the technical and marketing side, and the chosen approach to development is successful.
It's up to you, but our experience in e-commerce projects and the feedback from our customers show that of all the above options, the most optimal is to develop a custom solution from scratch since it allows you to create a truly unique competitive product.