Who doesn't like more sales and traffic. Everyone loves it. For many, it is the fuel that keeps them steering forward, rather than to steer in walls and make wrong decisions. Though, we've to ponder – which one came first. In this post, you'll find 7 Shopify Apps to help you maximize your sales and earnings.
Yes, the eCommerce platform Shopify has actually got its own app store. The Shopify App Store features hundreds of applications built by developers and agencies, specifically for the purpose of enhancing the user experience for those who're hosting their store with Shopify.
If you think that you're doing all that there is to do in regard to building more customers and visitors to your eCommerce store, then this particular post will be of great use to you, as all of the apps are specifically aimed at actionable tasks. We've got several types of apps here, including an app for better product reviews, as well as a spectacular app for building more email leads.

Email marketing is nothing new, it has been around for many years and is now starting to become more of a norm for both business owners, and those who're strictly into eCommerce; it is great to see that developers are taking the initiative to provide tools such as the one we're looking at right now.
Email Pirate is the quickest and easiest way to grow and retain your customer base. Our professionally designed opt-in forms make it easy to collect contact information and sync it to your email providers. Also increase emails collected by targeting specific user behavior and pages.
It comes equipped with some serious, useful and easy to use features, take a look:
Custom (Smart) Builder — It will enable you to build custom opt-in forms to use on your product pages. There are pre-built templates available, but you can customize to your own liking and requirements.
Targeted Exit Popup — Yes, it's sad to see a visitor go, chances are he is never coming back. Email Pirate gives you the necessary tools to target those exiting, and perhaps even capture their email along the way.
Exporting Emails — All the emails recorded by the application are stored in an CSV file which you can download, and then upload to any email service or client of your liking. Easy exporting. Email Pirate also directly integrates into MailChimp, Aweber, Campaign Monitor, IContact, Constant Contact, GetResponse and other solutions. Emails collected will automatically populate into your email lists.
User Targeting — Great feature, as it enables you to target users based on the category, product or page that they're browsing, making it easier to spread your offers.
Give & Get Back — By letting users give you their email address (subscription), you can reward them with a coupon code afterwards. They'll only see the code if they successfully signup for your email newsletter.
Custom Built Analytics — In-depth analysis of all the pages where Email Pirate! is being displayed, will give you a better understanding of what works and what doesn't. Great for improving your Shopify sales!
all of that, for just a mere $5 per month. I think it's worth the deal, and the customer reviews look really good for this app as well.

It's among the most sought after Shopify apps in the whole Shopify App Store, and why is that? The reason is quite simple, what Product Upsell does is it offers the user a product based on his current cart contents, but only when the user (customer) has reached the checkout page and is making a purchase.
A great example for this would be when someone is buying a photo camera, and as soon as he is ready to purchase – the Product Upsell will remind the customer of purchasing some batteries, whether he needs them or not. Based on the statistics alone, store owners have seen as much as 25% increase in upsell sales!
You can get it as a 30 day free trial – which should be plenty of time to see whether it is improving your sales – or you can apply for a premium version right away, starting at $10 per month. Great product, positive reviews, and plenty of data to back it up.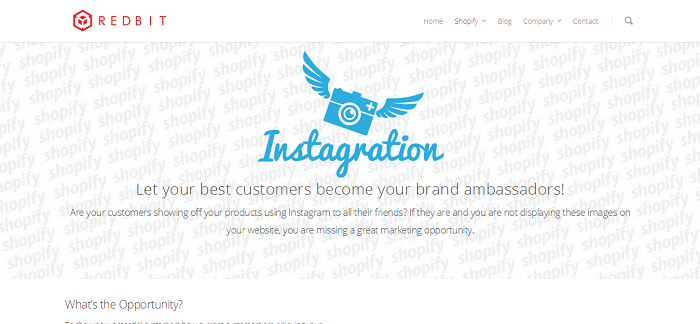 What better way to gain the attention of your users if not by helping to promote their work? With Instagration, you'll be able to connect your Shopify store to Instagram, and enjoy the multiple benefits of doing so. Those include; ability to show potential customers the products that others are already enjoying, encourage others to share photos of your products, and so in turn further promote your store.
It's not a very high-end or technical application, but it has immense promotional power and I feel that everyone should try and grab a hold of it, especially if you know that a significant portion of your customers are hanging out on Instagram.

Mandatory application for anyone who's serious about customer feedback, or looking to gain more credibility by enabling reviews. This free app – developed by Shopify – will help to add a nice and easy to use review feature to your store. The plugin has been built to be compatible with the latest Google standards, and will also include a fancy star rating feature that will show up on Google results.
The design of the review system will automatically adjust to the colors and style that your current theme is using, making it very appealing indeed.

Many times customers will go all the way up to the checkout page, only to be distracted or find that they don't have their card details at their disposal; something else comes up and they forget about the order completely. This is where you can use Abandon Aid to send out a specific email (in a timely manner) to the customer who abandoned his shopping cart.
Abandon Aid will save you time and make you money. A personalized email to prospective customers is highly effective in recovering orders and best when sent in a timely manner. Abandon Aid takes care of all of this for you. The advantages of using this app over others is that Abandon Aid offers full flexibility, and no limitations to the amount of emails you can send.

This independent company hasn't built their product just for Shopify, and if you happen to run a separate eCommerce store using different eCommerce software, you'll be pleased to know that Justuno is available for nearly every platform out there.
Justuno gives you flexibility over email leads, popup promotions, social media integration, visitor segmentation with easy to set up targeting rules, and a lot more. The product has great reviews, but I'd explore the support pages before making swift decisions; it's quite the bundle.

I've to say it wasn't intentional, but the first and last application in this list has been developed by the same team of developers. What I can say is that this app deserves to be on the list no matter what, either way. WishList + Reminder does exactly what you'd think it would. It enables for wishlists on your store, as well as gives you the ability to remind people about their wishlists.
Monitor customers adding items to their wishlists, wait a few weeks and then send them out an email – encouraging to purchase the items, and do so by adding a discount/coupon code along with it. It's basic marketing, but incredibly powerful.