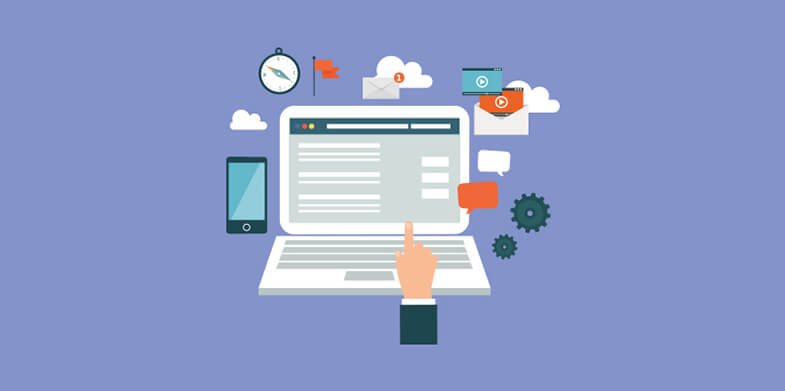 Nowadays, building a site does not require you to launch Dreamweaver and also spend your hours pouring over raw HTML codes that will ultimately form your site.  Instead, novice and experienced webmasters, alike, can now benefit from a whole lot of tools intended to make creation and management of a website as simple as possible – including everything from the web host specific website building tools to the third-party contents management systems like WordPress, Drupal and Joomla.
If you are in the process of selecting between all these diverse website design options, one great platform to think about is the famous WordPress system.  Although, it was just a straightforward blogging platform once, it has now become a perfect, one-stop solution for building nearly all kinds of sites. WordPress launched in the year 2003 now powers 1/5 of the sites on the web, which actually makes it one of the most famous content management systems. While it began life as being just a "blog software," it's now a flexible universal publishing instrument.
Whether you're an experienced website developer or making plans to start your first site, WordPress provides a lot of important advantages. Here are 8 of them:

1. It's Open Source Software
It means that WordPress costs you nothing at all to use. It's free to install, download, and utilize as you like. It costs you money only if you employ a web developer in order to create a customized theme or customized features for your site. With WordPress, you will get a product that is coded by hundreds of developers from across the world, who constantly are working in order to make it an excellent product. You benefit from their work without needing to pay any money for it. The great talent pool behind this product is one among its largest assets.
2. Creating and Editing Content is Simple
One among the numerous reasons that WordPress tends to be as famous as it's, has to actually do with its own user-friendliness. WordPress tends to be both simple to learn and simple to use, even for the beginners. As non-technical people, you can edit content on your site without needing to pay the webmaster to do so. Gone are those days when you required coding skills to do key changes. If you could use Word or any normal word processing software, now you can utilize WordPress. You can alter, add, or remove contents through your computer or even from your smartphones.
WordPress handles lots of behind-the-scenes jobs that go into operating a website. It'll automatically produce your navigation link, index your contents and make it searchable. It'll also assist you in managing users, which is among the more demanding tasks that webmasters experience. WordPress can automatically deal with a lot of users' management tasks, including keeping the track of security settings and users' permissions.
3. It Offers an Extensive Range of Functions
Together with basic features such as commenting and blogging, WordPress offers you with lots of functions through its many plugins. The plugins are extensions, which deliver added functionality. The reality that WordPress tends to be as famous as it is today has resulted in the developers creating several plugins for it. Moreover, you'll be able to produce slideshows and video galleries among lots of other kinds of content. Other famous plugins, can assist you in utilizing your WordPress website for ecommerce or offer you a much better look at the traffic. In most of the cases, WordPress plugins could be installed within three clicks.
4. SEO Purpose –Optimized Highly for Search Engines
Every site owner must keep SEO in their mind when searching for a CMS. Right out of box, WordPress provides a lot of options, which can assist you to get on the top of search engine results. Search engines such as Google have a soft spot for WordPress because of its responsive design and logical architecture. Its code is simple and clean so that the search engine spiders have no problems attempting to crawl your website. Every page and every blog post can easily be given its meta tag keywords which enables for even more accurate SEO. If you've no idea about how to utilize meta tags, then there are different plugins available which can handle them.
5. It's Flexible With Tons of Plugins
As noted in introduction, WordPress started its life as a great blogging platform but now has evolved into much more. As full-featured CMS, it's used on more than 75 million websites across the world. The websites vary largely in their functioning and range from the social media sites to sites for news and business. With the right plugins, you can even utilize WordPress to make a fully functional directory website amongst many other options. As there are such a large number of sites using the plugins, they are carefully tested and are totally free.
6. There Are Various (Free) Resources
If you want to be become a WordPress specialist, you have hundreds of blogs with guides and tutorials at your disposal. Whether you're a novice or have wide coding familiarity, there are many forums and other similar resources, which you can utilize to find help like answers to any of the questions you may have.
7. High Security
At the first glance, the reality that WordPress is an open source might appear to make it much more vulnerable to the hackers since they've access to the codes. However, its actually the opposite. The fact is that you have a big security team that's working constantly to make your site safer. The result is your blog is less vulnerable to the hackers than it'd be in case you were utilizing a proprietary CMS.
8. Truly Customizable Look
WordPress lets you create your website exactly how you want it. There's a theme for about every possible look, whether you wish for your website to look like any magazine or are creating an eCommerce website. Additionally, you can customize themes with your colors and images, since most of them have a control panel. You may even change your background, colors and fonts without having to do any coding. All of these awesome features make it a great choice for your CMS.