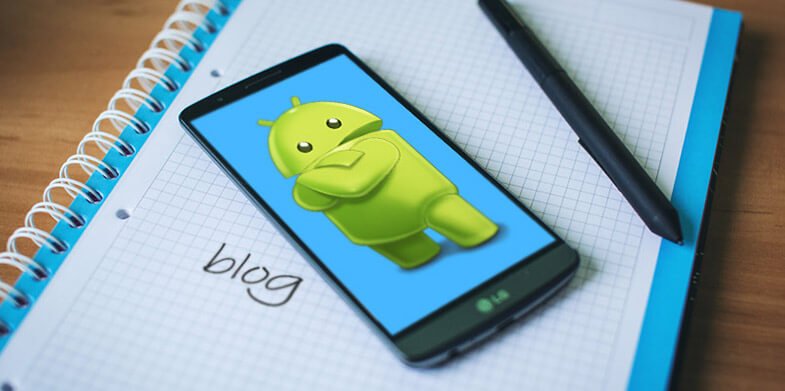 Today, blogging has assumed tremendous popularity owing to its benefits for online marketing, brand creation and dissemination of information. Blogging plays an important role in online publishing, entertainment and e-learning fields. The various types of casual, professional and technical bloggers require software tools to handle a majority of their tasks.
In this era of smartphones and mobile internet, it has become important for bloggers to build a mobile-optimized blogging site and pay special attention towards aspects, such as mobile publishing, image designing, mobile ad designing and more. Hence, using smartphones helps in managing multiple blogging accounts and provides flexibility for writers and bloggers to create, edit and publish content on-the-go. Nowadays, there are a range of mobile applications which allow publishers to provide rich mobile content experience in terms of reading and social sharing. Considering the popularity of Android platform, I have curated a list of some popular Android apps which can prove to be useful for bloggers and writers. So, let us check out the list of Top 9 Android Apps for Bloggers.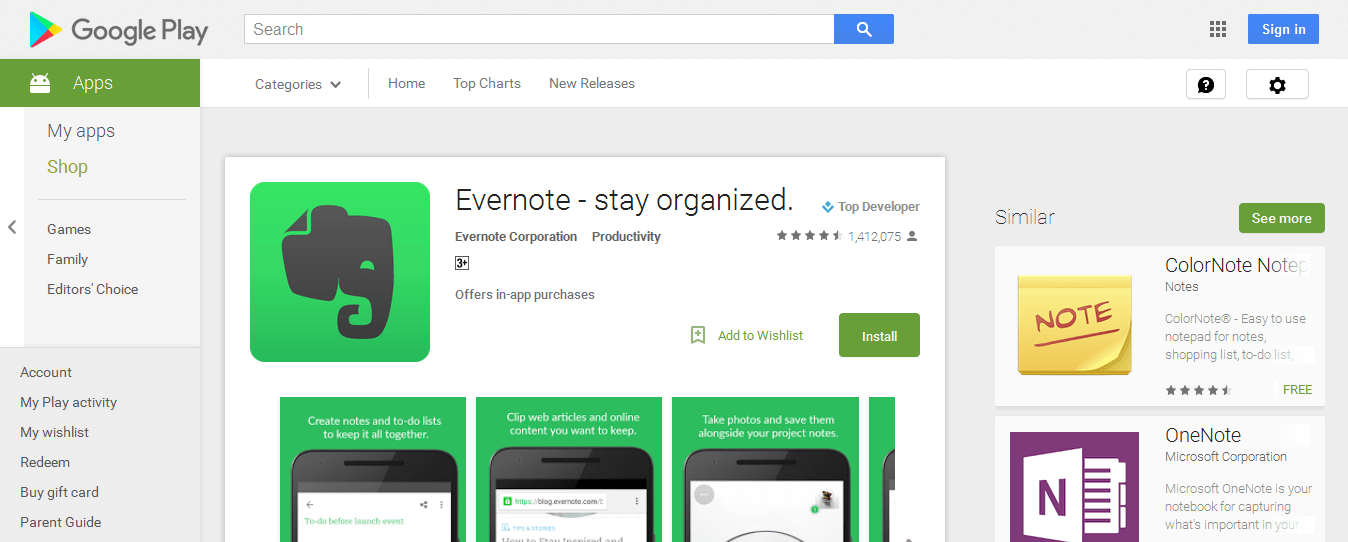 Considered as one of the most useful productivity tools for professionals, Evernote is also available as an Android app. Bloggers can use the features of the Evernote Android app to organize their workflow and increase productivity while they are away from their desktops. Evernote allows writers and bloggers to take notes and jot down ideas as soon as they come to their mind, thus enabling them to capitalize upon their periods of creativity. One can easily create to-do lists, notebooks, invoices and presentations on-the-fly. Besides, bloggers can capture notes in a range of formats, including videos, GIFs, images, text and sketches.

WordPress is one of the most preferred blogging tools for content publishers and casual/professional bloggers. A large number of Android smartphone users who use a WordPress blogging site should look no further than WordPress mobile app for Android from Automattic Inc. The app provides necessary features to create, edit and publish from your Android smart phone for self-hosted blog sites as well as those hosted on WordPress.com. Moreover, several new features have been added to the latest version of WordPress for Android, such as receiving notifications and alerts with sound, posting comments, accessing analytics data, sending invites to new users, sending messages and more.

Google's very own blogging platform called Blogger is also a popular blog publishing platform amongst a vast community of bloggers. Blogger app for Android is a must-have tool for bloggers who use Android devices since it allows composing new posts, saving posts to drafts and publishing posts instantly on the Blogger platform. The app offers other useful features, such as support for editing existing blog posts, displaying a list of published posts as well as posts saved in archives and drafts, switching between multiple Blogger accounts, support for capturing images directly from within the app and embedding images in to posts.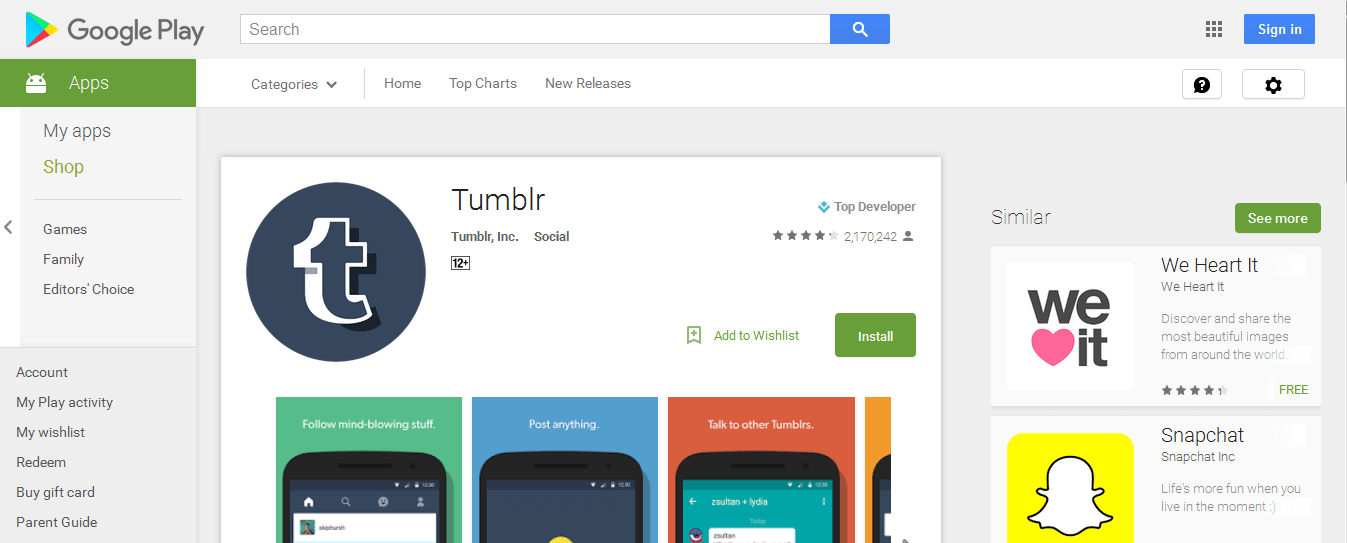 Tumblr is undoubtedly one of the most interesting micro blogging and social networking platforms which has helped popularize short-form blogging across the globe. With over 307.5 million blogs hosted on the platform and over 555 million monthly visitors, it is the go-to online destination for every blogging enthusiast. Tumblr app for Android allows posting as well as viewing a variety of content on the platform, including GIFs, videos, audio and images. Users can also post comments, share their favorite posts, send private messages and customize fonts, color schemes and header images of their profile page.

Professional bloggers, content marketers as well as social media marketers rely on the analytics data to check and periodically review the performance of their blog site as well as blog posts and social media posts. Google Analytics is a powerful and reliable tool which is widely used by a lot of bloggers and content publishers. Google Analytics also comes as a handy Android app which integrates with bloggers' Google Analytics account and allows viewing statistical data from their Android smart phone. It displays valuable information about bounce rates, page views, number of visitors and more. It also allows comparing different reports and displays useful information on charts.

Writers often get confused while choosing the right word or phrase in their write-up or get stuck while looking for the right synonym and antonym. Merriam Webster is your personal dictionary for vocabulary building and language education. It includes audio pronunciations, example sentences, vocabulary –building quizzes, integrated Thesaurus and more. Merriam Webster app for Android can come to your rescue while creating content for blog posts or social media posts.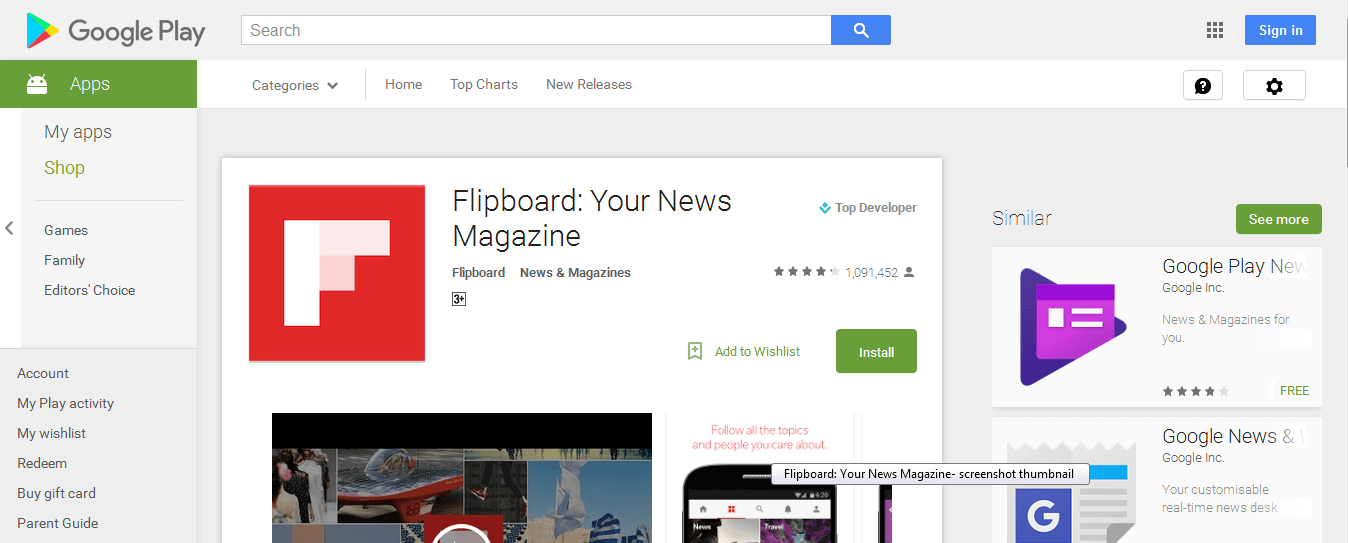 Research forms an important part of a writer's job and the Flipboard app is the ideal solution to read interesting news and articles as well as latest information. The app works like a robust content research tool helping you to gather and save a range of articles featured in reputed publications, such as The New York Times, Vanity Fair and People magazine. Moreover, Flipboard is integratedwith popular social media websites allowing bloggers to check memes, posts and images shared on Facebook, Twitter, LinkedIn and Instagram.

PicLab is a modern designing application which is useful for web or graphic designers as well as content marketers, bloggers and social media managers. It offers various tools for inserting stylized text in an image and for applying various photo effects. The application allows creating image captions, collages, magazines, beautiful overlays and fonts. It provides an impressive collection of fonts, artwork, filters and stickers.

Ginger is a modern grammar checking software tool which scans a particular text against advanced grammar rules, identifies grammar mistakes and misspelt words, instantly provides corrections and suggestions and does much more. Bloggers can easily avoid some common errors that occur in their write-up, such as misused words, singular/plural nouns, usage of articles and prepositions and more. Writers can perform proofreading and learn from their mistakes faster than before. It is a great mobile keyboard and writing app for Android and offers seamless integration with Google Chrome.
Conclusion:
Do you use any other blogging application other than the ones mentioned on the list? What are your favorite apps on Android which are meant for bloggers and writers? Share them with others using the comments section below. Thank you.