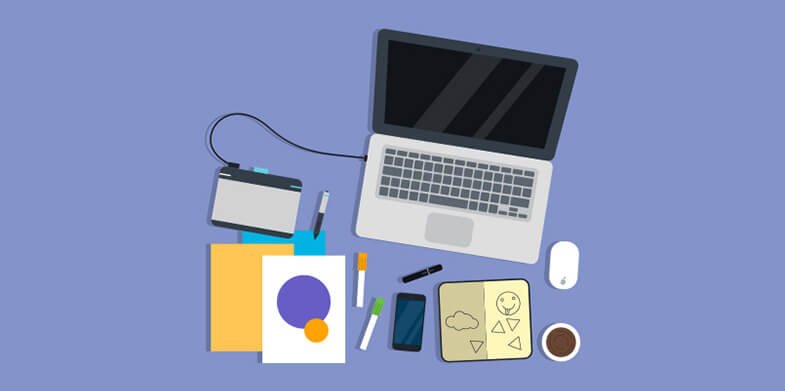 Today, the process of designing a user interface for a website or an app has become advanced. Several specialists are required to work upon the various aspects of website development, be it programming, web designing, SEO or mobile development. UI/UX designing is also a prominent aspect which basically involves studying the role of various elements of a website from a user perspective. UI/UX designers are required to generate unique ideas and come up with relevant possibilities to create the primary skeleton of a user interface design.
In fact, the process begins with the UI/UX designers who lay down specific goals for a website to meet and determine the level of influence of web design in user engagement. They should be dynamic in their approach while working upon a particular website, be it travel, e-commerce or corporate website. The work of UI/UX designers usually lies in the ideation phase though they also work towards improving the overall website performance after it is made live. Talented UI/UX designers are paid highly for their job and there is a lot of scope in this field for innovation.
Today, the field of technology is growing rapidly. Clients have become very demanding and so designers need to have competitive skills in order to resolve the challenges in their projects. Several professional UI/UX designers use a range of software tools to get their job done in a convenient and effective manner. So, here we will discuss some of the popular software applications which take care of the various needs of UI/UX designers, such as prototyping, wire framing, feedback generation and more. Let us check out the list of 9 Useful Tools For UI/UX Designers.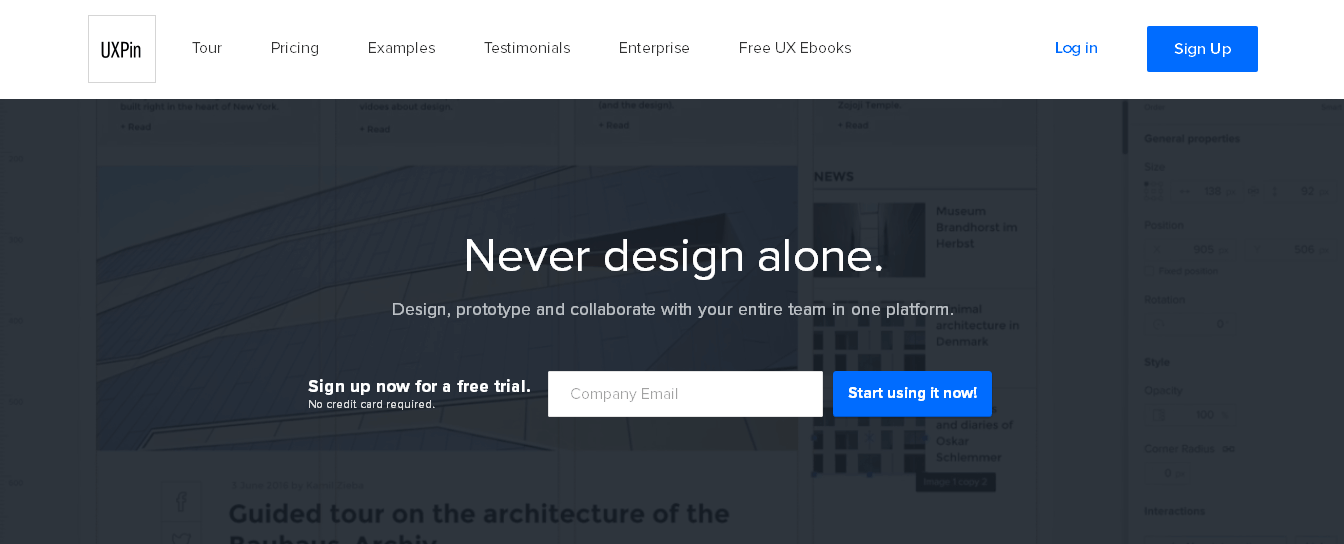 UXPin is a very popular tool amongst the community of UI/UX designers. It is a powerful wireframing and prototyping tool which is ideal for designing modern websites. The tool features a graphic design editor which allows assigning various animation effects to a range of actions, such as scrolling, screen loading, gestures, swipes, taps and transitions. It offers multiple styling options for customizing UI elements, such as typography, animation, backgrounds, layer management, color schemes, borders and more. Designers can also use several pre-built UI elements in JPG, PGN and Adobe Photoshop formats like icons, forms, buttons and sliders. UXPin has collaboration and live presentation features which makes it suitable for large design teams working in big enterprises.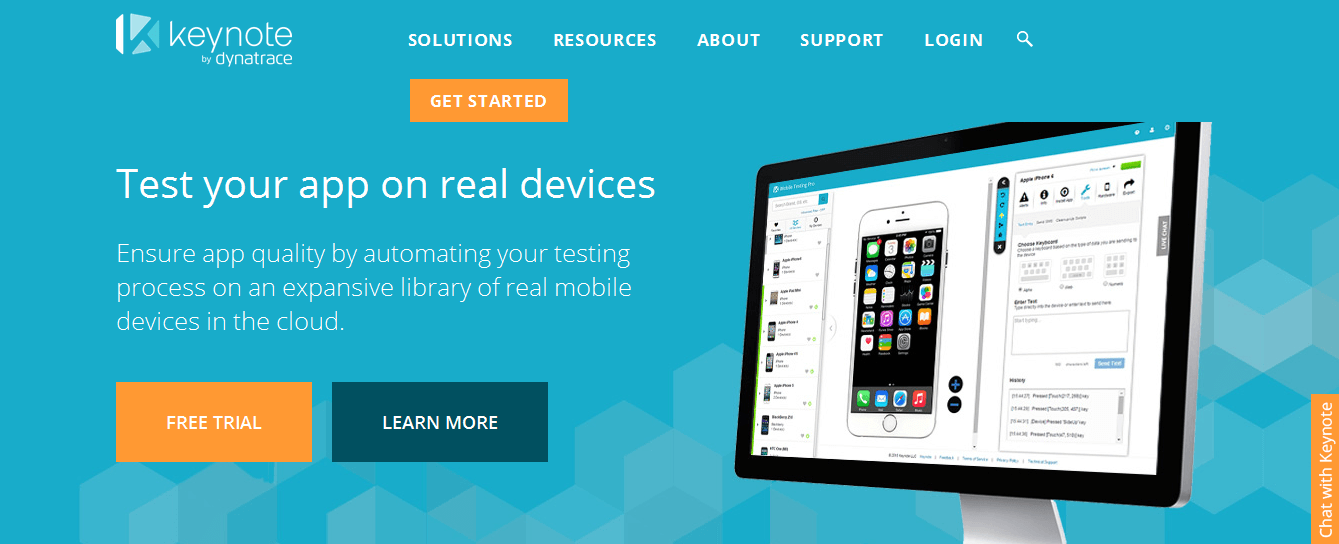 Keynote is a powerful mobile app testing and performance monitoring tool. The tool can test a mobile application across a range of real devices, mobile carrier networks and Wi-Fi. Keynote integrates with various agile development platforms, such as Appium, SAP Mobile Secure, IBM Rational, Selenium and more. UI/UX designers can test a variety of mobile applications, including native, web and hybrid applications. They can also perform regression, build acceptance and unit testing with Keynote. The tool provides other useful features, such as cloud deployment, object-level scripting, image and object recognition and more.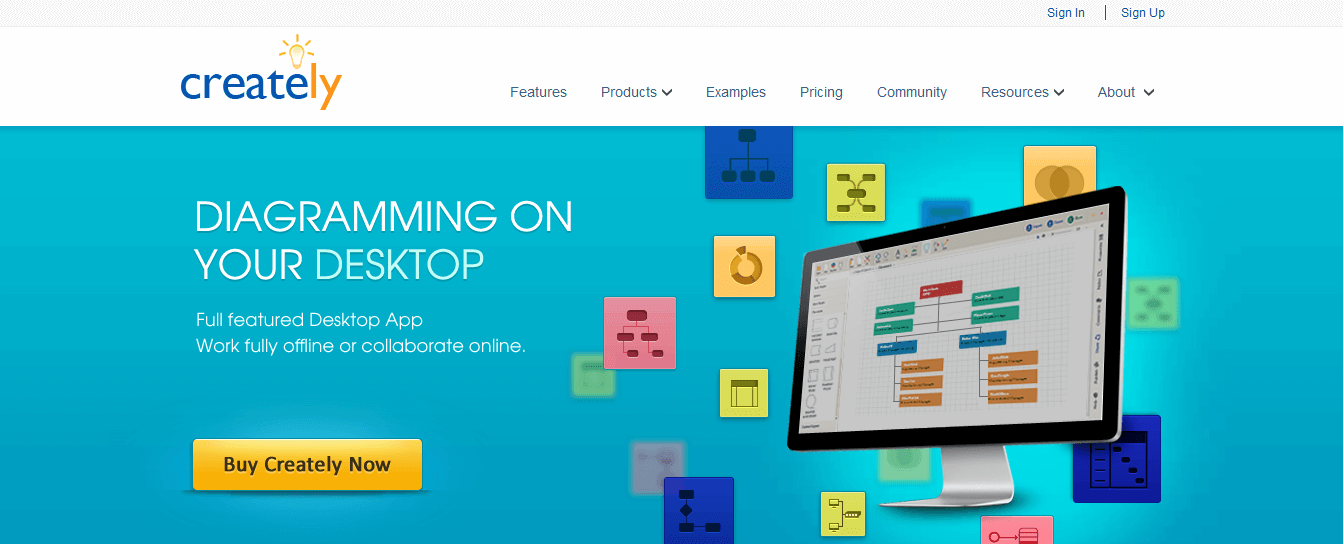 Creately is a useful application for creating professional diagrams, flowcharts, UML diagrams, UI mock-ups and more. The tool offers a drag-and-drop interface and an extensive library of diagram types, pre-built diagram templates, basic shapes and special UI objects like contact forms, signup forms and login widgets. Creately is an ideal tool for designing web pages, website wireframes, UI mockups , sitemaps, organizational charts and system diagrams. Creately is available in multiple versions supporting various platforms, such as online, desktop, server and Google Apps.
4. OmniGraffle

OmniGraffle is a robust software application for designing wireframes, diagrams and other graphic designs. OmniGraffle is a part of a suite of applications from The Omni Group, which also includes OmniFocus, OmniPresence, OmniOutliner and more. It is available for iPhone, iPad and Mac devices offering brilliant features, such as multiple export options, Visio support, presentation mode, multiple editing windows and property inspection. OmniGraffle provides numerous templates, stencils and objects as well as offers advanced shape recognition and styling features. OmniGraffle is a suitable application for professional UX designers, artists, educators and data-mappers.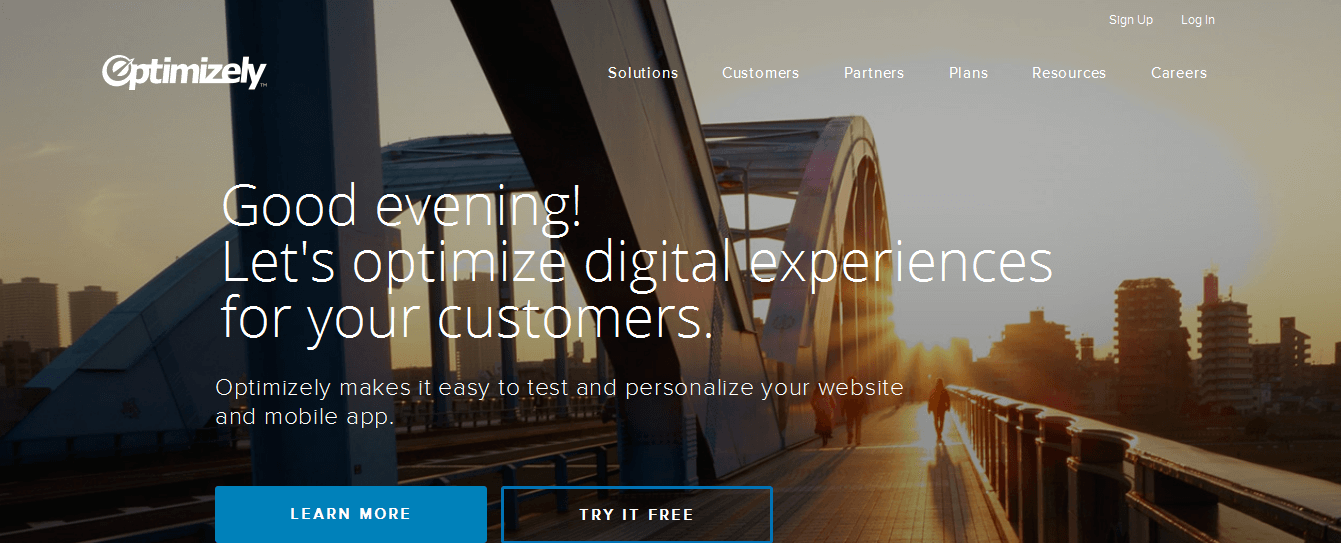 Optimizely is one of the leading A/B testing platforms for professional UI/UX designers, website developers and large companies. It allows testing user engagement and conversion rate of websites, mobile apps, sales pages and landing pages across various desktop and mobile platforms, including Android, iOS and web and mobile web. Moreover, Optimizely provides advanced personalization and analytics solutions for multi-page testing and customization of UI elements. It offers other great features, including dashboard creation, statistical reports, multi-domain support, 3rd party data import/export and more.

Fluid UI is an advanced software platform for creating prototypes and performing user testing for various desktop, mobile and web platforms. The tool offers 16+ built-in design libraries supporting various platforms, such as iOS, Android, Windows and wearable devices like Apple Watch, Android Wear and Pebble. Fluid UI also offers notable features like support for custom design libraries, collaboration features, export options, widget customization and reusable design patterns. Moreover, Fluid UI offers project cloning, archiving, rapid prototyping and support for advanced gestures and transitions.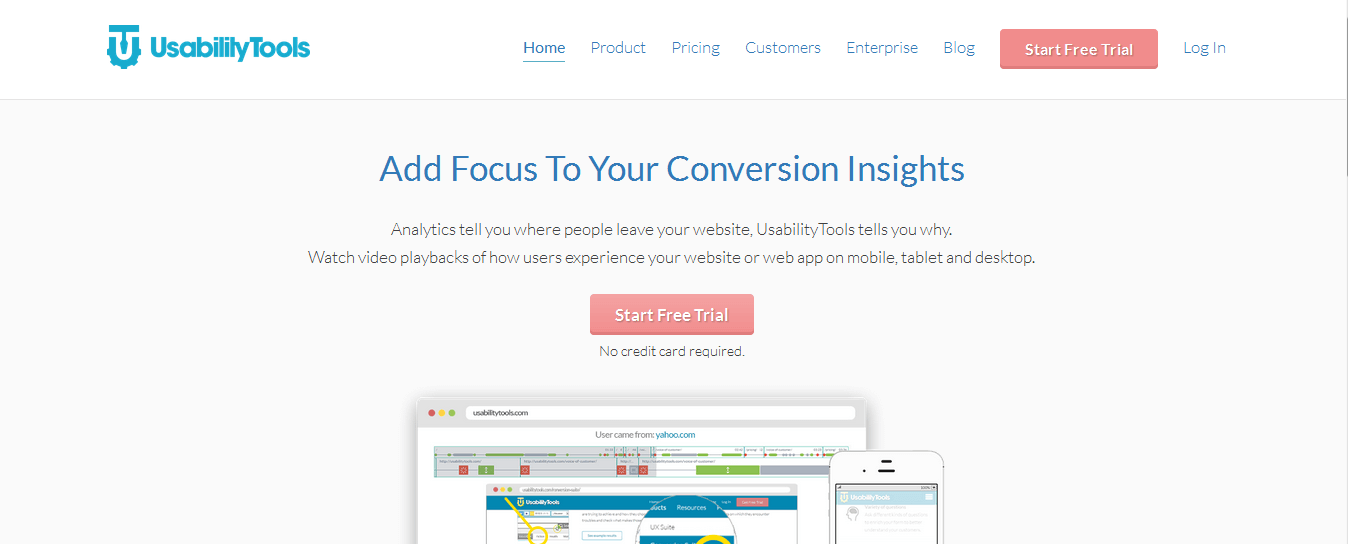 Usability Tools is a suite of software solutions aimed at helping UX designers and content marketers to visualize engagement and interaction of online visitors with a website or mobile application. Designers can see the video recordings of online visitors' entire website engagement session. This provides marketers an insight in to consumer behaviour of individual visitors as well as specific groups of online visitors. Usability Tools allows website owners to analyse the conversion rate of their marketing campaigns, landing pages or online shopping pages and helps them to improve the performance of their website design to engage more online traffic.

Usabilla is a robust real-time user feedback tool which allows UI/UX designers to analyse and improve the performance and design of websites and mobile applications. It allows creating personalized surveys targeted at various groups of online visitors or users for gathering valuable information in the form of feedback, ratings, survey results and suggestions. Usabilla features a suite of software tools providing online/offline features for users to provide feedback related to the various performance, UI/UX design and functionality-related issues of mobile apps and websites.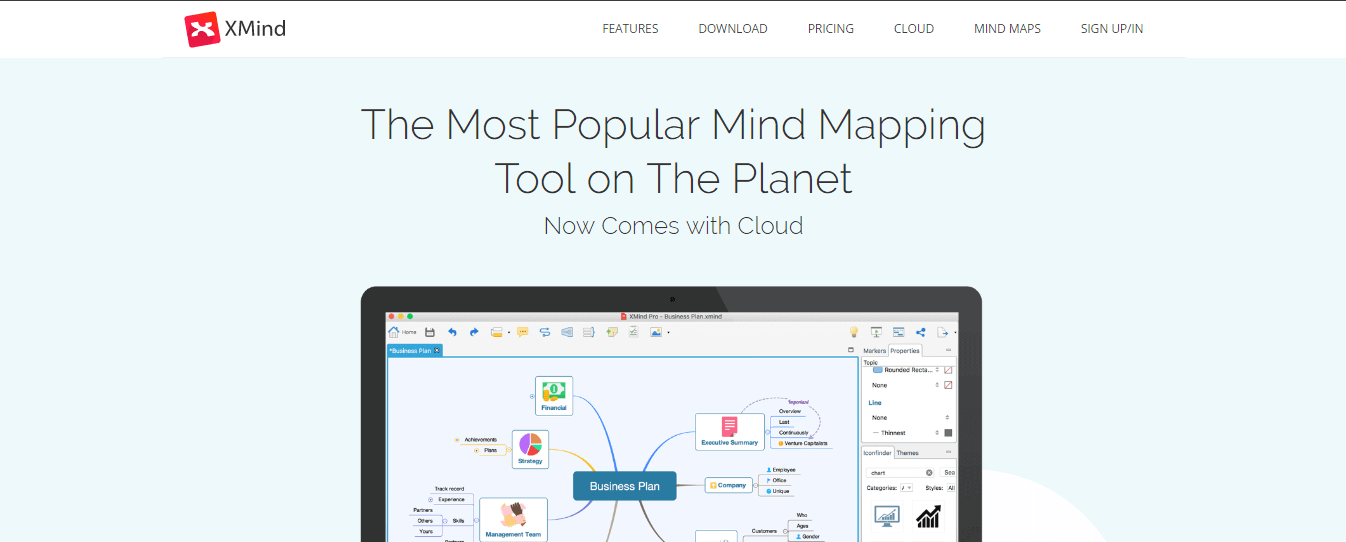 XMind is a cloud-based, mind mapping software tool used by several businesses and modern enterprises. The tool offers an effective solution for creating presentations, mind maps, business charts, Gantt View and more. XMind comes with 60,000+ built-in icons and several themes and fonts for displaying information precisely and interactively. It also integrates with Evernote and supports export options for 10 formats, such as Word, PDF, HTML, SVG, PPT and more.
Conclusion:
Modern UI/UX designers require to use advanced software tools and design applications as it allows them to deliver quality work in a cost-effective way. Most UI/UX designers use the kind of advanced tools mentioned on the list. But, there may be several such tools which perform similar or specific tasks. If you know about any modern UI/UX designing tools then you can share information about them with others in the comments section below. Thank you.