You might say it is about 'providing' a great customer experience and service, but I really feel like the word 'maintaining' is more appealing and fitting in this situation and these ever changing times.
With money, you can do a lot of things, especially when it comes to online marketing. The more money you have, the more you're able to spend on providing a greater and better shopping experience for your existing and potential customers. It's pretty common to see big brands spend millions of dollars on hiring customer service specialists that will help new customers to find their way around 'the store'.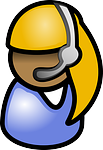 You only have to provide a bad customer experience once, for the customer to never again return to your eCommerce website. 89% of customers who've been mistreated will never again shop at that given store. That is a staggering number and it goes to show just how important it is to maintain a great customer experience for everyone involved. On the other hand, 83% of online customers need help in one way or another to make a purchase – and this is where you can really make a difference by providing the best possible support.
You shouldn't go as far as sending them a bottle of wine, but helping out and asking questions can help them remember the brand for a long time ahead.
I have to admit that a lot of online shopping I do, I expect to receive a prompt response from the support teams of any given online eCommerce store. 31% of online customers expect to receive an immediate answer to their queries and support questions, while 10% are willing to wait for a day before moving on to another store.
Take a look at this infographic and see how you can improve and maintain a great and supportive user experience throughout your business, be it small or excessive large. If you're making the money, you should be investing in creating the best possible experience for both worlds.
I'm all ears when it comes to success stories and more tips about the given something, please leave a comment if you're doing tests and gathering data about your customers and their experiences with your online store / business.
Thank you!
[
source
]