When working on large projects, keeping track of tasks can be quite tricky. Especially while working with a large team where ideas keep pouring in left, right, and center. There comes the point in such situations where manually jotting everything down becomes merely impossible. Moodboards start becoming messy, and team members often miss out on important information since it hasn't been compiled properly. This is where Kanban software comes in. This software can help you organize and arrange all your crucial work-related information in a comprehensive and accessible manner.
Top-Rated Kanban Board Software 
Once you've set your mind on investing in a good Kanban tool, you will realize that there are a ton of them to choose from. We've narrowed down a list of 6 of the best Kanban board software to help you choose the most suitable one. 
1. ProofHub
ProofHub is a popular platform used by in-office and remote teams all over the world. It is known for its simple layout and clear visuals. Allowing users to evaluate the progress of their tasks at a single glance. ProofHub is an excellent project planning and task management software with numerous useful features. 
You can assign multiple people tasks in the form of a checklist, so it's easy to keep track of progress. ProofHub also gives you the ability to add labels to each task, so it's easy to categorize the work. One of ProofHub's best features is the ability to track how much time is spent on each task!
2. Hygger.io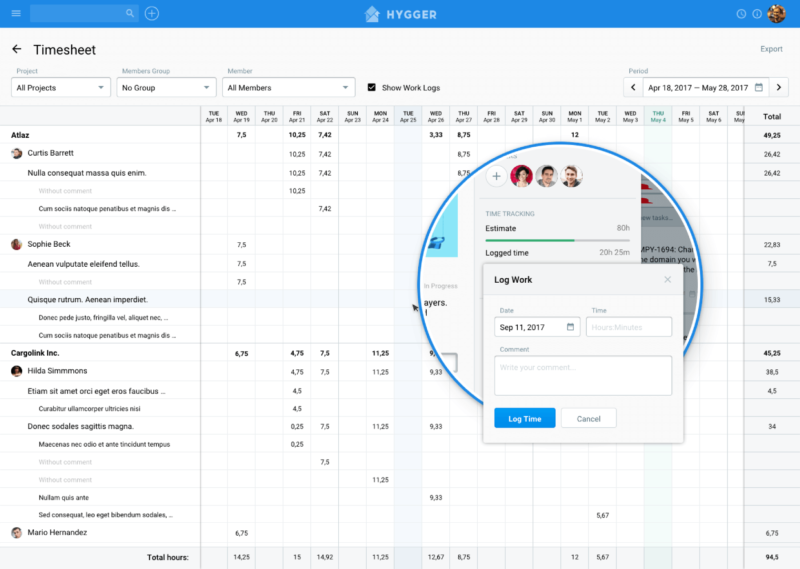 Hygger.io is an efficient Kanban tool to manage group work. With Hygger.io, it's easy to set specific goals and delegate work, with their column and card features. Thanks to their progress tracking feature, you can know how your team is progressing without having to call them up continually. 
With Hygger.io, you can prioritize tasks easily and work more efficiently. Using their swimlanes feature, you can split a Kanban board horizontally, which makes it simple to categorize different tasks. Their Work In Progress (WIP) feature also allows you to pinpoint any inefficiency in the work process easier. 
3. Taskworld
The Taskworld app is a strong Kanban app to use while managing rapidly expanding projects. The software features an excellent milestone tracking option and allows users to make quick changes to the current tasks and projects with ease. 
Taskworld condenses all your cards to a single, easily understandable line of text so you can see numerous tasks simultaneously. Their project chat feature also means that you can cut down on meetings and communicate with your whole team online.
4. Blossom
Blossom is one of the most visually appealing Kanban board style apps. The idea behind this app is to streamline your work into a clear, focused, and straightforward path. Like most Kanban tools, Blossom also features cards where you can note down tasks. 
However, these cards have different features that allow you to add more information to them as well. Blossom's roadmaps feature allows you to make documents where you can note down your team's strategy and plan. You can also easily share the roadmaps with your team.
Conclusion
Kanban systems can be life-savers for offices when it comes to managing tasks related to important projects. Such software increases efficiency in the work environment and helps team members uniformly visualize goals. There is a large variety of Kanban software currently in the market, so picking the right one might be difficult. Use our helpful guide to choose the best Kanban board software to help organize your workflow!