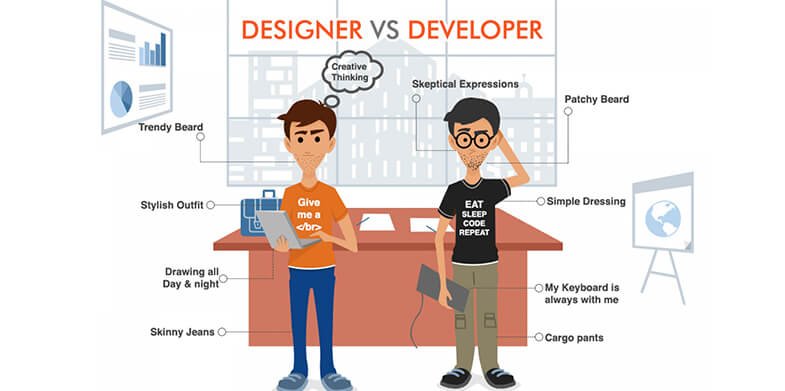 As per the statistics, 2018 will be the year of web designers. No wait, did I mean web developers? For the love of God, aren't they just different names for the same personnel? No, they are not. In fact, a web designer is just as different from a web developer as a Samoyed puppy is from a German Spitz. Yes, both are cute, white fluffy looking dogs but still they are two different breeds with different functions.
OK, now back to web designers or developers or whatever it is that you wish to be! Here's the good news, both designers and developers (let us just call them web professionals) will find themselves in increasing demand in the next year, given the volatile state of online marketing, a bomb can go off any minute! And when Skynet takes over planet Earth, it is these smart species of highly intelligent people that, everybody seems to believe, will come to the rescue!
Well, most brands and businesses might not care about the difference between a web developer and designer as long as they get work done (there are so many marketing companies that blur the lines to sell the services) but as a newbie web professional, you must take your time to know the difference between web designing and development, and choose your vocation likewise. This article should help you to do exactly that!
Web Designing Vs. Web Development- The Basic Difference
To begin with, web designing is more concerned with the aesthetic side of things. It also takes care of the 'usability' quotient to some extent but web development has got more to do with this than web designing. As a web designer, you will be expected to call upon your visual expertise and your mastery of designing softwares to create a layout and other such visual aspects of a website.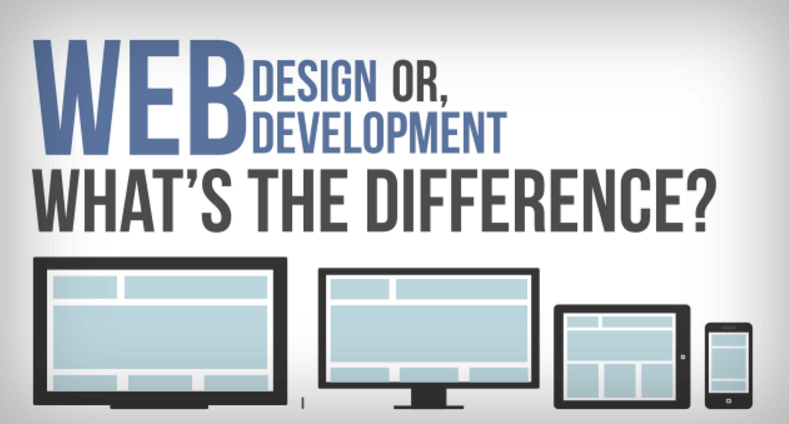 Web development goes one step further. It takes a remarkable web design and inserts it into a neatly written code to actually create a functioning website out of it. While a web designer play with tools like Adobe Photoshop and the subtle principles of design, a web developer will need to master languages like HTML, CSS, JavaScript and PHP.
To summarise, web developers are the programmers who break down the design components of the website and feed them into a programing language to develop responsive webpages. It falls under the power of a web developer to take a static web layout and make it into a dynamic one by adding buttons, using images, content sliders and other similar interactive elements.
Creative and Imaginative or Nerdy and Geeky?
It is now time to pick one over the other, now that you have been able to figure out the basic differences between web designing and development. It is okay, if you are still having trouble making up your mind. May be after knowing about the skill sets required for each, you will be in a better place to decide!
A good web designer leverage his (or her) creative vision and his or her) understanding of the web to create website designs that will intrigue the user and keep them hooked to the experience of navigation. Having said that, a web designer must excel in softwares like Photoshop, Illustrator, Coral Draw and the likes. He (or she) should be adept with the advanced practices of graphic designing and logo designing. Knowledge of typography is of additional benefit to a web designer. A web designer's creative universe rotates around layouts, colour palates, wireframes, mock-ups and story boards.
A web designer is more concerned about what the user actually sees on their mobile, laptop, desktop or tablet screens rather than the mechanism that goes behind it. However, to go from good to great, a web designer need to have some basic technical knowledge as well that will help them in their job role, like say, fine-tuning the user experience or the user interface of an app or website they are currently working on.
Coming to the world of web developers, let us begin by understanding that it is split in two halves, the back-end and the front-end. Well, then again there are those that go ahead and master both. Full-stack developers, they are called — a fancy name for the fancy brains! It is in the power of a web developer to write the codes what govern a website and make it tick. A front-end developer is responsible for determining the final look and feel of the website by incorporating the website design into codes and implementing them astutely to get the desired results. The back-end guys are accustomed to the server-side of the things, more concerned with managing data within the database. A full-stack developer is one who can give you the best of both worlds! A programmer must know at least 3 to 5 programming language to make the transition from a designer to a developer.
This is as far as it goes, in the theoretical world. In the real world there is a lot of blurring of lines, which is important for both designers and developers to work dynamically. Every web developer has a keen understanding of the principles of designing and most designers out there know programming language to varying degrees to be able to work more effectively. Such professionals usually stand out as the unicorns in the world of one-horned rhinos. They can effectively juggle between projects and create greater value. These species of web professionals are highly sought after due to their diverse skill sets and thanks to the free resources floating all over the internet, for a web designer to speak the developer's language and the vice-versa is not at all difficult.
The benefit of being the unicorn is that you get called for several small sized projects and will have a plethora of options to choose from if you start freelancing but to work on big and dedicated projects, it is definitely a plus if you are a jack of all trades but you are going to have to be the master of one! And as a newbie web developer you need to remember this better than ever.