Looking back, 2015 was a big year for web and app design, and 2016 seems like it will be even bigger.
As part of their free design library with over 70 e-books, the collaborative prototyping app UXPin has released a series of their three most popular design trends e-books this year. These books, also released together in a downloadable bundle explain trends for UX, web, and mobile design, including best practices and over 300 examples from companies like Slack, Waze, and Spotify, plus the giants like Google and Facebook.
With UX design unequivocally taking a more central role in all digital design, this guide examines the current state of UX design with takeaways for both experts and beginners.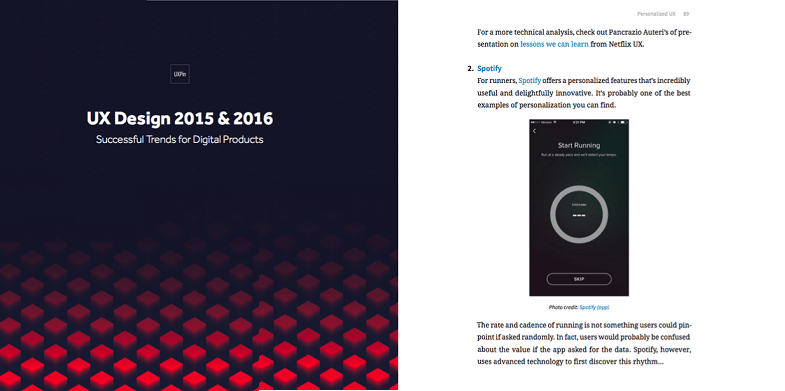 In six chapters over 163 pages, readers can discover:
How to transition your team's workflow from a narrow "waterfall" process of hand-offs to a more collaborative approach, and why that's essential for UX design
Adaptive and responsive design for multi-device consistency, and why both are better than m-dots
How to create consistent multi-device task flows to address new findings that a lot of users go between devices to complete single task
How clever microinteractions like animations and UI patterns can smooth over the rough patches and build an intuitive interface
Which personalization trends users have come to expect, and user research guidelines to help you reveal what your target users want
What went wrong with gamification a few years ago, and what changed recently that allows designers to salvage the good aspects
How to make users feel empowered — like better versions of themselves — through techniques like onboarding, invisible UIs, and proper feedback.
Each chapter features links to free resources and tools, plus case studies from sites that apply the trend well, such as Vine, Virgin America, The Guardian, and many more.
Web Design Book of Trends 2015 & 2016 compacts the 10 most influential changes to web UI design over the last year into a single, 184-page guide.


The advice ranges from technical UI suggestions, such as a the ideal values for spacing between text, to broader recommendations like different creative strategies for photographs.
This e-book discusses:
How flat design has evolved from its strictly simplistic roots into something more artistic
Why the card UI layout can save you and users a lot of headache for multi-device considerations
The appeal of hero images and looping video backgrounds, and how to minimize their drawbacks
How to manipulate stock photography to make it look custom, reaping the benefits without the cost
Strategies for turning typography from a vehicle for text into a visual element as expressive as an image
The practical and stylistic advantages of minimalism, and how to do it right
Why single-page and long-scrolling sites could surpass page-by-page layouts as the norm
The book discusses how the trends came to be, and where they're headed in 2016 and beyond. Each chapter also ends with a list of 10 free resources and tools for that trend, which add up to 100 total curated resources.
Mobile browsing took over as the most popular form of browsing in 2014, so much of 2015 was spent adjusting to the regime-change. Mobile Design Book of Trends 2015 & 2016 covers six exclusively mobile trends with the same detailed analysis of the previous books, including the free resources and screenshots.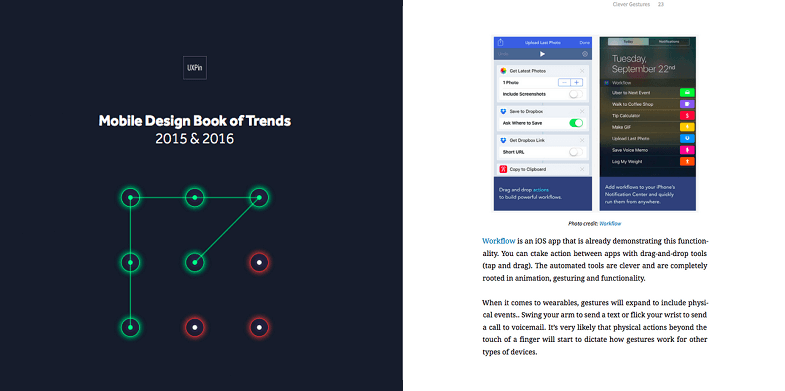 Topics include:
New popular gesture controls and upgrades on older ones, with illustrated charts for reference and comparison
How to design gestures for Apple's 3D Touch
An in-depth dissection of Google's Material Design, with tips on tactile surfaces, adaptive design, and how it fits in with other trends
A pragmatic guide on how to deal with typography on mobile devices, where spacing and visibility concerns are more sensitive
Why flat design is most useful in mobile devices, and how it can enhance the entire mobile interface
Getting at the heart of microinteractions: the four elements, their role in feedback, and how to apply them
How card UI layouts have evolved this year to benefit mobile screen space even more.
This 123-page guide also features lists of 10 resources at the end of each chapter, specific to that trend.
Must See: 8 Web Design Trends for 2016
The Definitive 2016 UX Design Trends Bundle
If you're interested, you can also download all 3 books in one free bundle.
Over 350 pages of expert testimony explain everything you need to know about this last year of UX design to prepare you for next year, explained through samples from over 300 companies like Netflix, Dropbox, Tinder, Buzzfeed, Nike, BMW, Versace, Hulu and many more.


Download the ebook bundle.
Conclusion
It's not always easy to separate fads from best practices, so these ebooks are useful as a quick visual reference. See what works for each site and company, then consider whether the same context applies to the product you're designing or developing.
Remember that trends are just more tools in your designer toolbox. Only apply the trends that make the most sense for your users.