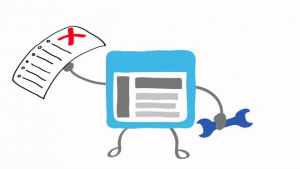 Guest blogging sphere is growing every day, webmasters looking to publish and share their articles with other bloggers in hopes that Google will recognize their efforts and rewards them with top spots on search results. It's going to take more than just one guest blog though, and surely it is not the only method of link building, or is it?
This video released only last week and is currently the most up-to date information regarding Google's stance on guest blogging. Matt Cutts starts off the video by saying that every video about guest blogging since the last one is getting less and less positive feedback.
The rest seems pretty self explanatory. You shouldn't spam other blog owners with your requests to publish a guest article. It can be frustrating to not receive an answer from someone, but it is the internet and it is their own choice. You are better of finding someone more positive anyway.
The problem is that ever since guest blogging became popular and pretty much the only source of reliable backlinks, a lot of sites have developed that are very low on the quality side. These sites clearly have been developed to build links and network with other people, this is what Google currently dislikes about guest blogging.
Matt continues to say that you shouldn't use the same article for multiple guest blogging opportunities. It's obvious that Google can detect something like that and will penalize you for it. And when I come to think of it, only spammers would ever do something like that. People who care about their business or brand will not try and sell the same article to multiple blogs.
The last thing Matt mentions is that Google is actively participating in finding abuse in the guest blogging system and working closely with it to find a good solution.
5 Tips for Guest Bloggers
This brings us to the end of the post where I would like to mention a few things that you should consider when guest blogging. By following these tips you will be able to land decent guest blogging opportunities without the need to worry about getting penalized by Google. It's all about quality content and it seems its going to stay that way for years to come.
Unique Content
The most important thing is content that is unique and written by you, not someone else. Why go through the trouble of getting declined because the content is low quality?
Quality Blogs
Avoid getting involved with blogs that are obviously low quality and seem to be surviving because of people who guest blog for these sites. Instead, look for quality websites with established following that will be of good value to your site, as far as a backlink goes. It might require more work but it's also going to be much more rewarding.
Introduce yourself to the site you want to submit to, get the feel of it and try to understand how it operates. Just like your own website is unique in its own way, so are other peoples sites. Try to become friends with it before you start getting in touch, this will help you create even more useful content.
Get Involved
Don't just guest blog for the sake of doing it, if someone lets you guest blog on their blog they probably are finding your content somehow appealing and they like what they see. Use this to your advantage and develop relationships that will last and benefit you in the long term.
Your Own Voice
Don't change your writing style only because you think that would make a better guest post. Stick to who you are and what you believe in. You will thank yourself later. You are guest blogging to help yourself reach out to more people, to gain more visibility in your field.
Make sure that whatever style you are using to write on a guest blog, is going to be the same as on your blog. It would be quite the disaster if you liked chocolate ice-cream on a guest blog, but hated it on your own blog. Right?
Promotion
The last tip we have in our list of tips for guest blogging is promotion. Yes, guest blogging in its own way is a tool of promotion, but don't forget to let your own readers know that you have in fact guest blogged something. It's probably something that is in the field that you already operate in, so your readers might find this content useful too.
I wouldn't go as far as submitting the same article on your own site, but perhaps mentioning it in your next is not a bad idea. The same goes for publishing your guest post on your social media accounts.
That is all for our article on Google tips for guest blogging. It's all about the quality of the content and how much you are about the quality of the site that offers guest blogging opportunities. Have you got more to add to this list? Maybe from personal experience? Why not leave a comment and let us know about it.