To me, creativity is poetry. I write poetry to lose myself in the process, then by the end of it – I realize I've just made something amazing, and totally something I'll re-read 20 times to remind myself just how awesome it really is. Are you a creative? Is that a familiar process?
Creativity is everywhere we look, everything starts from an idea, an inspiration. It's creativity that tells us what to do, when we are creative or put creative ideas to work – they feel different from 'chores', they feel unique and you get an amazing sense of accomplishment – not only when done creating, but throughout the whole process.
We can turn anything into a mindful and playful creative adventure.
I was just browsing and reading this infographic, trying to reflect upon my own life and how I try to develop my creative abilities. These are the ones that stood out for me the most:
Take Breaks
Get a lot of Rest
Don't Give Up
Don't Force It
Write Down Ideas
I love waking up in the morning, doing my exercises and then getting ready to begin the day, but often I find myself letting my energy slip to different areas and after I finish working on something I had planned the day before – the creative spark is almost gone, this is one of the reasons I love to take breaks. When my body and spirit asks for a break – I act upon it, even if it may make me feel bad.
Giving up? Not a chance. We have to learn accept, move and and continue accepting. It's the circle of life that we all have to go through.
I hate forcing something upon myself, I rather prefer letting my gut and instinct, tell me what is right and what is wrong. You cannot image (unless you do it too) how much it has helped me, in making the right decisions.
Writing down ideas is a great way to generate more ideas, it's very creative and you can always return to the list to ponder and really contemplate on what you could create out of it.
Those are some of my creative traits that I try to follow, in order to stay in intellectual shape, what about you? Which ones from the list below ring the bells most for you?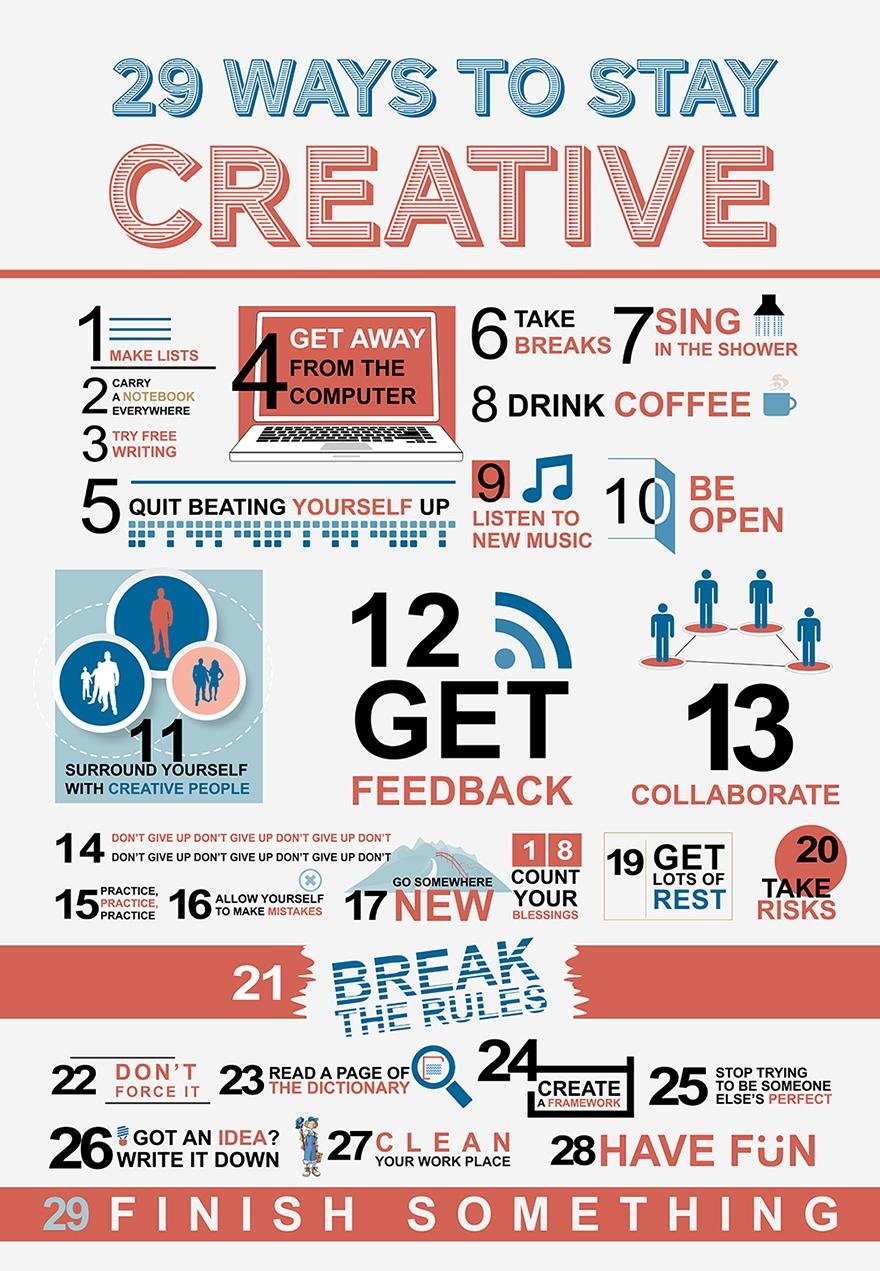 [
Source
]