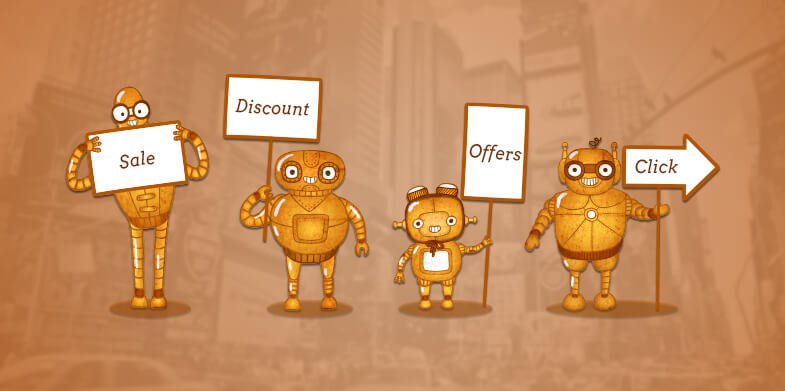 Hello there! Welcome to modern age marketing! The marketing gamut has changed a lot over the years. It is getting more dramatic and intense by the minute, becoming dominated by fake bots. Automation is the new buzz word in the marketing domain and chat bots are making the whole thing possible, effortlessly. So what is a bot, anyway? And what can it do for you?
We are glad you asked, cause we were dying to share! For a digital marketer, bots are both a blessing and a curse. Someone wise once said about fire: it is a good servant but a bad master. The same is true of bots. Just imagine the day when humans become the inferior race on earth and the AI takes over! Sounds scary right? May be such a day will come one day but not for many, many decades so for the time being we are safe. We may as well create as many bots (by the way these are software designed to carry out certain tasks on its own) till they finally overthrow us.
As far as 2018 is concerned, it will be another year in the marketing calendar that will witness tremendous use of fake bots for effective marketing. How? Wish we could sum it up in few words.
Bots can help you do the talking –
In fact, this is the most popular purpose why bots are 'bred'. If you have a website, you are obviously looking forward to building traffic, and when people start popping in large numbers imagine the trouble you will have to keep up with all their queries and complaints every time! A huge, dedicated sales representative team might have been your only way out so far though it is expenditure heavy, time consuming and not flawless.
You can now leverage bots to chat with your visitors and help them out with whatever they need via live chat. Research by Econsultancy found that 57% of the customers/visitors prefer live chats to phone calls and emails. So there you go! For your sake, you should know that bots are easy to program and can eliminate human error. Just don't get too stiff with them or your customers won't enjoy interacting with it!
Bots can help you to keep it personal –
If there is a sure-fire way of melting your customers heart, then its personalization. With 71 percent customers falling for personalized ads, you will be losing much of your user base to your competitors if you fail to live up to their expectations. And that is something you simply can't afford, as a marketer.
There you go! Fake bots to the rescue yet again! You can teach these 'pets' to unravel the magic of personalization without too much effort. Chatbots can be programmed to acquire data from users and then customize it into a personalized experience. Case in point, the CNN chat bot. This is one news bot that has gotten its fair share of attention. Wondering why? The CNN chat bot is capable of sending customised news feeds to the users based on lists of options. See it for yourself:
Bots can help you sell products –
Bots play the role of sales representatives perfectly without being to pushy When your user hops on your e-store, you can train your bot to give them just such a treatment. Also, your bot can effectively sell products for you on platforms where your users are mostly likely to cluster.
Take the H&M chat bot for example. It is used to sell items on Kik (the messaging service). The chat bot you come across in here asks you relevant questions like your age, gender and style preferences and based on the information you feed into it, it helps you pick clothes that's tailor-made for you. Now given the fact that it is a conversational bot, you won't find any stiff, evidently programmed replies in here. The experience is exactly like chatting with a friend who is helping you to pick out clothes. Once you have picked something you liked, you will be directed straight to the H&M site from Kik. If this does not grab your attention as a marketer, then what will?
Bots know how to keep it casual –
Believe it or not, bots have a way with people. They are mesmerising when it comes to obtaining psychographics and demographics. They are never irritable, they don't take their frustration out on you, they are always patient, they are happy to help you out, they keep their calm even when you lose it and people simply love them.
As a marketer, you understand the value of data and if anyone can get your users to talk then it's the bots. The reason why people are more comfortable with divulging information to a bot is that they can keep it easy, smooth and lively. In most cases, the user is not even aware how much useless information he or she is confiding to the bots.
All said and done fake bots are the present and will continue to be the future of effective marketing in the digital realm. While thinking effectiveness, we often think about strategy. While that is important, you cannot undermine the power of team performance when you think effectiveness. Tell you what? Bots can help you there too! Prototypes like Nikabot help avoid friction and allows for smooth exchange of communication among big teams. Are you thinking extensive research? You have bots for that as well! We can keep going on and on about the correlation of fake bots and effective marketing but here is where we should draw the line. Enough from us, now over to you!