Presentations enable business professionals to share details regarding products and services or the company's performance. Business presentations aren't limited to informing. They are meant to motivate and convince internal and external audiences. Nothing can stop a great presentation. If you've got beautifully-designed slides, well-thought slides, you're sure to be successful. however, you should know that there's a difference between giving a good presentation and a great one. If you'd like to take your business presentations to the next step, take advantage of technology. Please continue reading to find out how to use high-tech to improve your speaking and presentations.  
Use an AI Speech Coach 
Maybe you're not particularly good when it comes to speaking in public and one-on-one contact. There's no reason to threat because you can enhance your public speaking skills. Record your speeches and presentations. Better yet, use an AI-powered speech coach. Microsoft announced that it would include an AI speech coach in PowerPoint. The outcome is that those using Microsoft Office PowerPoint can prepare for upcoming presentations and receive instant feedback. If you take advantage of this option, you might just become a better speaker.  
Without any doubt, you'll learn a thing or two about speaking better from the automated digital coaching assistant. Coaching with artificial intelligence is the way of the future. Keep in mind that many services exist for self-improvement. So, if you're not happy with Microsoft's AI speech coach, look for an app in the Google Play or App Store. There are countless speech-based tools inspired by Alexa and Siri. Use one of these applications to make your life simpler. Anyway, you've got nothing to lose by using an AI-powered speech coach. 
Always Use A Projector for Business Encounters 
Technology provides players in the business world faster, more efficient equipment for every aspect relating to communication. A projector, for example, can promote greater knowledge and facilitate communication. Besides the fact that the projector doesn't take up too much space, it's a handy tool if you hold business meetings in the same place. Anyway, it's better than deploying a laptop. Projectors have come a long way, which means that they have advanced to an improved state. Images aren't projected from glass disks in fast succession to give the impression of motion. 
Most models nowadays are sold as business projectors, so they do well with data images, such as Excel spreadsheets, PowerPoint presentations, and PDF files. Any projector that can do this is good enough. Take into consideration the size of the conference room and the installation requirements when choosing a projector. The new-generation projector will create contrast levels, so the audience will see all the details on the screen, whether it's numbers of graphics. Since you're the speaker, you must show up early and test the connection, as well as the presentation, before the official encounter. 
Don't Shy Away from Using Video and Music 
You can combine several types of media in your content. So, if you believe that video isn't enough, incorporate music into the slides. Music has the power to clear the mind, not to mention that it improves cognition and memory. The point is that if you want to rock your business presentation, use music. Go to https://www.melodyloops.com/ and find out which melodies are suitable for presentations or holds, podcasts, videos, etc. It's important to use music strategically before, during, and after the presentation.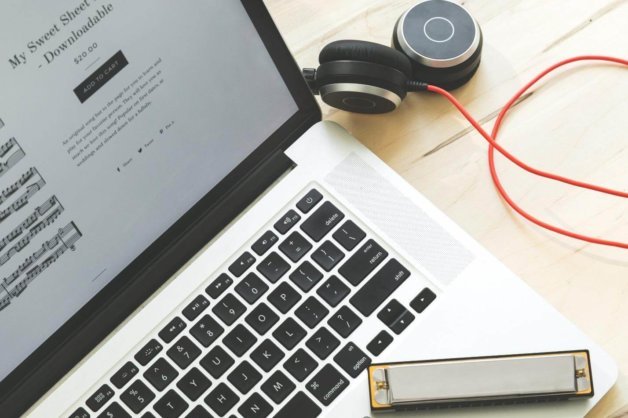 Open music will invite make attendees feel more comfortable, while hold music will draw them in. Alternatively, propel music acts as a call-to-action, in the sense that it stimulates participants to do something. You don't have to right to use songs or recordings that you didn't make yourself. If you do, you violate copyright law. Not only do you face the risk of copyright infringement, but also incredible amounts of money in lawsuits and fines. You must obtain a license to use the music. If you find this too difficult or simply time-consuming, go with royalty-free music. You pay for the music one time and you can use it several times. So, spare yourself the headache. 
Expand Your Presentation's Reach by Sharing It Online 
So, you've made a knockout presentation. Maybe so, but if you don't reach a large number of people, your efforts will have been in vain. There are many ways to increase the reach of your business presentation. For example, you can share it online. Apps such as GoToWebinar and SlideShare allow you to meet with customers, clients, and colleagues via the Internet in real-time. Needless to say, there are numerous applications available, so you must figure out which one best meets your needs and become accustomed to its functionality. 
Your work should be focused on the main point of view. To be more precise, make sure that you're highlighting the most important things and you're not wasting your time on low priority topics. It's not necessary to add extra info to the presentation. If you cram details into the slides, you don't understand their purpose. Don't try to convey complex ideas. The slides are supposed to help your presentation and not bring them down. Put yourself in the shoes of the audience for a second and see if you're doing a good job. 
Why don't you get a throwable microphone? 
As the name clearly suggests, a throwable microphone is a mike that you can throw around, from one participant to the other. It works well for conferences, as well as meetings and informal encounters. If people from the audience have something to say, give them the microphone and encourage them to speak up. It's a good idea to let go of control. Give the audience something to talk about, literally. People can ask questions and provide feedback. 
The aim of a business presentation is to get attendees to think, feel, and do something. Think about connecting to the audience in its terms. After all, you shouldn't be the only one speaking. Throw the microphone and see what happens. The result might just surprise you.