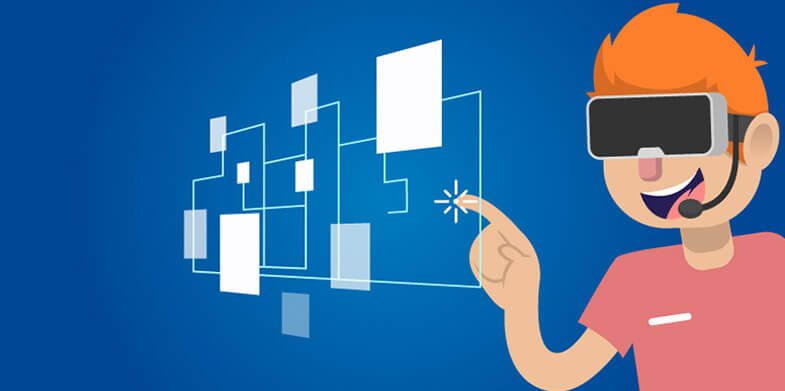 If you are into tech news, you may have heard multiple times that the virtual reality is going to be the next big thing. Many predicted that virtual reality is something that has the potential to replace the internet within the next 20 years.
There is a big chance that virtual reality is going to change the complete user experience of internet and computer users. Previously, people didn't think that cellphone is going to do that but it did and the same is going to happen with VR. We have already seen the power of VR in gaming industry as PlayStation launched their VR last year. Now the question is, how VR is going to dominate the media industry?


Think about this for a second. Were you into 3D movies five years ago from today? There is a big chance that you were not. Now think about the current situation. Every movie in almost all good parts of the world are being released in both 2D and 3D options and people are willing to shell out extra to watch the movie in three dimension for increased experience.
Once VR becomes a household name in the media industry, the same is going to happen with this too. When you have the power of virtual reality with you, you will not be watching 2D movies or television shows anymore. The media consumption is one industry which is expected to be highly affected by virtual reality devices.
Almost every big company is going for this new upcoming market. We already know that Facebook released their 360-degree video and photo viewing option for their audience and the target is to grab as much market share as possible being the first player in the industry. The other big names are also in this fight where YouTube is planning to release their complete virtual reality experience and Google has already announced that their next developer conference will be all about VR and how they can dominate the industry.


Artificial intelligence is the way of future and virtual reality is one of the ways to go about it. With the invention of technologies such as 3D printing, fields like architecture have already started to change. This change is expected to affect other industries as well.
Now, let's talk about the media industry. The prime player in the media industry are movies, music, television shows and advertisement. How is virtual reality going to effect these vehicles?
With world's first virtual reality based cinema opening in Amsterdam, we have already started living in the future. 360 degree cameras are now a thread away from entering the movies, with some directors and cinematographers already playing around with these fancy new cameras. Instead of wearing a 3D glass for example, you will be wearing a headset when entering into a movie theater and the chairs are probably going to be revolving too.
You will wear the headset and watch anything you want revolving your chair to 360 degrees. A lot of people think that the technology is not advanced enough to make this happen but that is not true at all. The technology is in fact already here and the implementation is taking time. Within next few years, you will probably see the first virtual reality based movie theater around the corner. These movie theaters exist even today but for now they are only at amusement parks. This is going to be a mainstream culture within a very short period of time.


The music industry is also going to face major changes with the virtual reality movement. Things are going to be similar to the movie scene when it comes to consuming music videos but the audio industry is also going to face the heat. You will no longer need to be present in a concert when you can get the exact same experience with wearing a headset.
The music industry is already seeing multiple changes with regards to virtual reality as big named starts, including Black Eyed Peas, Bjork, Fort Minor, have released 360 degree videos. These videos that allow users to view the video using Virtual Reality glasses, or by simply using the pointer on the video, are revolutionizing the way music videos are made.
The traditional methods of consuming media are not going to be applied in the same way to the virtual world ecosystem. The conventional tools that we use to consume media such as our television, laptop or cellphone are not great tools when it comes to the virtual reality. Though there are things like Google Cardboard which are trying to push the boundary for the 360 degree setup, it is still a long way to go.
Therefore, if you are someone who is into this industry and are worrying about the upcoming changes, you can rest for a while. The changes are going to happen but it will take more time than what people think. People will have to get accustomed to the idea of virtual reality first before it becomes an actual household item. If you are asking the question that whether it will become a household item replacing the traditional methods of media consumption then the answer to that question is positive. It will definitely happen and every single stat tells us that.
But it is not going to happen within the next five years. It will at least take fifteen to twenty years for virtual reality to really dominate the world of entertainment. Also, entertainment world is the first one that virtual reality is going to capture. So, if you are someone who are not into this industry and are feeling safe, think twice. Though VR is all about gaming, music and movies these days, there are predictions that people will use virtual reality boxes instead of regular laptop or cellphones in near future.