Being a part of internet community is not only good for your blog or business, it's also good to create new relationships, establish yourself as an expert in a field and to learn new things. Forum communities is the place for getting a lot of different opinions on several subjects. While some think it's not really useful or educational, it's sometimes good to hear others opinions.
The other good thing about online forums is the ability to advertise your blog on them. Which may or may not happen in the forms of linking to content that answers a question, or using a link in your signature.
Today I would like to bring forth a list of eleven popular online marketing communities that contain tons of information and are good to be a part of if you are looking to expand your knowledge while also exposing yourself to thousands of potential customers.
Top 11 Popular Internet Marketing Forums
Being part of an online community is not much different than being part of a real physical community. You have to stick to the basic rules, and there will be people who enforce those rules on consistent basis. Before proceeding to become a regular member on any of the following internet marketing forums, make sure to read the rules and general etiquette, so as not to give yourself headache.

I would in fact be very surprised if you wouldn't have heard of WarriorForum already. It's currently the most popular internet marketing forum on the planet offering a wide variety of advertising options for your products, if you are looking for a quick launch. I have to warn you though, WarriorForum is not always what it seem it might be, so be careful with the products you are trying to advertise or sell.

WickedFire is another great marketing community to be a part of, with the exception of a lot of people being complete smug bastards. It's just the way it is and there is nothing to hide about it really. You will find some decent discussions on topics like SEO and Affiliate Marketing.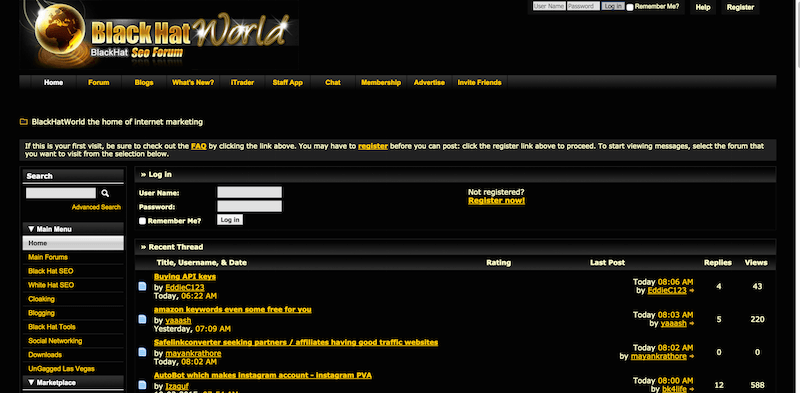 You might say this site is not worthy of this popular internet marketing forum list, but I actually feel the opposite. I agree, 75% of the content on this site is completely black-hat and could destroy anyone's website if not looked at from different perspectives. But, the other 25%? You can actually find some really good information on this site, and very often websites that can get you free and quality backlinks :)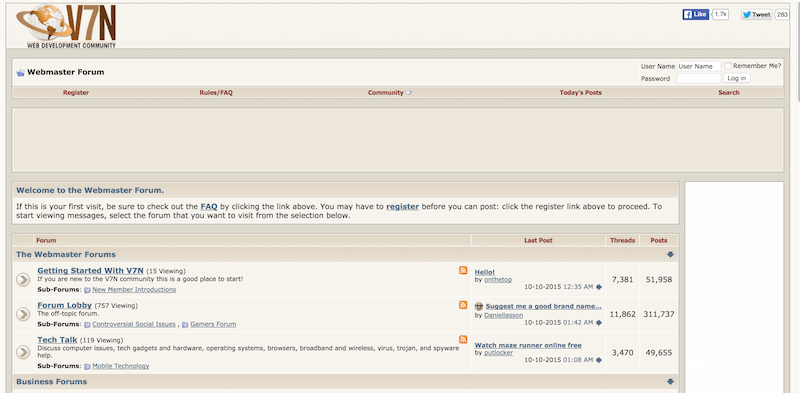 V7N is amazing! It has been around for years now and has established a great following of people who participate on the community forums daily. It covers a lot of topics including popular ones like SEO, marketing, blogging, graphic design and many others! Definitely check it out!

DigitalPoint is another one of the internet oldies that have managed to last to this day. It's a great forum for marketers and webmasters alike, there is no question about it. I do however think that, because of the fact that it has gone so advertising heavy in the past couple of years – it might not be appealing to everyone. I do suggest you have a look at the forum and maybe you can find information there you wouldn't otherwise find anywhere else.
There is a lot of community oriented talks going on frequently, and it's also good if you are an AdSense user, as many people there are.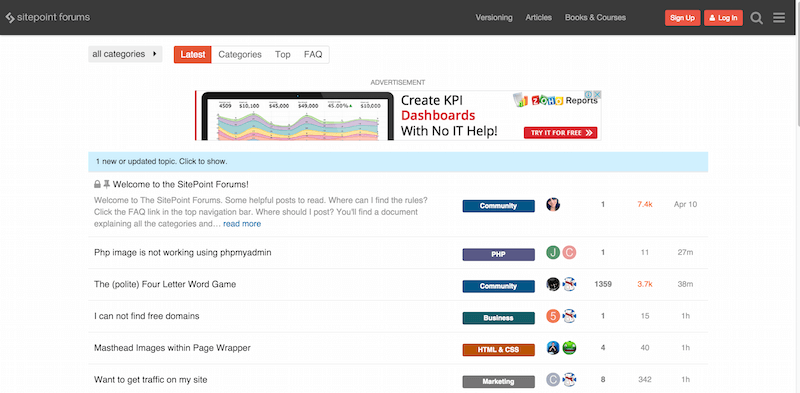 SitePoint forums is great, especially so for beginners. Community there is always willing to help others in a friendly manner, and it also has a lot of community members who are experienced in programming and web development. There are marketing sections available that include internet marketing, eCommerce and business related topics. Registration is easy, and the main site offers a wide variety of articles.
Just a few months ago, SitePoint decided to upgrade their forum system, which means that there is a new design and new type of forum system to get accustomed to. The site itself has also been expanding their other parts of the site, which means that the forum is growing by the day.
Affilorama
>

Affilorama is stricly about affiliate marketing, as you might have guessed. And that's fine, because it includes a lot of marketing information we want and need. There is a lot of reputable information and tips to be found on this forum, if you are interested in sharpening your selling skills, Affilorama is the place to go.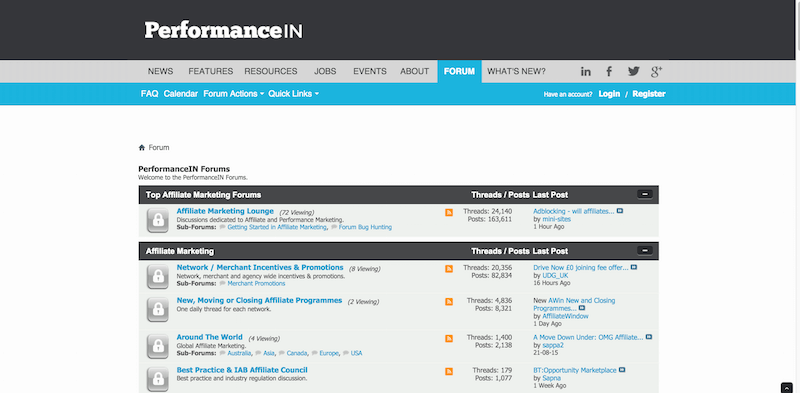 It might not be the biggest internet marketing forum out there, but it has a lot of quality information regarding many affiliate networks, and many of the affiliate network employees also use this forum to talk and interact with their clients. It's definitely worth registering to, even if for the sake of good resources.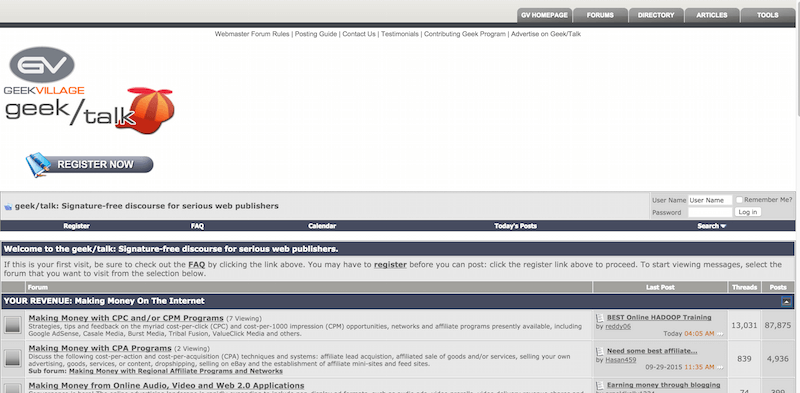 GeekVillage is an old community that's mostly populated by people who come directly from search engines, the number of posts published on GeekVillage has declined steadily over the years, but is nonetheless a fairly reliable source of inspiration and knowledge about internet marketing, and you can rest assured that some of the regular members check out the forum once in a while.
The last but not least on our list is GeekVillage forums, its sole purpose is for webmasters to have a place to hang out at. It serves a lot of different communities while also offering a place to buy and sell internet related things.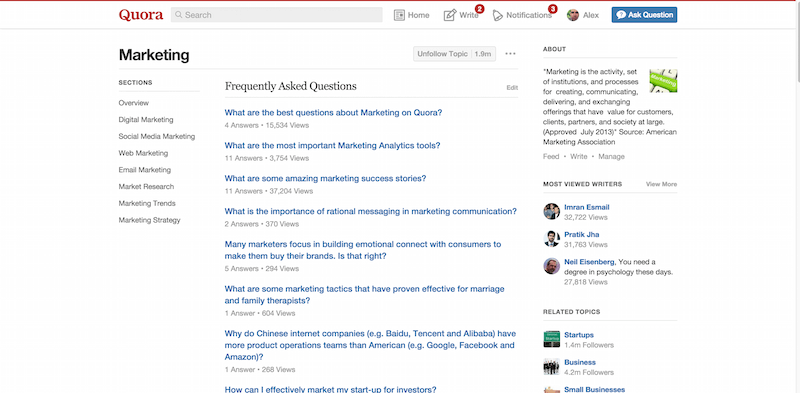 Quora is not a direct forum platform, its main focus is on helping others find answers to their questions, but when looked at individually, the individual categories of the site can in fact act like forum sections, where anyone can ask questions and engage in discussion. Quora is already home to thousands of marketing questions, so before you ask something that has already been answered, make sure to do a quick search and see what comes up.

DreamTeamMoney is a unique marketing forum that's built around a community of people who actively engage in 'harvesting' Dream Points to establish themselves as regular members on the site. DreamTeamMoney offers a number of internet marketing sections; general marketing online, social media marketing, cryptocurrencies, and much more.
Conclusion: –
These definitely are some of the most popular internet marketing communities you could ever be a part of, if I had to create a new list with communities that are good for link building, perhaps the list would be slightly different. I hope that you will be able to find a new community to be a part of, and maybe even find a new favorite.