I posted similar post yesterday, for helping you to find Django development jobs, and after doing a little research I realized that there is also demand for skilled Ruby experts, but it can get difficult when it comes to knowing where to go, for the next Ruby development job opportunity.
I've not covered a whole lot of Ruby on this blog, not as of yet, and so with that in mind I'll jump straight to our list. I'm more than likely to miss a favorite job finding place of yours, and so I recommend you give me a tip in the comments or through the contact form. You should check out the Django one, as I've got three basic ones like Indeed, Stack Overflow and Reddit covered in there and I don't feel like posting the same ones again.
By the way, Ruby just turned 21 and you can read the announcement on the official blog.
The average Ruby developer salary in 2014 is around the $90,000-95,000 mark – which is a lot more than many other development languages can currently offer.

This is a premium job listing site, that requires of the employer to create a deposit in order to have his job offer listed – this provides some transparency, and weeds out the lower quality jobs. You can easily apply through the site itself, or use LinkedIn to connect and apply that way.
It seems that on average there are around 10 new jobs being posted every month, and it also has a widget for displaying jobs from Indeed.com, which is another reason to use this platform for finding a Ruby development job.

You can list a job completely free of charge, with the additional option of a premium listing which will cost you $40. There seems to be a bit of a lack of activity on this website as of late, but I'd still signup to the newsletter they provide – as you never know where the next best opportunity might come from.
The guys behind this website are also behind a couple of others, so it's worth checking out if you're always looking for new jobs to try.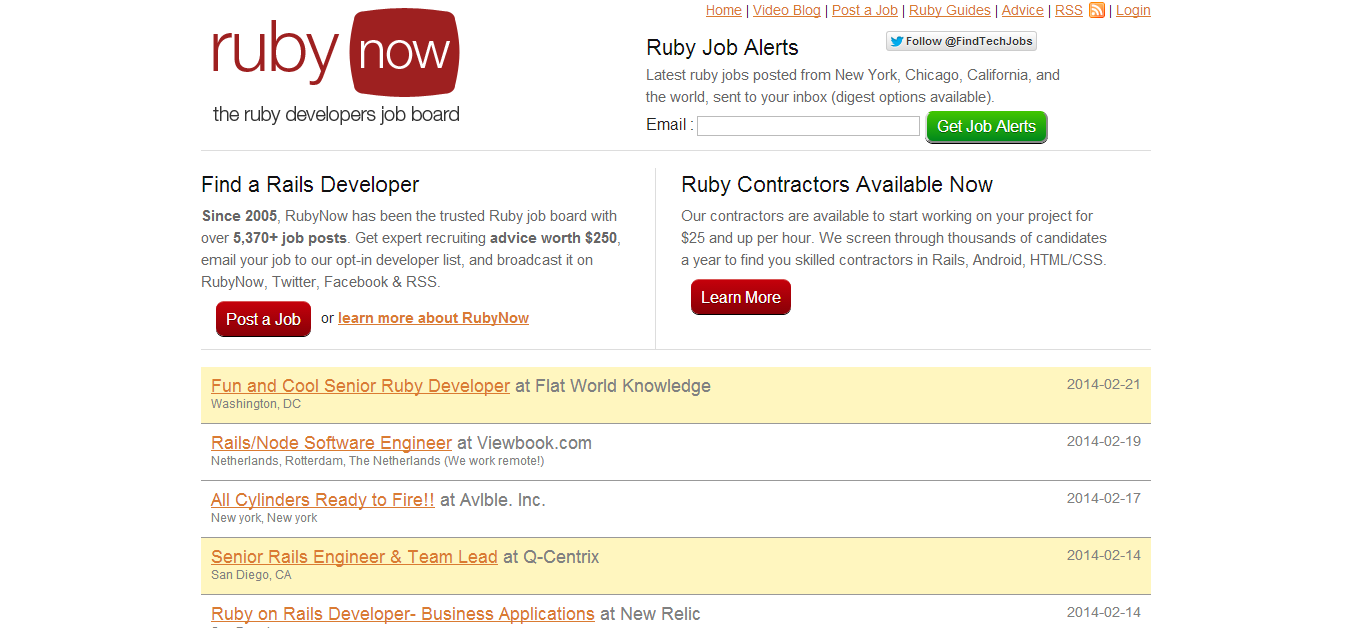 This is one of the oldest Ruby jobs boards on the web, and it can be used to find some really great opportunities. You'll notice that a lot of these job listings will require of you to create sample codes, and demo applications in order to have your application accepted – which I think is a nice touch.
It costs under $100 to have a normal listing, a little bit over a $100 for a premium one. You're guaranteed to find talented rather quickly, as RubyNow provides a ton of promotion, and it's also an establish job board by itself. As a Ruby developer, you can signup to the newsletter or the Twitter account to receive daily notifications.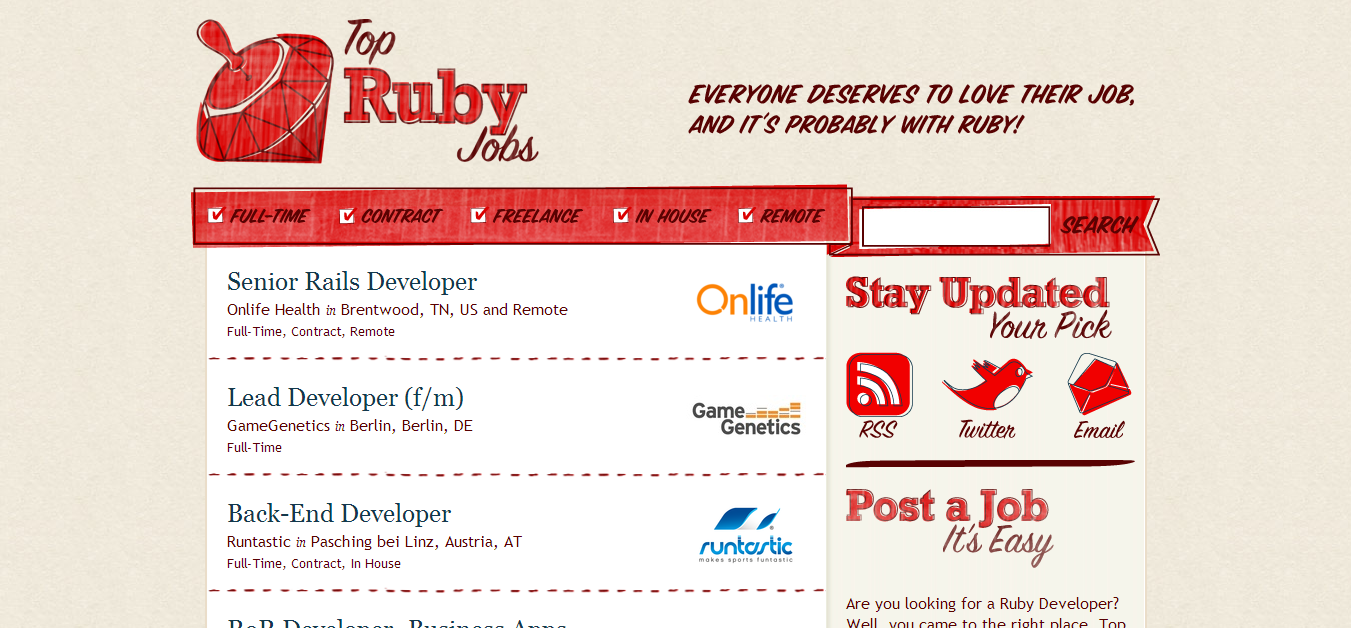 It costs nearly $200 to post a job here, so you can expect professional companies, people and agencies to be posting their listings there. I love that this job board allows you to browse through remote, freelance, contract and full-time jobs – allow you to make better choices.
Most of the Ruby development job boards I've listed above are for full-time / part-time positions, but we all know that sometimes we want to work at our own schedule and so remote, or freelance work might be more appealing.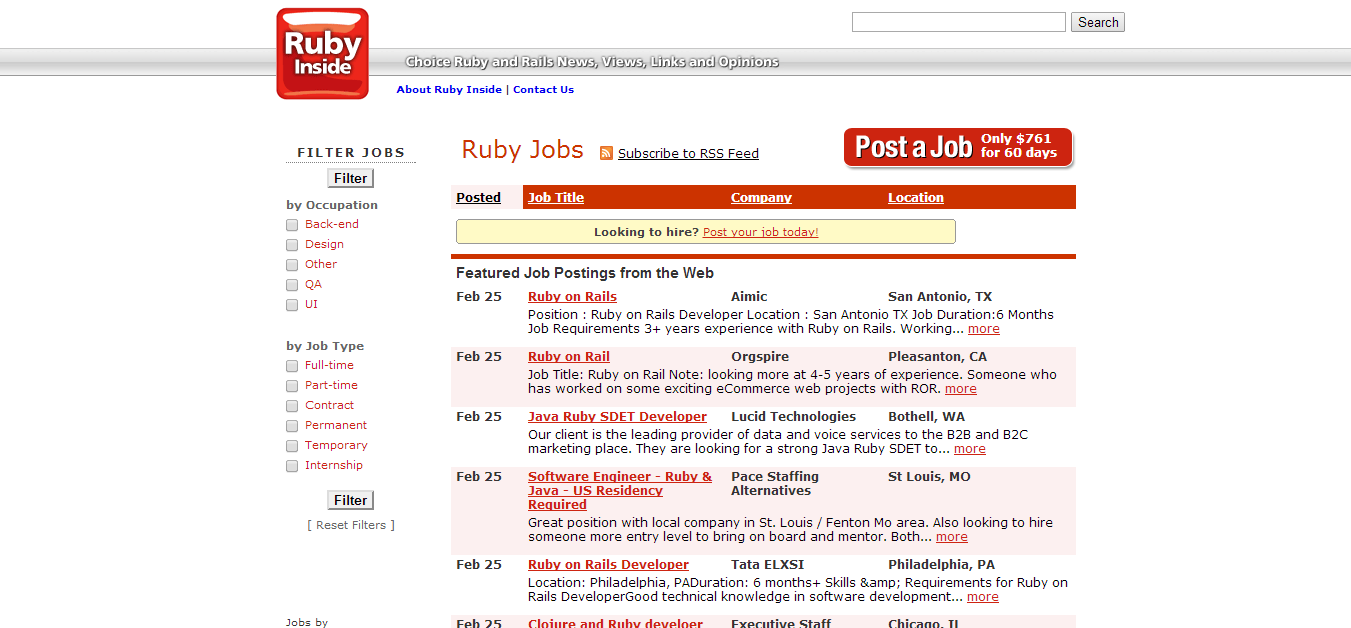 The last on our list is a very active and professional Ruby job board from the very popular Ruby Inside blog. It's quite expensive to have an employer list an opening there, and so you're guaranteed to work only for some of the best companies out there. It also enables to sort through types of work, and even includes internship opportunities.
Ruby Development Jobs
I think that covers the variety that some people are after. It's not difficult to find freelance work, I think it comes down to the preference of your own style and how you want to work. I think it's worth checking out office life, at least one time to get a feel of it.
While other developers might want to switch to remote or freelance work, to see what its like to work at your own pace and perhaps you might find it appealing. It does have a lot of things to teach about self-control and discipline!
Happy job hunting!
photo by gridspiration