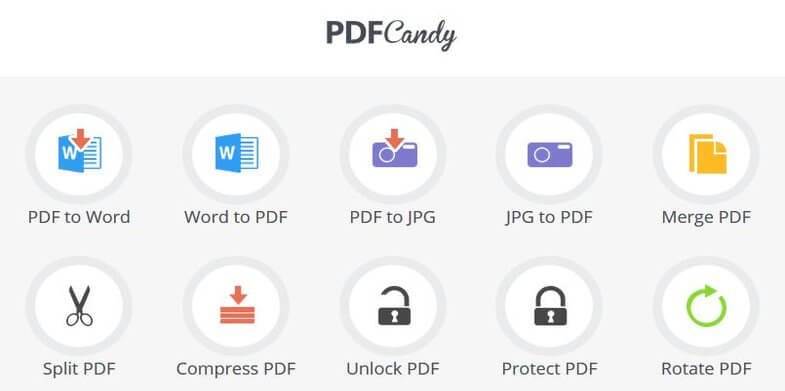 PDF Candy is a new free online service with 24 various tools for processing PDF files. Services are available for all users at no cost without requiring any account or subscriptions. PDF Candy is a website launched by Icecream Apps and that's why the quality of this new online PDF service is really high since it's based on offline PDF products by Icecream Apps.
PDF Candy is available in English, Spanish, German, French Portuguese, Italian, and Russian. Unlike other free or trail based software, PDF Candy users are not limited to the number of tools used, frequency of their use and the number of the files that are uploaded and processed. The website contains onlyone and limitation, that is 10 MB per each uploaded file. This limit guarantees fair usage of the service by its users.
The interface of the website is user-friendly and modern. Even the newbies should find it easy to use PDF Candy to split, merge, password-protect, convert PDF files, and more.
PDF Candy guarantees complete security of the uploaded files – their content is only used to work with the files and create the resulting files. The documents uploaded to this free PDF service are not stored or handed over to third parties. Thus, the users can upload documents even with sensitive information without worrying that their content will leak. Moreover, the connection to PDF Candy is secured by SSL, which is really a must-have for such a service.


The files can be uploaded to PDF Candy through drag and drop or with the help of the device's Explorer. It's also possible to upload the files from the machine/device along with Google Drive and Dropbox accounts.
The available tools of PDF Candy are divided into 3 sections:
Convert from PDF (5 tools);
Convert to PDF (11 tools);
Other tools (8 tools).
"Convert from PDF" section of PDF Candy contains such conversion tools as PDF to Word, PDF to JPG, PDF to PNG, PDF to TIFF and PDF to BMP. Using any of these tools is extremely simple. Right after uploading the PDF documents to a chosen tool of this section and selection of the output image quality (available for JPG, PNG, TIFF and BMP output formats), the conversion process starts right away. As it is finished, users can either save a Word file, an image (if the uploaded PDF file had 1 page) or a ZIP archive with the images (if the uploaded PDF document had 2+ pages, each page will be converted to a separated image file).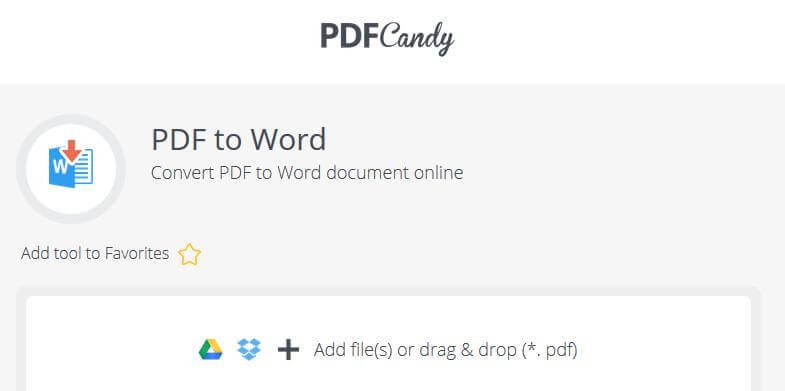 Using the tools in "Convert to PDF" section,, users can convert files of the following formats to PDF: Word, JPG, EPUB, MOBI, FB2, PNG, TIFF, BMP, ODT, Excel and PPT. Conversion of the files of Word, ODT, Excel and PPT starts straight away after the files are uploaded. While converting ebooks of EPUB, MOBI and FB2 formats, it's possible to select the margin and page format for the output PDF files. When converting images of JPG, PNG, TIFF and BMP format, users can add multiple files to merge them into a single PDF document.
In the "Other tools" section the following PDF tools can be found:
Merge PDF – upload the needed files to merge them into a single PDF document;
Split PDF – upload a document with multiple pages, select to split it into single pages or enter the intervals of pages;
Compress PDF – decrease the size of a PDF file;
Unlock PDF – remove a password from your password-protected file (make sure you know the right password for the file);
Protect PDF – password-protect a PDF document;
Rotate PDF – rotate all the pages or pages' intervals of the uploaded PDF;
Add watermark – type in a text or upload an image, select the watermark position and save an output PDF file with a custom watermark;
Delete pages – select the pages or page intervals to be deleted from the uploaded PDF document.

Each tool of PDF Candy can be added to Favorites for the fast access. Favorite tools are displayed at the bottom of the pages of each tool or at the home page of the website.
If you're looking for an easy and effective way to process your PDF files using just a couple of mouse clicks – PDF Candy will do the trick. Split, merge, compress, convert your PDF files and more hassle-free with the use of 24 various tools offered.