AngularJS is a MVW JavaScript framework maintained by Google and a community of enthusiastic developers. It is a structural framework for developing dynamic web applications. It allows extending HTML syntax to build dynamic single-page applications. The framework offers a range of defining features, such as two-way data binding, reusable controls, dependency injection, RESTful API handling and more.
A lot of developers are learning to develop AngularJS applications through different tools and other resources available online and a few more have already become expert AngularJS developers. Whether you are an amateur or a professional, if you want to build some cool websites or web apps using AngularJS, then you must definitely look for some ready-to-use AngularJS templates and themes for your development work.
There are a plethora of AngularJS themes and templates in the digital market. Most of them are Bootstrap themes which are responsive in design. You can also integrate single-page AngularJS e-commerce templates, blog themes or landing page themes in to the word-press powered or personal/professional websites.
So, here is an amazing list of 18 Best AngularJS Themes and Templates.
1. MicroStore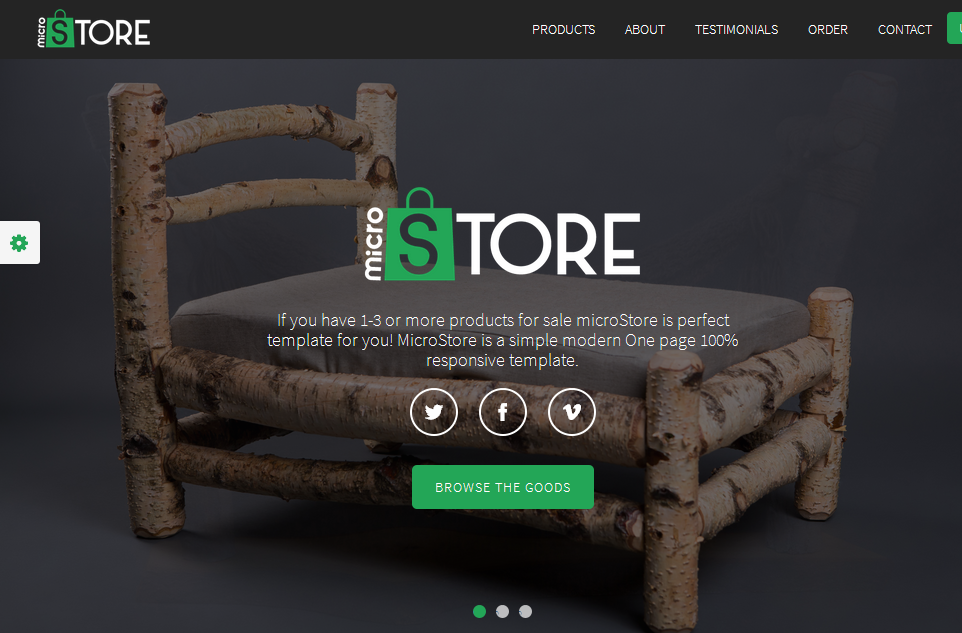 MicroStore is a single-page, responsive AngularJS theme design for e-commerce websites. The theme offers several page sections for About Us, Products, Newsletter, Testimonials and more. Moreover, it comes with 3 pre-defined color schemes, 300 icons, Google fonts, product slideshow feature and more.
Download
2. Medicum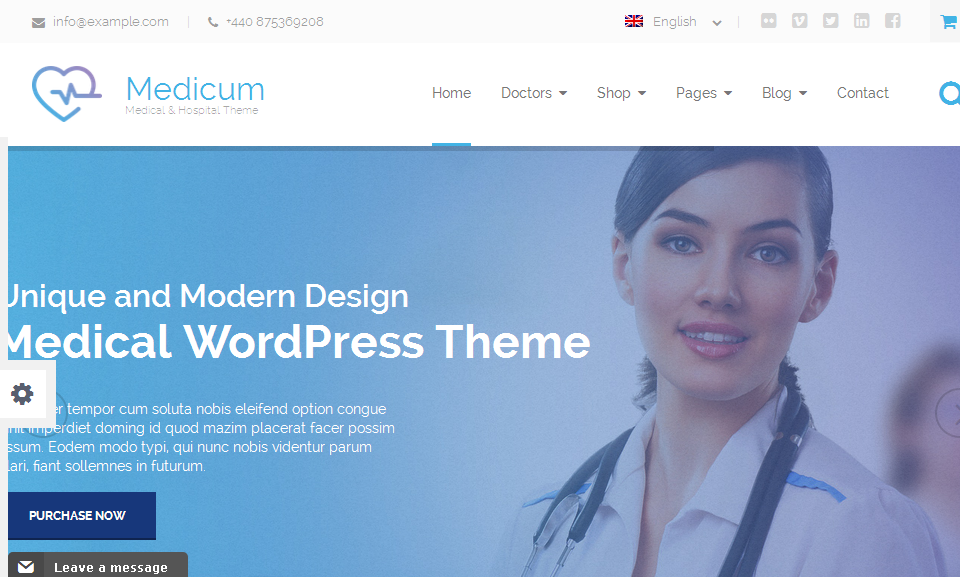 Medicum is a fully-responsive, medical WordPress theme. The theme is compatible with Bootstrap 3, WooCommerce and AngularJS. It has a 2-column responsive layout, several page sections, widget areas, custom sidebars and more.
3. Papel

Papel is a responsive, single-page portfolio theme built on Bootstrap 3.3.1. It uses jQuery and CSS3 techniques to create cool animation effects and offers header/portfolio sliders. It is suitable for creative design agency, business and portfolio websites.
4. HeyMetro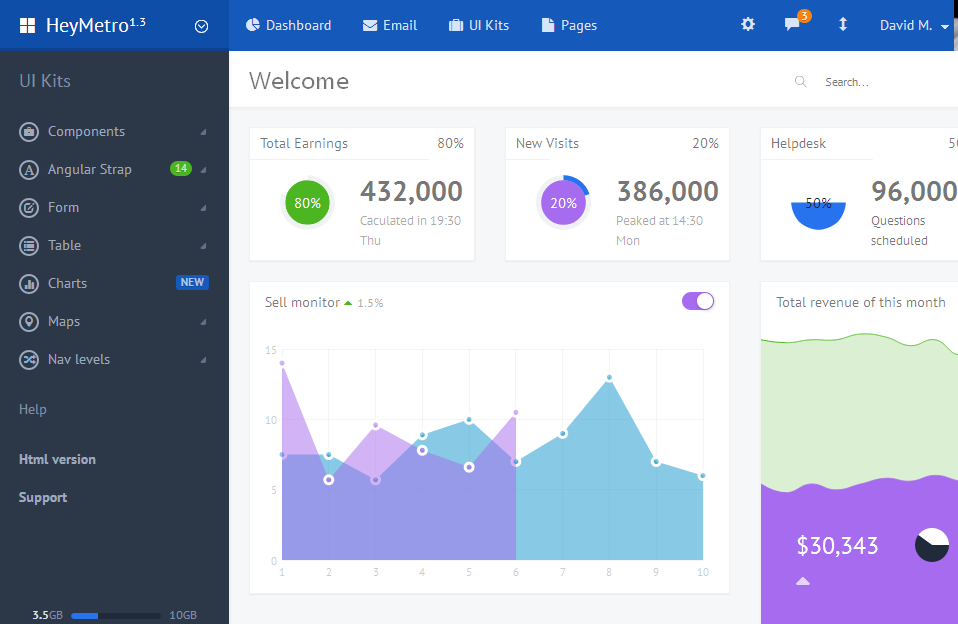 HeyMetro is a responsive, web application theme built with Bootstrap and AngularJS. The theme comes loaded with built-in design features for icons, layouts, profile page, timeline and more.
5. Maverix

Maverix is a free AngularJS bootstrap theme and application boilerplate. It is ideal for applications based on HTML App containers, such as MacGap, Node-Webkit and Github Atom Shell.
Download
6. Xenon

Xenon is a web application Angular JS admin theme with 4 dashboard layouts. It also offers multiple theme layouts and skins for sidebar, horizontal menu and user info navbar. Additionally, Xenon features a complete mail box system, several UI elements, forms, charts and more.
Download
7. Ani

Ani is a boilerplate for animated AngularJS theme written with Bootstrap LESS. It is a free starter theme suitable for dashboard and admin applications. Its defining feature is the subtle page transition animation. Ani is built using Bootstrap 3 and AngularJS 1.3.
Download
8. Real Estate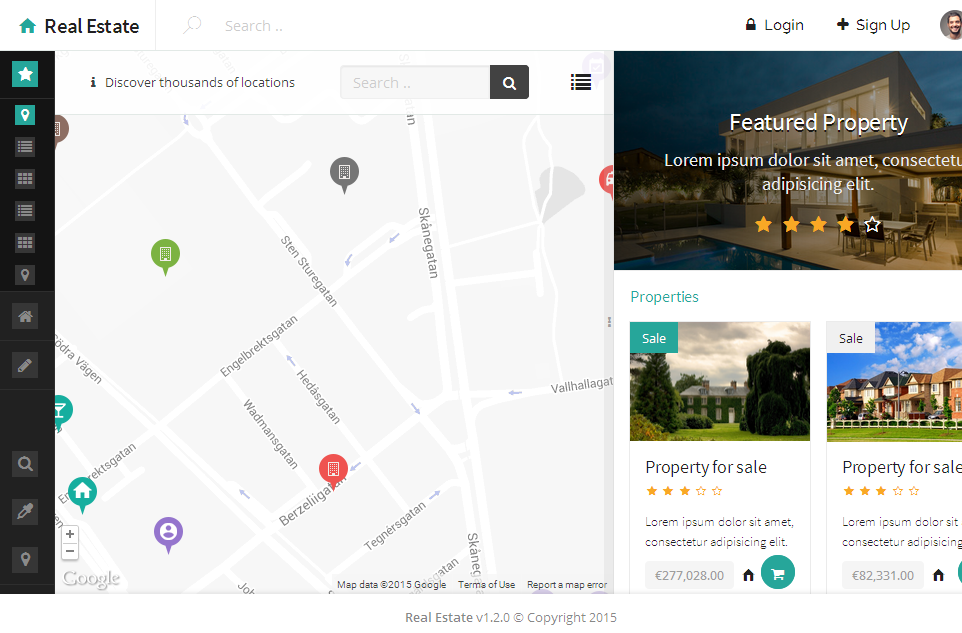 Real Estate is a property or listing template design optimized for AngularJS. It contains useful features, such as location finder, featured properties section, several Google Maps themes, custom map markers and interactive layouts, to name a few.
Download
9. Miveus

Miveus is an AngularJS web application template offering a bunch of custom options. It contains various form controls, UI elements, page templates, charts, tables and more. It supports profile page, dashboard and mail applications.
10. DragonFly

DragonFly is a fully-responsive, business template based on Bootstrap 3.2 for professional websites. The template offers 5 color themes and 3 types of navigation bars. It offers features like animation effects, custom sidebars, filterable portfolio, custom page templates and photo gallery.
Download
11. Rainbow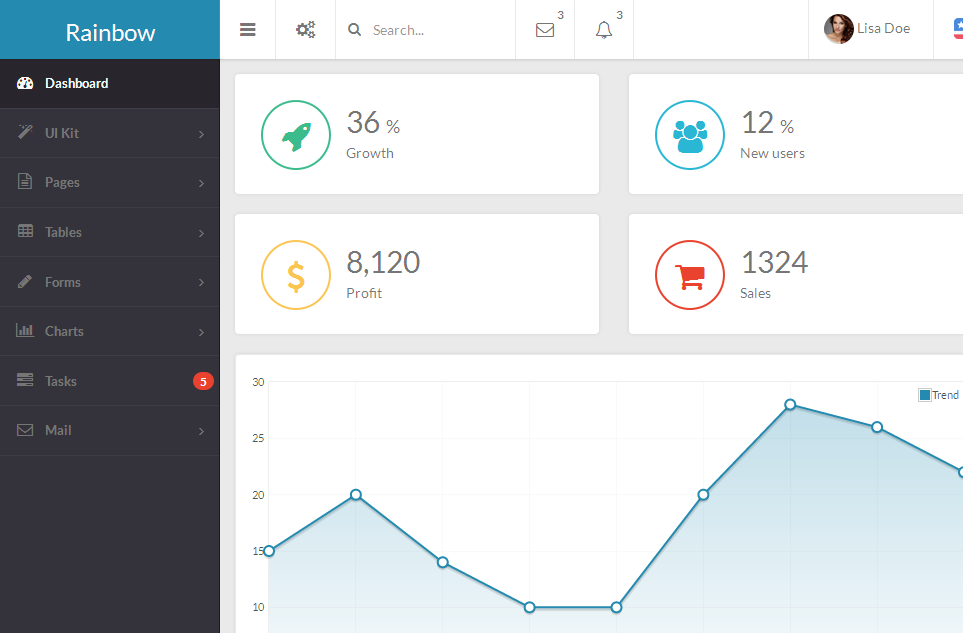 Rainbow is a responsive, application template built with Bootstrap and AngularJS. It offers multiple layouts and page transitions, real-time form validation, multiple color support and several other features.
Download
12. Flatify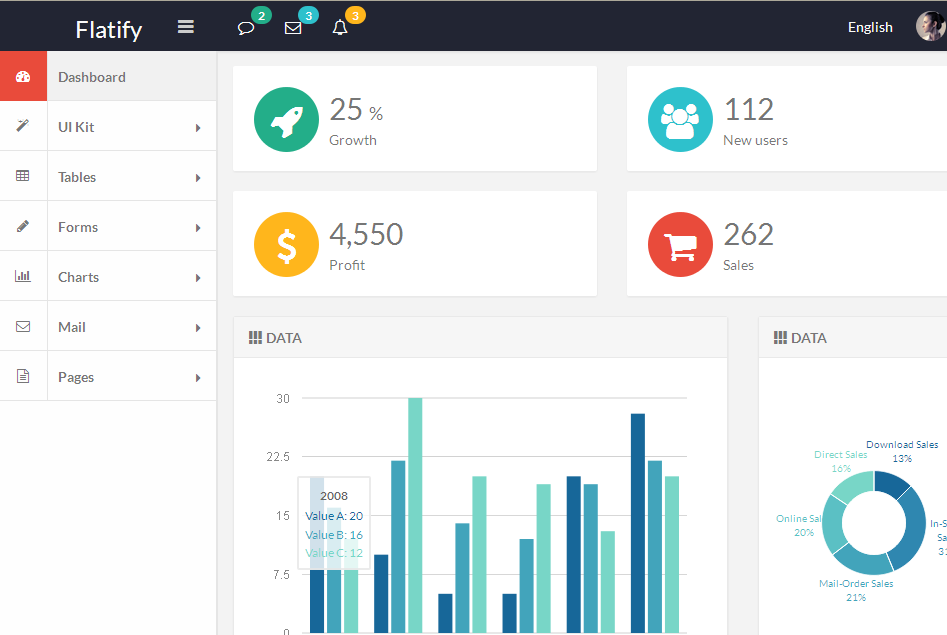 Flatify is a responsive, web application dashboard template built with AngularJS and Bootstrap 3. It is light weight template offering multiple languages and color support, task automation with Grunt, sliders, icons and much more.
Download
13. iFlat

iFlat is a web application admin template powered with AJAX and built with AngularJS and Bootstrap 3. The template offers plugins management with Twitter Bower and task automation with Grunt. It has several UI components, form controls, table types and more.
Download
14. WrapKit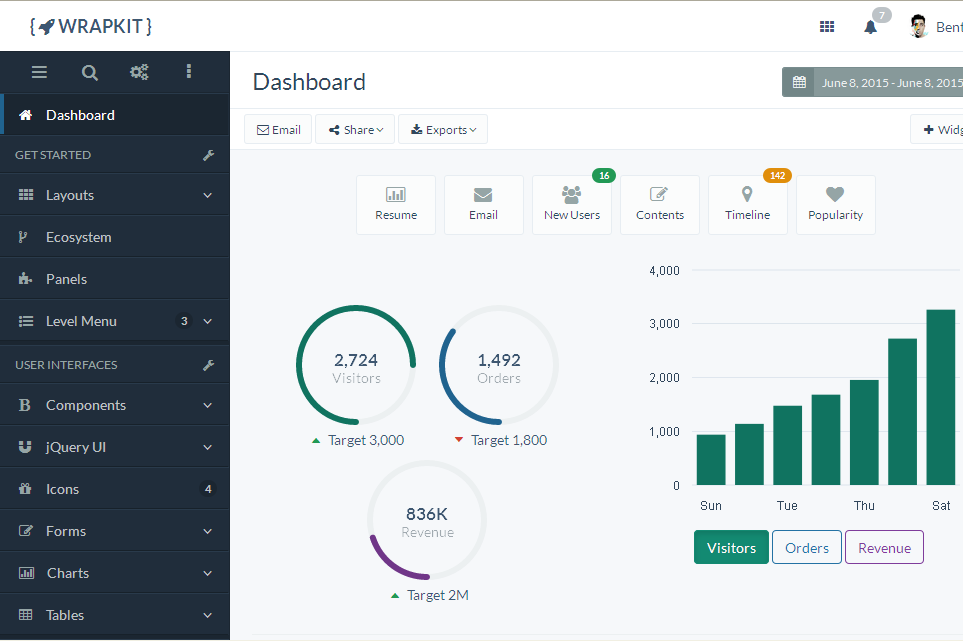 WrapKit is a responsive, multi-purpose admin template for angularJS applications. The template offers a range of jQuery UI widgets, components, layouts, color skins, template ecosystems, interactions, documentation and more.
Download
15. Azan

Azan is a responsive admin template with 8 different layouts for dashboard, landing pages and more. It features a full-fledged mail and profile system. Additionally, it offers pattern login system, various chart and button styles, sliders, text editor, gallery management, timeline and much more.
Download
16. Homer

Homer is a lightweight, responsive HTML admin template compatible with Bootstrap 3.3 and AngularJS. It offers Grunt/Bower environment and serves as an application skeleton for AngularJS web apps. Homer features a set of reusable UI components and integrates with the latest jQuery plugins.
Download
17. RDash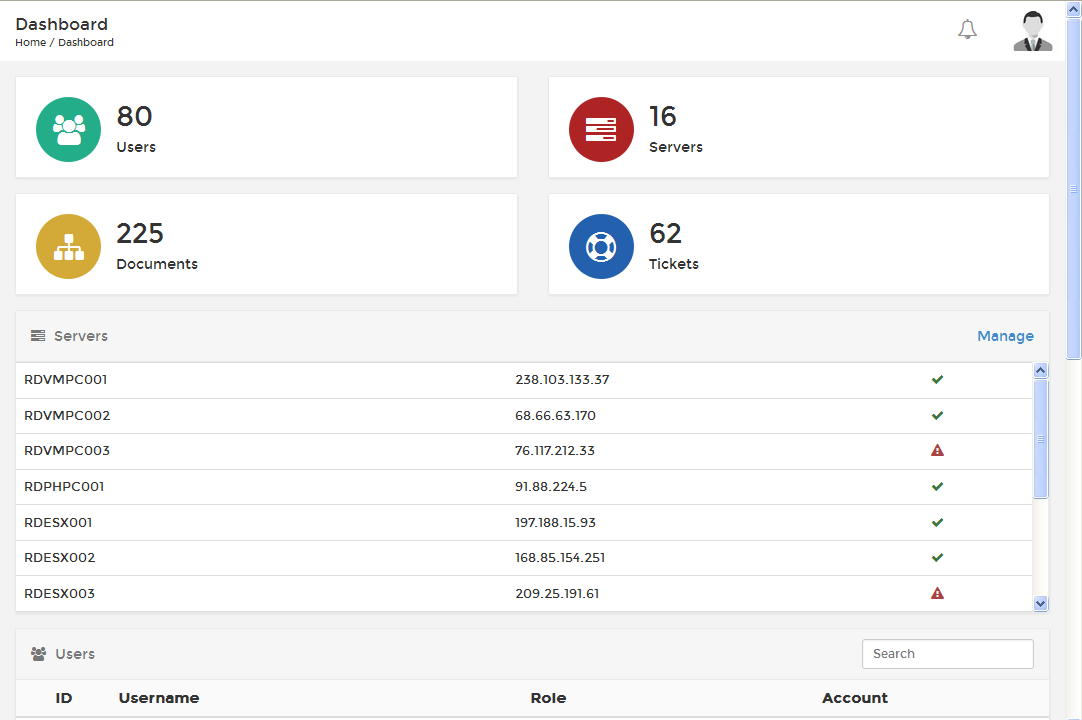 RDash Angular is a free AngularJS dashboard template featuring basic modules for web app development.
Download
18. Naut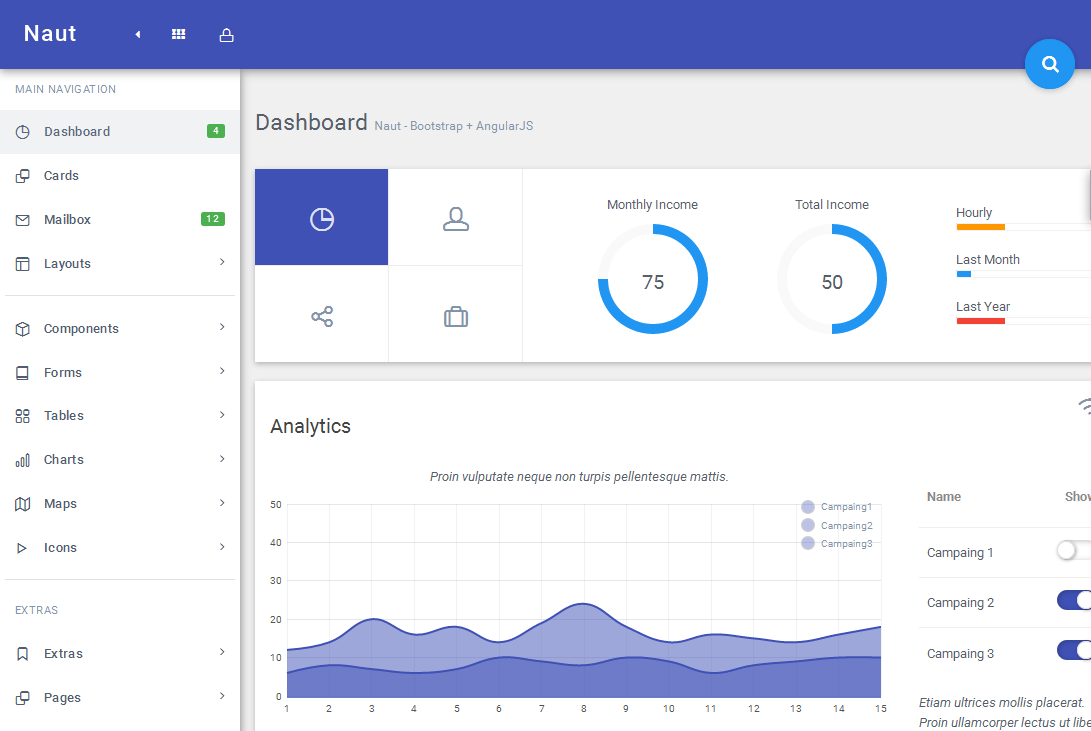 Naut is an AngularJS responsive template featuring several theme colors and build tools. It features several layouts and sidebar options. Naut offers a list of features, such as mailbox, calendar, timeline, to-do list, chat, profile system, Google Maps and more.
Download
19. Beyond Admin

Beyond Admin is a web application template design featuring HTML, ASP.Net and AngularJS version. The template offers 12 color skins, right-to-left layouts, user profile system, mailbox, timeline and a lot more features.
Download
20. Triangular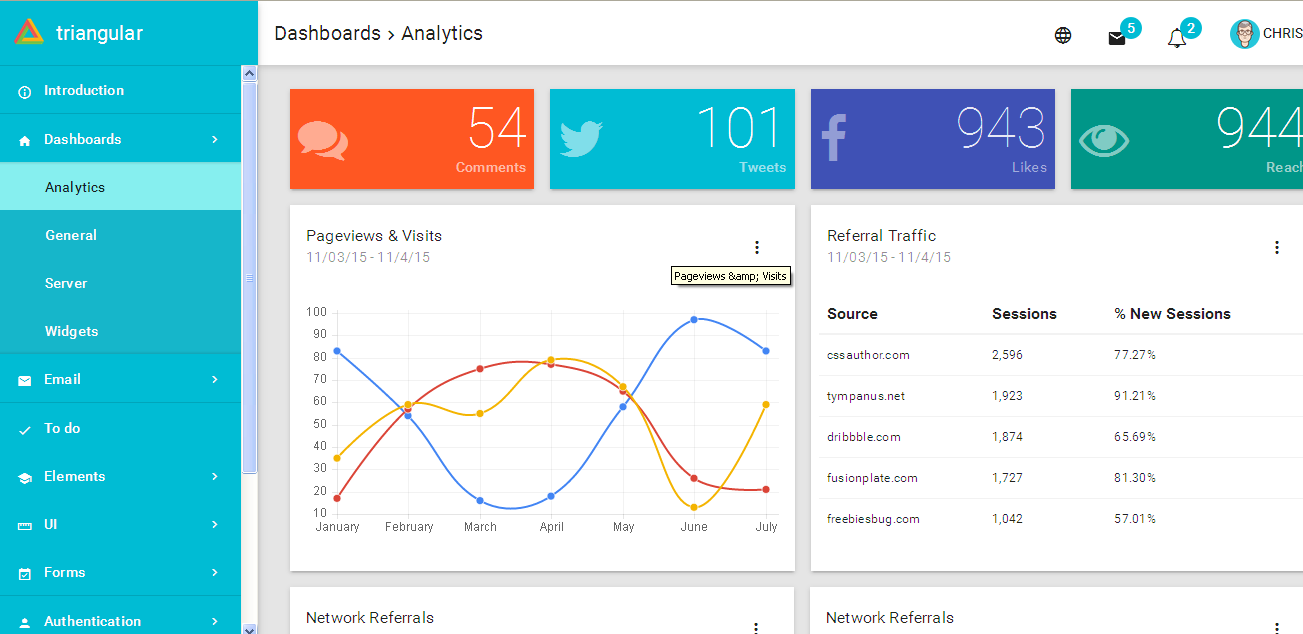 Triangular is an AngularJS Admin template built using Angular Material project. The template offers material design, 8 color themes, 3 dashboards, mail box application, and a range of fonts and icons.
Download
Conclusion:
With that we come to the end of our list. I am sure that you must have found this list helpful. There are a range of AngularJS themes and templates available for various types of websites and web apps. I have handpicked a few to cover the most basic requirements of developers. In case, you stumble upon any cool AngularJS templates and theme designs other than mentioned on the list, then you can share their names and respective links in the comments box below. Moreover, if you have designed any websites or apps using AngularJS themes/ templates, then feel free to share your work with us. We would love to get some inspiration. Thank You.