Cryptocurrency has become one of the most popular topics nowadays. 
Everyone wants to sit near their laptops and earn money, right? 
And even more!
People want someone to work for them and get money. 
Get money doing nothing.
Sounds unbelievable, right?
I need to tell you that crypto can give you this chance, but you need to know how to use this chance wisely. 
That is why today we will talk about Safetrading – a cryptocurrency listing platform, that will give you an opportunity to find the approved services for trading. 
What Is Safetrading?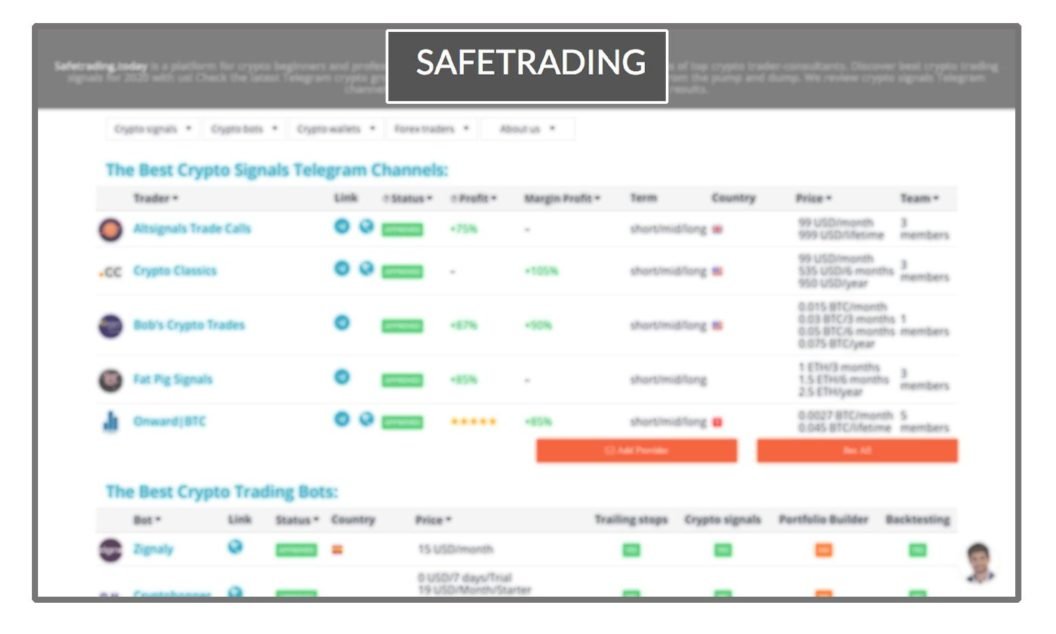 As I told you before, Safetrading lists cryptocurrency services and will help you to find the best crypto trading bot, crypto trader or crypto wallet. 
They started the activity more than two years ago. In the beginning, they worked only with crypto traders, but now they are expanding faster and faster. Soon you will be able to check Forex brokers, exchanges, casinos, etc. 
I think now there are some questions in your head like: "How do they check services?".
And in the next section, we will tell you the answer. 
How Does Safetrading Check Crypto Services? 
The goal of this platform is to provide only checked services to its users, that is why they have a strict plan of activity during their reviews. 
Let's go through it with crypto traders as an example. 
The first thing the potential trader does is provide all the important info for Safetrading to add his channel to their platform. 
Here Safetrading pays attention to the following factors:
The "age" of the channel
If it was created less than 3 months ago, they would now add it. 
Why? 
Because they aren't able to check the signals for the past three months. 
Cross promo
Why is it so important?
Because if the trader has a lot of cross-promo in his free channel, it will mean he doesn't earn a lot of money while trading and it can mean he is not so professional. 
By the way, it is very important to pay attention to the services this provider promotes.
If it is some unknown coins, scam channels, etc., it will definitely mean he is a potential scammer.
Pricing
This factor is very important for you as a potential user as well. 
You need to understand that if the trader has very low prices, it is strange. The only rational reason for such pricing is their experience – may be the channel is new and they want to gain some attention. But if the channel claims that they have a lot of years of experience, don't believe them – they are definitely trying to trick you.
After reviewing all of the factors they are able to, they will make a decision to add this channel or to refuse. 
If they add it, the next step will begin – they will review communication. 
Communication
I think this moment is crucial for most businessmen, etc. 
So, Safetrading pays attention to the English language, frequency of answers and way of communication.
Scammers usually answer very rarely, providing short answers with unclear information. A lot of them have very bad English (but this is not the most important factor).
During the communication, Safetrading asks the trader to provide access to their paid channel. 
And here the new story begins.
If the trader gives this access, Safetrading is able to check paid services and crypto signals. If he doesn't give it, it will be listed as "not checked".
In the next section, we will tell you in detail about their calculation rules.
Calculation Rules of Safetrading 
Here we will tell you how Safetrading checks crypto signals, bots and wallets.
At the beginning of their activity, they made a special strategy for reviewing.
They check all the crypto signals during the past 3 months.
They consider all the entry prices, targets, periods and stop losses. 
The most important thing here is that nothing can influence their review, even if the trader has his own results.
Those rules are the clearest criterion because you just can't argue with math. 
When they a crypto bot to check, they give a task to their experienced trader who gets access to all the bot functions and checks everything that is present in the dashboard, etc. If the bot offers different crypto traders to work with, Safetrading also checks them and compare their and bot statistics to know it the checked crypto bot is really fair with users.
For crypto wallets, they also have some experts. One of them audits the team who is behind the wallet, and another one reviews the wallet itself.
Conclusion
In this short review, we tried to tell you everything important about Safetrading.
They have a lot of happy users who were saved from losing time and money.
Now they list more than 260 crypto traders and inform users about their statuses – approved, not checked or scammers. 
Also, you can find a lot of guides and educational articles on cryptocurrency trading, different strategies and interesting facts of the crypto world.
Even if you don't know which provider or crypto bot to choose, you can always contact their representative Andreas Schmidt and he will consult you and give all the advice he is able to.