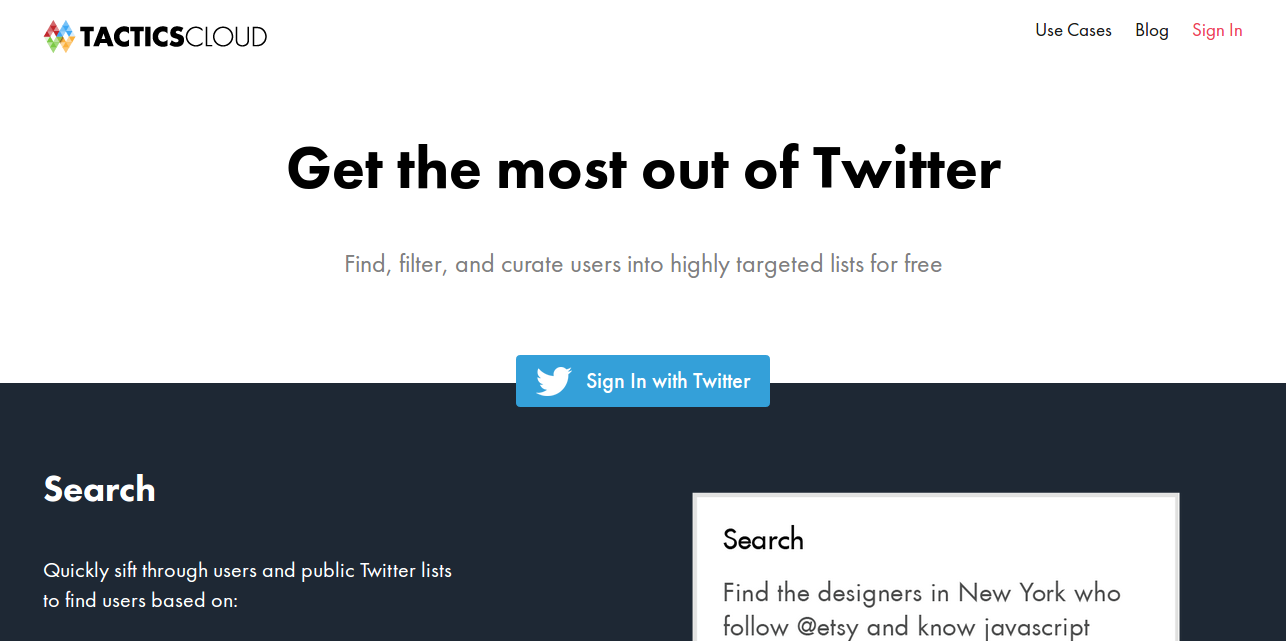 I first encountered Tactics Cloud a couple of weeks back, when a friend of mine on Twitter was advertising how good of a service they provide. I naturally had to give it a try, and I was totally blown away.
You can easily find and sort users on Twitter, and then export them to your Twitter account as a Twitter List. It's the easiest thing in the World to do, and the results are just magnificent.
Well, technically, it depends on what you're using it for, and maybe the results part is not as interesting to you as it might be to others. I use it for two purposes:
To build a targeted list of people to keep an eye on
To find and build relationships with certain industry people
You might have used the default Twitter search before, but I think that everyone can agree – it's garbage, and doesn't offer a way of finding a group of people who share the same interests as you do.
For that very reason, I rely on Tactics Cloud. They've got a great blog, full of tutorials and guides on how to use their service to find and target a list of people on Twitter. I like the last entry a lot, it's about finding job candidates on Twitter; it goes to show how versatile and useful this platform can be.
I've used it to build a couple of lists of my own, the reward has been the ability to interact and meet new people. One of the lists I recent built, for Engineers, is now nearly 100 subscribers strong – which is quite a lot, considering how many other similar lists are out there.
But, you can also find Twitter lists that have been already created, you can even include a username and lookup all of the lists that include that every user. It has helped me to achieve what I've always strived for – simplicity.
I'm a blogger, and it's natural for me to collect sources of information, and generally keep a track of what is going on in the world. And, because so many mediums use Twitter as their primary way of distributing news; creating separate, targeted lists with Tactics Cloud has enabled me to build lists quickly and effectively.
They do have plans set for the feature, to enable premium subscription model; which would enable you to make even more detailed, and specific searches and then build incredibly targeted Twitter lists.
I'm impressed by this platform, and definitely looking forward to where it is going to take itself. I'm hoping that it will stick around, as I see myself using it over and over again.
Have you tried out Tactics Cloud yet? Why not give them a spin and let me know in the comments what you think. :)