Cryptocurrency has taken the world by storm. People may have doubted its longevity when it first became popular, but its impact on the economic equations is not even in question today. Dogecoin is the dark horse of cryptocurrencies that is rapidly gaining popularity.
Dogecoin is a cryptocurrency just like Bitcoin. While Bitcoin is the highest in value right now, it has a limited supply. 
Dogecoin, on the other hand, may not be as high in value as Bitcoin, it does enjoy a steady value and unlimited supply. 
This makes Dogecoin a lucrative investment option today. Let us take a look at the possibilities of investing in Dogecoin.
Is DOGE coin a good investment?
Originally coming to life as a joke in 2013, Doge has long emerged as the 'bad boy' of crypto. 
Software engineers Billy Markus and Jackson Palmer created Doge as a payment system meant to poke fun at the wild speculations of the cryptocurrencies at the time. 
Despite it being introduced as satire, Doge earned an online following. To this day, its own website states Doge as a "fun and friendly internet currency". It is considered an altcoin and sometimes called 'meme coin'. 
Its code is DOGE and its symbol is Ð. You can search for it as CRYPTO: DOGE like you would CRYPTO: BTC for Bitcoin. It has the Shiba Inu dog of the 'Doge' meme as its logo. Doge currently ranks sixth in market capitalization, after Binance coin (BNB) and Cardano (ADA). 
It enjoys a loyal fan base and recently reached the market capitalization of over $85 billion on 5th May 2021. All this is to say that Dogecoin is far from a joke here to say. It has proved to be a reliable investment option. 
1. A safe investment choice
One of the biggest issues with Bitcoin has turned out to be its high value and limited supply. Doge overcomes that issue as it has no supply limit. That may mean that its value may not be as high as Bitcoin, but it surely enjoys steady growth. 
Its inflation rate is gradually declining and its user base is consistently growing, making Doge a safe investment in the market today. What is more, you can buy Doge using major payment options such as credit cards, debit cards, UPI, and bank transfers. 
As for spending, Doge is supported in most places as a currency for payments. You can send it to other people, spend it as a normal currency, transact with it, and exchange it. It is supported in most wallets and can be used to buy things online. 
Doge is especially being lauded as a good short-term investment. In January 2021, its price rose 400% in a few days. It dropped only after a few months. People who had invested in it right before the price hike earned big with the rise.
As an alternative, you can also invest in companies that back Doge. It is considered to be a safer option. Those companies will earn big as Doge continues to grow, and you earn big through your investment in those companies. 
2. It is steadily growing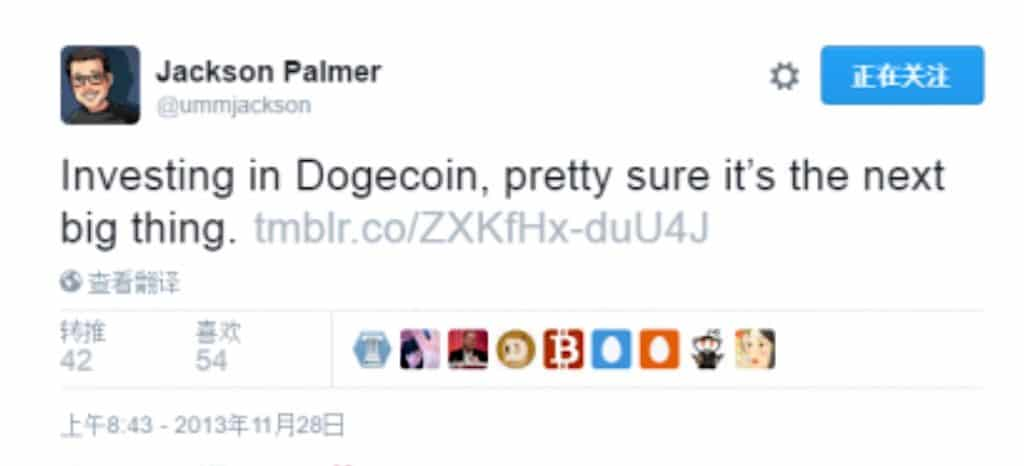 Doge cultivated an online community as early as its inception in December 2013. Communities such as Reddit have continued to lend their support to Doge. 'Shibes' as they call themselves, the Doge community has conducted a number of fundraisers and events over the years. 
However, it has been entrepreneur and business magnate Elon Musk's support of Doge that has exponentially skyrocketed its popularity. A self-proclaimed 'Dogefather', Musk has lent support to Doge on Twitter quite a lot. He went as far as to say that he would accept Dogecoin for a satellite launch to the moon. 
With Musk's own SpaceX and Tesla being open to cryptocurrencies, other big companies such as Shopify are also following suit. Even tech company NVIDIA that doesn't deal with crypto as a whole, has been involved with the technical side of things. 
As Doge continues to grow, it has now become the shirt sponsor of a Premier League club, Watford. Other celebrities, such as Mark Cuban, Snoop Dogg, Paris Hilton, and Lil Yatchy have also talked about Doge, making it popular among their fan bases. 
3. Are there any risks?
Just like any cryptocurrency, Doge can be a risky investment. People cite its 400% price hike in January and eventual fall a few months later being an unstable investment. It has also been compared to the rise of the price of GameStop stock in the same month, which also fell after some time. 
Another issue that comes with Doge is the lack of acceptance. Even if crypto becomes mainstream, it may only extend to the most valuable cryptocurrencies such as Bitcoin, and not Doge. Being a short-term investment, while it stands to bring you big gains, it can also cause you losses. 
However, all of these risks would come with any kind of investment, especially crypto, that is relatively new in the world of investments. Crypto has proved to be a lucrative venture time and again. Bitcoin's success today is a testament to how far crypto can go and Dogecoin is slowly but surely on its way to a successful future as well. 
You should always consider your options thoroughly before investing in the market. Consult experts and the people you trust and make investments carefully to avoid any big losses. Understand that investing in a cryptocurrency always comes with some element of risk involved before proceeding. 
4. Buy Dogecoin now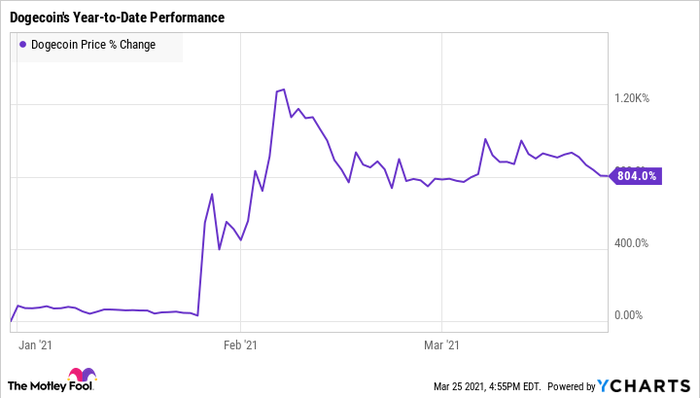 If you're considering investing in Dogecoin, we've come up with a handy guide to walk you through the process. It is relatively easy and can be done from the comfort of your home. 
Decide the amount you want to invest
Unlike other cryptos, Dogecoin doesn't have a limit on how many coins one can have. That encourages people to keep buying, something that is necessary to maintain the unlimited supply as well as the steady increase in price over time. 
The gist here is that you'll have to continually buy Dogecoin to keep their value rising. The amount you invest in Doge would depend on how much you are willing to spend, what your financial situation is, and your risk tolerance. As a rule of thumb, start simple and keep growing. Only invest as much as you are okay with losing. 
Sign up to the cryptocurrency exchange — MoonPay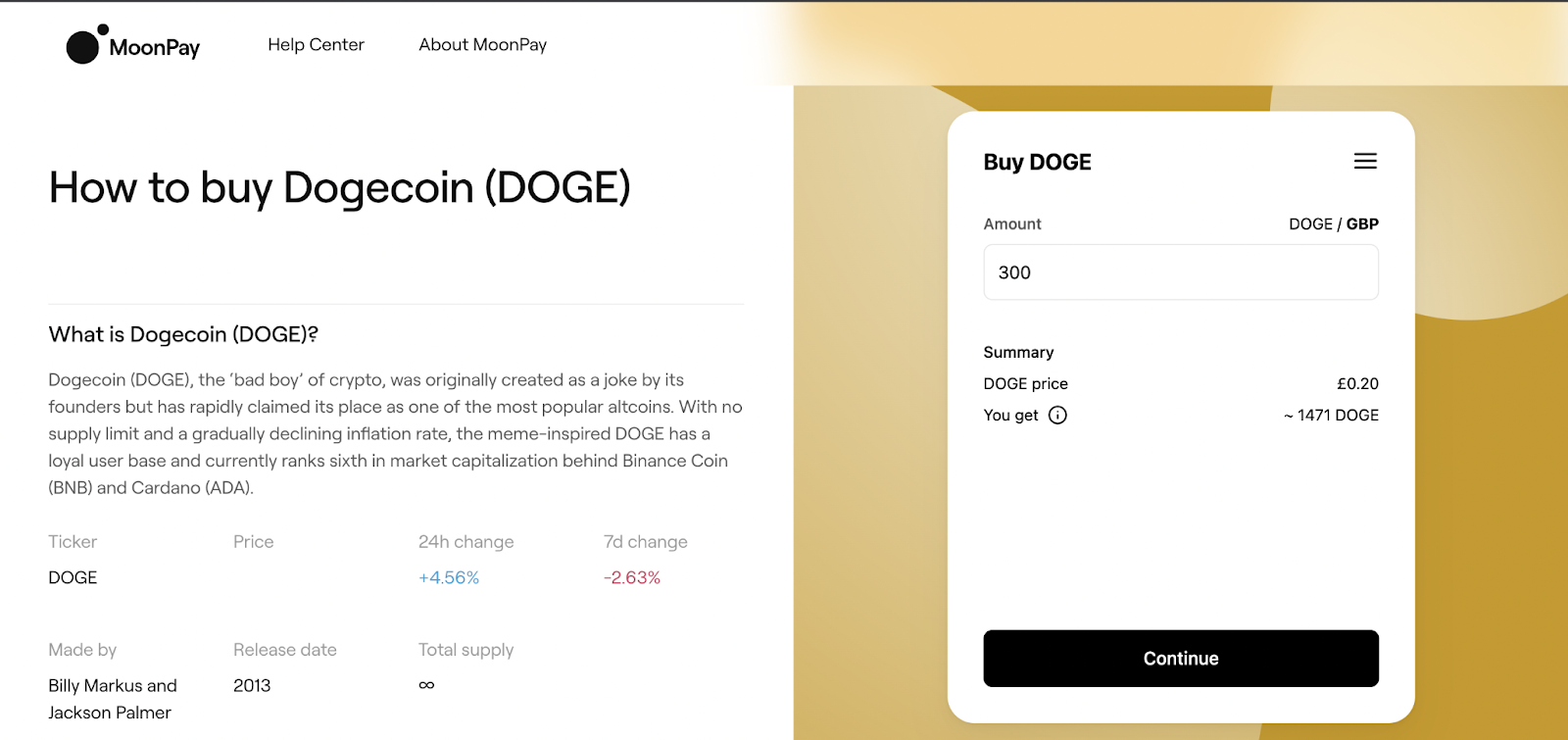 Next, you will have to register yourself with a cryptocurrency exchange. We recommend MoonPay. Get DOGE on Moonpay and get started today. It's fast, simple, and secure. It's trusted by over 5 million users and aims to make buying and selling of crypto as easy and accessible as possible. 
Dogecoin, being a relatively new crypto, may not be available on some platforms as well. Therefore, make sure of that before you proceed with any platform. 
Choose a payment option
You can buy Doge in minutes on MoonPay using any major form of payment, such as Google Pay, Apple Pay, debit or credit cards, as well as bank transfer. To begin trading cryptocurrencies, you first need to deposit money in your account. 
In the case of using a credit card to buy Doge, your credit card company will show it as a cash advance in your transactions, thus charging added fees and a higher APR. This is generally considered a pricier route and therefore, fewer people opt for it. 
Place the order
After you have deposited money in your account, you can purchase Dogecoins right away. Search for 'DOGE' on the platform, and choose the trade type. Now put in either the dollar amount you wish to invest in Dogecoin, or the number of Dogecoins you are buying. 
The transaction will go through as soon as you place the order. Unlike other cryptos, Doge has no limit on trading hours. You can buy and sell Doge any time of the day and any day of the week. 
5. Storage and sale of Dogecoin
After you have purchased some Dogecoins, they will be stored in the wallet of your cryptocurrency exchange platform. From here you can either let them stay there, move them to a wallet off-platform or sell some. Coins can be stored in both digital wallets i.e., hot wallets, or physical wallets i.e., cold wallets if they are being moved off-platform. 
To sell Dogecoins, the process is fairly simple. You simply go to your holdings on the platform and type the amount of Doge you want to sell. The transaction will be processed. If you have made a profit on the sale, you may have to pay a capital gains tax. 
Conclusion
It may have started out as a joke, but there is no denying that Dogecoin has developed into a serious currency in recent times. The future of Dogecoin is bright with its declining inflation rate and no supply limit. 
If you are going to invest in Doge, take your financial situation and risk tolerance into consideration before going forward with the investment. Start small and steadily grow with Doge. 
Let us know in the comments how far you have reached with your Doge investments and what tips you would like to give to other investors.
Also Read: Take Control of Your Finances: Is DOGE a Good Investment?