Trying to monitor your website for 24 hours every day is simply an impossible feat to achieve. You could hire additional 3-4 people to do the monitoring for you, but how expensive would that be? I suppose it would be cheaper to build a Python script for monitoring the websites response, and then making the script alert you through sounds or something of similar nature.
Why spend money on something that is now available for free, well – it has been free for a long time anyway, it just seems that the technology is getting better in this field, and we're able to get more choices and added features that make the process of monitoring our website a very easy one.
I've seen this particular area evolve the years, these days – you can expect your hosting company to provide some sort of monitoring services, but they might prove to be quite expensive. Honestly, there are hundreds of reasons why a website could go down at any given time; Pingdom did research a few years back, and truth to be told – those same reasons are still, very much valid today.
Your website could go down for any reason, but will you be there to make sure it gets right back up? It doesn't matter whether your site is small or big, it could be something serious that needs your immediate attention – and the only way to get immediate notifications is by using website monitoring services.
I guess this is one of those posts where majority of tools offer a free plan, but tend to steer in the direction of a premium plan after a couple of weeks. Uptime Robot is one of those rare platforms that offer their services completely free of charge. Plus, it has nothing to do with limited features or functionality.
Every Uptime Robot user gets access to a set of 50 monitoring locations, 5 minute intervals, and notification alerts through SMS, Twitter or push-notifications. The web interface is also very appealing, the designer has done a great job of keeping the whole design cozy and comfortable!
They've been in business for long enough to know what customers require when it comes to alerting them of sudden downtime. HostTracker has a free plan available; the monitoring interval is capped at 30 minutes, and you only get as many as 2 tasks at a time. You can also apply for a 30-day trial for the premium versions available, to get a better feel of how the platform works.
Read more: JavaScript Unit Testing Frameworks
If you apply for a premium version, you're entitle to tools like uptime reports (yearly, monthly, weekly, etc.), maintenance scheduling, SSL capacity, and multiple types of logs. It works in a rather straightforward manner. You signup, add your website and the tracker begins to work. Whenever there is malfunction or unexpected downtime present, you'll get notifications either through email, mobile or even voice mail.
This tool is not free, but it's the most professional one out all the website monitoring tools on this list, so you should explore it in-depth, before making quick decisions!
My first mention of Pingdom here on this blog, was when I did a roundup of websites and platforms that can help to analyze your sites speed and performance. Pingdom excels in that particular area, but it also has some great software when it comes to monitoring your website.
Websites today are increasingly more complex and rely on many critical parts that can break. When that happens – and it will – you want to be the first know. Pingdom has the infrastructure to verify that your website works, by automatically testing them as often as every minute from over 50 locations all over the world.
Pingdom has evolved alongside technology capabilities, so their system is really great when it comes to integrating it within your own applications or products. As soon as there are visible issues with your website or application, Pingdom will alert you within seconds. Those alerts can come in form of a message on your phone, a Twitter alert, or a direct notification within your app.
I honestly couldn't squeeze all those awesome features in here alone, otherwise all other tools on this list will lose their value. You can see the full list of features for the Pingdom monitoring tool below.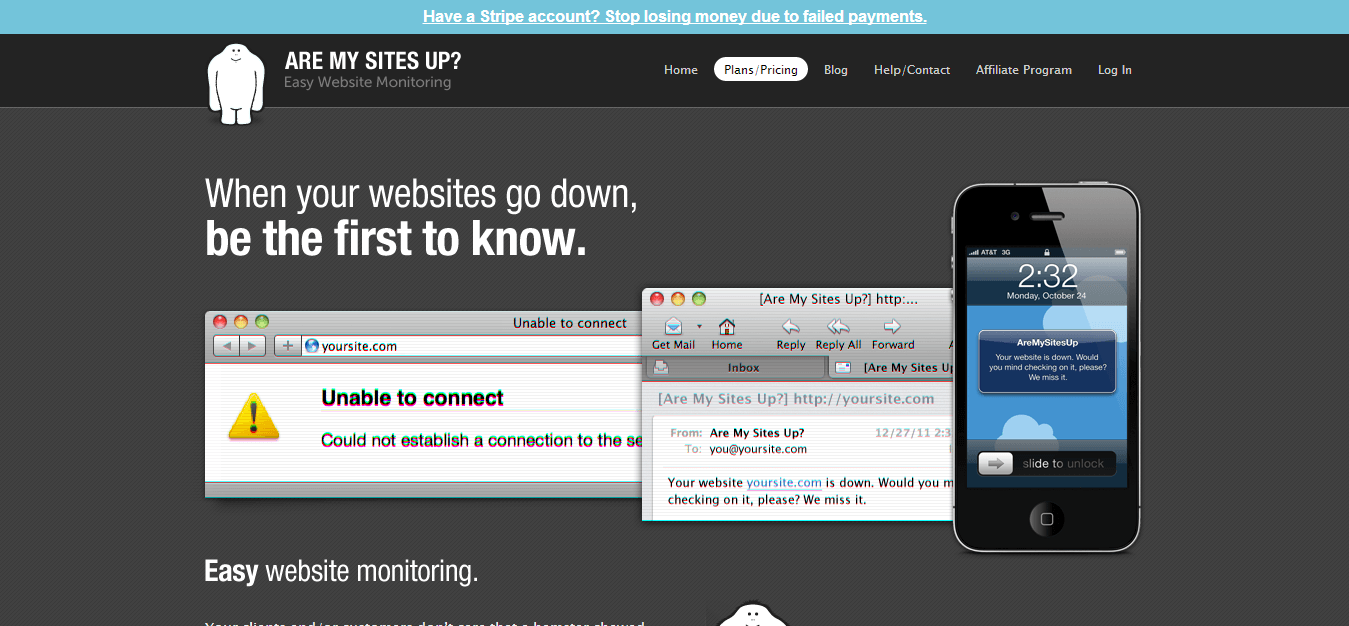 Are My Sites Up will check your websites as often as once every minute. You're entitled to endless SMS notifications (also available for international customers, not just US), and on top of that the AMSU platform will check against the error codes that are causing problems and send you a notification about them, making it easier to understand what exactly is going on.
They also provide an iPhone application, RSS feeds, webhooks, keyword search, premium-level support, email notifications to multiple addresses, multiple user accounts, voice calls and more! The premium versions of this tool come equipped things like Android and iPhone apps, but might prove to be expensive for those who're just looking for a simple solution.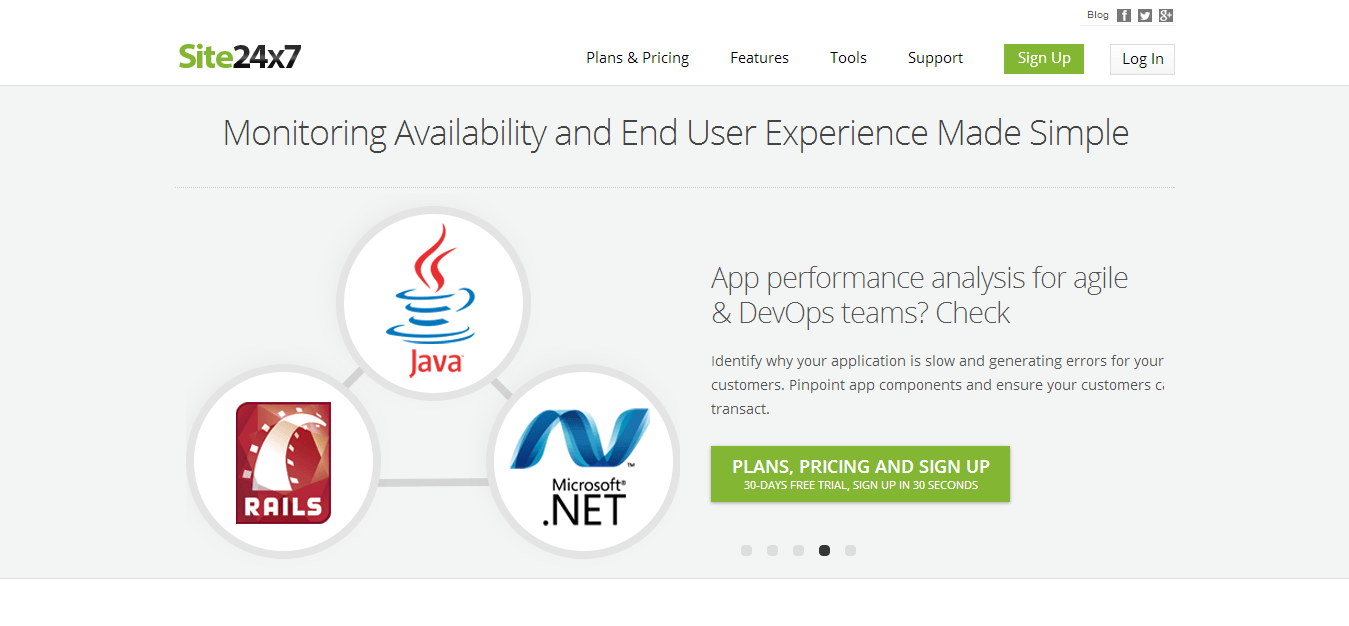 Bloggers will love this, after your free 30-day trial – you're able to signup for a 'Bloggers' plan that costs only around $50 per year (you've to pay annually), and the set of features is enough to always be in check to your blogs status. This company is also using quite advanced techniques to monitor your website and its performance.
I'm especially fond of one of the tools that allow to check certain filetypes and their performance. Like for example, you've got a blog up and running and it is also the home of hundreds of individual image files, HTML code, and JavaScript files – Site24x7 can take those files and analyze them from multiple locations, giving you a better idea of what might be causing issues on your site.
If anything, I'd sign up for this tool for that one feature alone. Site speed is important, and for those who care about Google marketing — it's a must have!
Keep Your Website Running & Healthy
It's one of those things – website hosting – that we can't really fully control. You never know when the next outage is going to occur, or when an earthquake is gonna shake up the servers that are used to store all your data. Fortunately, we've to depend on 3rd party companies and businesses to take care of our data, rarely do we have access and the resources necessary to host in a home-built data center.
Which of these tools have you used before, and are there any others that you'd like to see added to this list? I'm hoping to hear some more suggestions, as I myself – felt there could have been more deeply rooted apps to show.