I have been writing a lot about websites speed in the recent weeks, in fact – my first three publications as a Huffington Post author were all related to improving the speed performance of your website, service, and the application you're managing.
You can read more about each by following these links:
it's a lot of information to take in one go, so perhaps try and pace yourself. I've only touched the subject briefly, and perhaps I'll decide on digging deeper at some point in the future. It's impossible to avoid software like Varnish, Redis or even the good old Memcached.
There is so much more to the performance of website (speed wise) than we can initially grasp or account for. I thought that I could install some software like PageSpeed and let it be, all my speed related problems would go away. I was wrong. You can ready why, in my post about tools for load testing your website.
It's also difficult to make the judgement all by yourself, because most of the time you've already cached all of the files and necessary images of your sites pages, that you can never tell whether the site is loading quickly or slowly. Plus, these tools offer the ability to check from different locations, which is just as important.
If you're serious about the performance of your website, I recommend checking out my DigitalOcean review – it's a solid cloud hosting company that offers cheap, high performance servers within stable data centers. I've been a client for a few months now, and I'm super-pleased with the performance.
I use a mix of these platforms / tools on weekly basis, to check how my hosting company and my server is performing in different situations. You might be familiar with some of these already, while others might be new to you, but keep in mind that you won't need more than two or three, to make the perfect conclusion. If they all show your site is slow, it's probably so.
I use this whenever possible, it returns high quality results and gets straight to the point. It might seem a little repetitive, like – telling you to minify your content, or that you should leverage your browser cache. It's all bogus, considering that you can't do those things for remote files.
Either way, it takes thirty seconds for the cache clear for the particular page you're scanning, so you can play around with settings and keep trying to find the perfect spot for the tool to give you a decent rating. I wouldn't depend on the rating as much as I would on getting all the necessary points covered.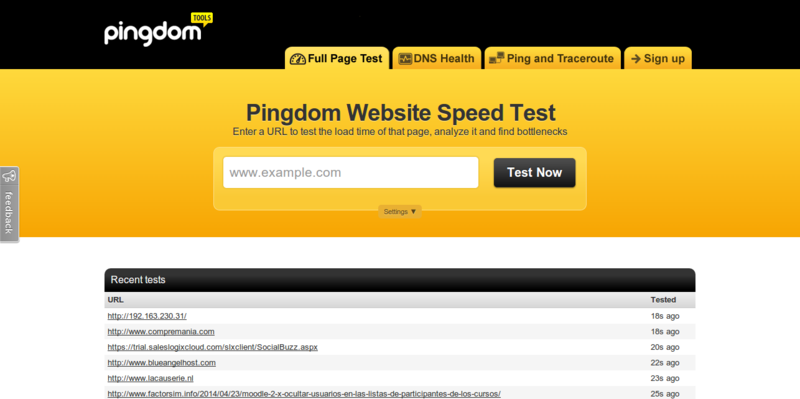 I love Pingdom for its quickness, and the detail it gives about the performance of your website. It mostly focuses on the size and the response time, giving you details about both – but, it also gives you specific details of the files that take the longest to respond and load, giving you the advantage of knowing.
Then, it is up to you to decide which files you want to keep and which you can get rid off, in order to improve the overall websites loading time.
By using this platform, you'll get performance reports from two very popular speed metric tools on the web. Page Speed, and Yahoo!'s YSlow. You will get to see both load times of each of the requests made, and also how both tools compare the overall performance of your site, and give you clear advice upon which areas you could improve.
I love this tool because it provides options, and you get to see which particular issue should be paid the most attention to.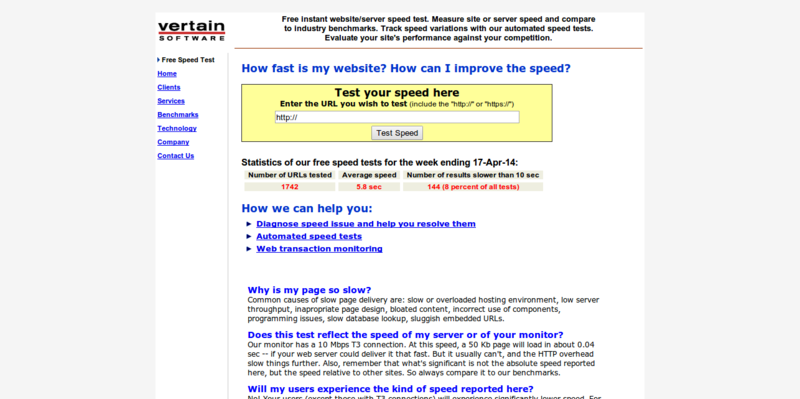 Want a simple, yet concise reply on how fast your website loads? Look no further, I use Vertain to simply check the load time from their datacenter to mine. It always returns a simple output and it's perfect for using when concluding a 'global' test. I think you'll like it.
You get to check your websites speed performance from several locations across the world, which is why I have chosen to include it as the last item in our list. I just think that the first three tools really help to conclude the technical aspects of your servers performance, while these two will help to better understand it on a global scale.
Tools for Testing Your Websites Speed
You could spend hours trying to find the right tool, the tool to tell you that your site is loading as quickly as Google is (which is, 0.3 seconds), but the reality is that it will never happen. I'd say that the average webmaster/developer, should aim for something like 1.5-2.5 second load times, as not to play with the attention span of your visitors and potential customers.
So, how about you? What's your go-to solution for getting a speed test done for your website / web application? I'm all ears, and the community is as well.
photo by windows8core