Installing powerful antivirus software and creating a strong password is no longer enough for essential cybersecurity of an enterprise or office. In 2019, you will have to deal with professional hackers, government agencies, and Internet service providers who collect data around the clock. The only way to block the way for all of them is to start using a virtual private network. For example, VPN-review HMA says that VPN can be a crucial tool for keeping valuable information in a secure framework.
What is a VPN
In simple terms, a VPN is a group of servers that are interconnected over the Internet. In such a bundle, a computer is virtually located in the same local network as other VPN participants, substituting data for the provider with connection information from a completely different place.
Just going to any site in the browser via VPN, the computer transmits and receives already encrypted information. They are no longer available to hackers or government agencies.
Unique advantages of VPNs are:
Protection of transmitted traffic. It is safe to transmit traffic over a VPN tunnel using cryptographic encryption protocols. In addition to encryption, the integrity of the data and the authenticity of the sender are ensured, eliminating the possibility of spoofing information and connecting the attacker.

Connection reliability. Leading equipment manufacturers are improving VPN connection technologies, providing automatic recovery of VPN tunnels in case of a short-term connection to the public network.

Mobility and convenience of connection. You can connect to the company's local network from anywhere in the world and from any modern device. Most multimedia device manufacturers have added VPN support to their products.

Redundancy and load balancing. If you use two providers when connecting to the Internet, then it is possible to balance the traffic of VPN tunnels between providers. In the event of failure of one of the providers, the tunnel will use a backup connection.
Why VPN is useful for business 
Security and privacy are essential reasons why you may need a virtual private network. When you connect to a public network via VPN, your computer's presence on the Internet will be encrypted. Then credit card information, passwords for logging on sites, browser history, or other confidential information are not intercepted by a third party.
Private networks in the virtual space also relieve geographical restrictions on the Internet. Linkedin lockout with useful business contacts is one of the most visible examples of government intervention in corporate affairs, which should be overcome through a VPN. By replacing an IP address, you will get access to online resources that are closed in certain countries.
Unified network
Combining geographically distributed local area networks of the company into a single network simplifies communication and data exchange within the company, reducing maintenance costs. Any corporate systems require a unique network space for employees. This may be IP telephony, financial accounting systems, CRM, video conferencing, etc.
Mobile access
Regardless of the location of the employee, the employee can connect to the internal resources of the company. Due to this advantage, employees have the opportunity to perform work and solve problems quickly, being outside the office.
Association of networks of different companies
It is often necessary to unite the networks of business partners, and such an association can be organized with or without the restriction of access to the internal resources of each company. This combination simplifies the interaction between companies.
Remote management of IT infrastructure
Due to the secure remote access to the equipment of the company, the administrator can solve the tasks and respond to the problems as soon as possible.
Quality of service
The traffic of video conferencing, IP-telephony, and some other applications requires guaranteed channel width. You can combine IP telephony of the company's local network and remote office through the use of QoS in VPN tunnels.
Disaster recovery
If a disaster happens in a company, virtual private networks allow companies to create a wider disaster recovery plan by deploying a VPN client on laptops of their employees.
If the merchant must be in place to simply monitor or view the computer or server screen, then the VPN tunnel can be used to allow the merchant to connect remotely. This can bring companies a quicker decision and keep the price of sellers constantly on the move.
Which VPN is better to choose
In 2019, the demand for VPN services increased significantly due to the desire of companies and enterprises to protect commercial secrets by all means and ensure an adequate level of security. On the other hand, it is becoming more and more difficult to create such a tool because of legal debates with states and officials. Check out some of the VPNs reviews in Tim's article.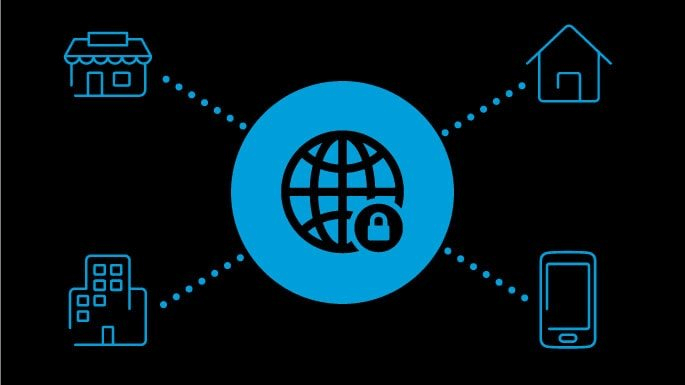 How to understand which VPN service is best
Free VPN is recommended to be avoided. They keep activity logs, and in some cases, they sell data to a third party. But sometimes with their help companies solve temporary problems (the same geographical blocking).
Paid VPNs do not keep track of sites that you visit and offer additional tools for dealing with external threats.
It is vital to overcome geographic blockages. It should also be borne in mind that a VPN in the United States will operate in the jurisdiction of US law, where useful online resources may not be available to you.
It is determined by the number of servers at the VPN provider. If they have many clients on the Internet, then nothing should impede your connection. With insufficient private network performance, there is a possibility of failures in the IT structures protected in this way.
In 2019, the choice of multiplatform VPN services became topical. They support not only office computers and laptops, but also mobile gadgets, including the phones of your employees.