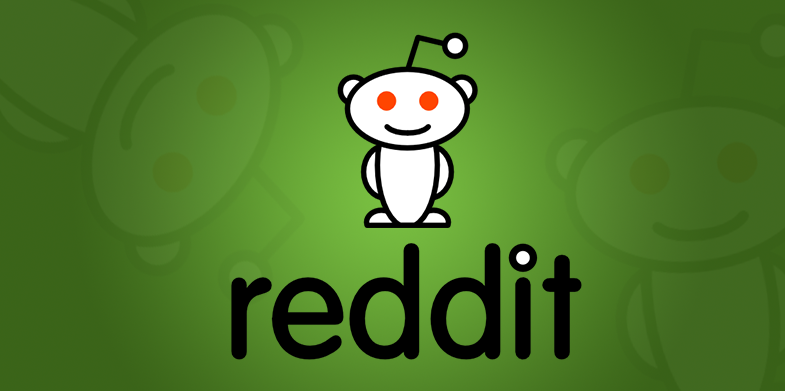 If you are seeking answers to your questions, opinions on multiple subjects (ranging from dating tips to Forex trading tips), or just want to have a cool conversation on a Friday afternoon, Reddit is a great place to be.
However, that place seems to be losing its charm of late. With reasons such as good posts getting downvoted, mods suspending accounts for non-banworthy reasons, and simple discussions turning into abusive wars right off the bat, it's clear that Reddit is going downhill and people have started exploring better alternatives.
Listed below are the top 10 alternatives for Reddit

The biggest alternative to Reddit is an exact Reddit clone itself – and it's called Voat. This site has been around since April 2014, and it mimics a range of Reddit features such as Karma, Subreddit (here, it's called Subverses), and the basic interface itself. The reason to switch is probably because Voat offers a cencorship-free way of conversing and that the site owners have pledged to share a small percentage of their ad revenue to the site's content contributors.
However, there is the pink elephant in the room: this site is run by a small team of people who rely on donations to keep their servers up, so most of the times the site isn't prepared to resist sudden traffic spikes. Not something uncommon for a one-year old site though. At the moment, let's hope that things will get better sooner or later.

For those who think Reddit isn't a place for intelligent discussions, Hubski seems to be a far better candidate.  There are two main reasons why – Number one, it has a stronger community. Number two, it's a more sensible site discussion-wise.
The site was launched by Mark Katakowski in December 2010, and allows users to share original as well as second-hand content from around the web. But unlike Reddit, there are no Upvotes or Downvotes, the posts go up or down the ranking table based on the number of shares. Definitely, a site worth checking out!
Also Check: 14 Programming Communities for Women Developers

There are people who fancy doing mischievous things (and some great things as well) but still prefer to go unidentified. If you're one such person, Aether is just for you. It isn't a site exactly, but more of an app that lets you live the free-bird life anonymously. No registration, no real names required, no privacy threat – overall, it's great for anyone (and everyone) who is privacy-conscious.
You can post anything you want but remember, the site's policy doesn't allow its users to delete or edit comment for up to six months. Aether is available for Mac, Windows, and Linux users. Freedom of speech guaranteed! Check it out if you crave for an all-new way of community-ing.

Quora has been rated like Hollywood movies for long, but there seems to be a reason. In this site, you'll find simple questions mushrooming into sensible meaningful answers from users. Ask questions or get your doubts clarified by experts – either way, it's great.  This is one of the few sites where spammy posts are thrown out of the field with no yellow card shown.
Overall, the Quora experience is fun, interesting, and informative. Good for genuine users who are hunting for worthy information on the web.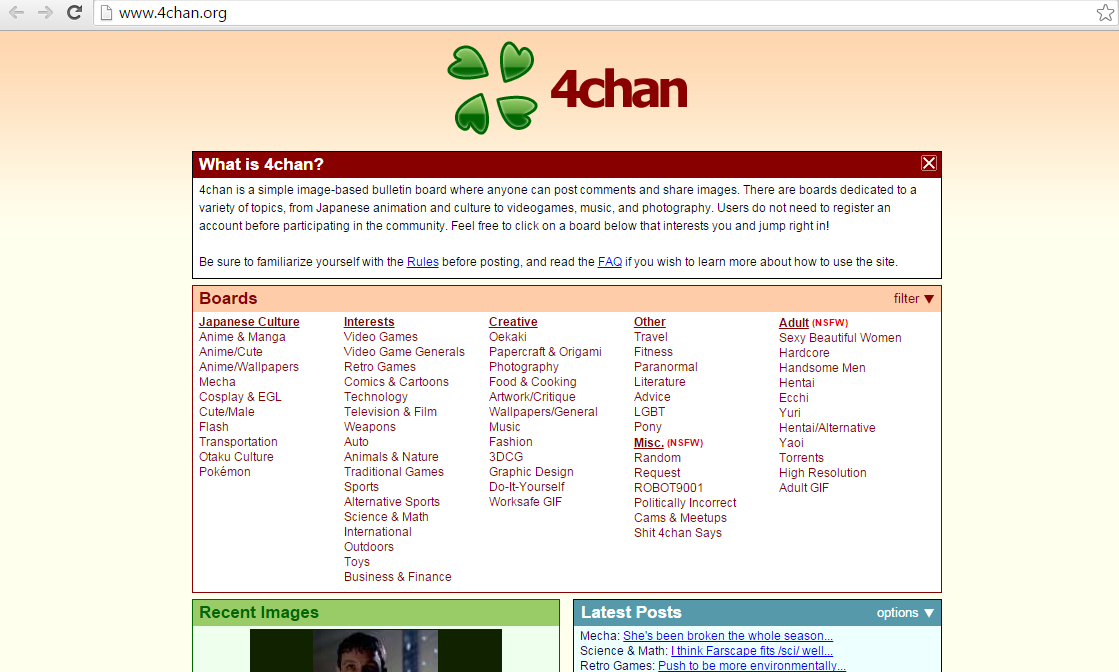 Much like the Internet, 4chan is a cool site where you can share and explore fun content (as well as the exact opposite). Over here, there is no such thing as restricted or unrestricted but there's a lot of fun and humor ready to welcome new and existing users.
If you had spotted memes of Pedobear, LoLcats, the "duckrolling" prank, and even the infamous pics of Hollywood stars surfacing the Internet, it's largely because of 4chan. It's actually an image-friendly board where users can share images and post comments under categories ranging from Japanese culture to technology to paranormal. This is the polar opposite of most community sites, and it's entertainment guaranteed!
Also Read: 11 Learning Communities for Meteor Developers

Do you love a newsworthy site that sports a simple user-friendly interface with no distracting side bars and no confusing widgets? If you said yes, then Hacker News is one for you. It brings you the most happening news mostly from the field of science and technology from across the globe. But, there is also a truckload of information for hackers, entrepreneurs, and upcoming business talents in a range of divisions.
If you ever wished for genuine opinion on your new product launch, don't ever hesitate to reach out for Hacker News. All useful and information posts are rewarded by Upvotes, and once your post makes it to the front page, you'll see the traffic spike up in a heartbeat.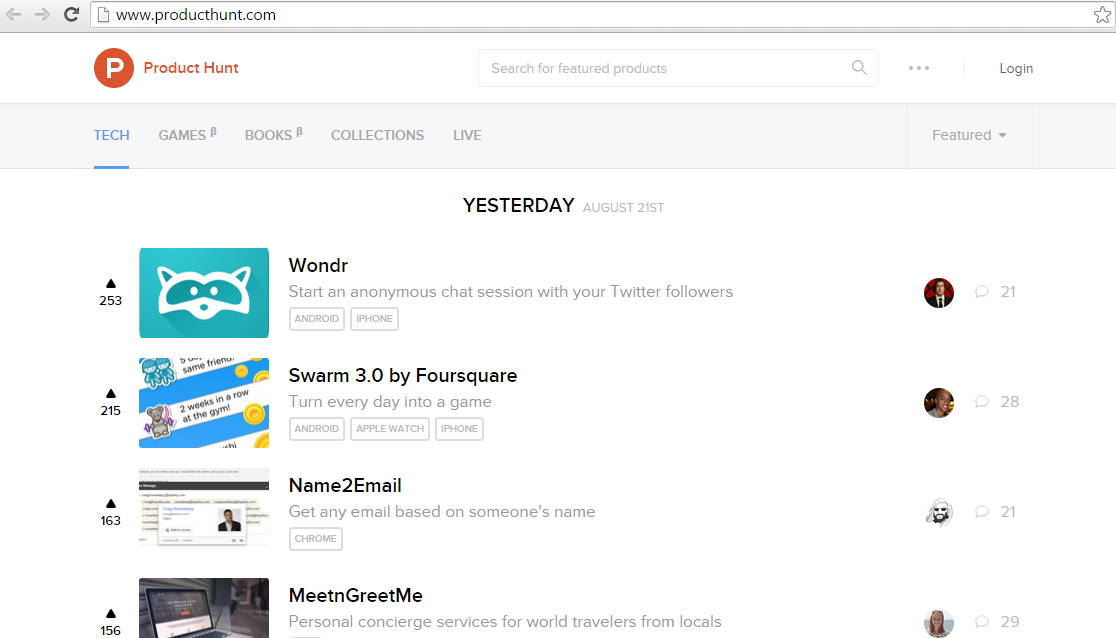 As the name implies, ProductHunt is a site where users go on a hunt for the latest and very best of technology-related products and services. Choose from a big badass list of website designs, Gmail apps, mobile apps, books (ranging from comic strips to humor), startup toolkits for online businesses, an endless array of games and more. This is one community where worthy commenting is treated as a privilege by the site admin. Go ahead and explore it yourself.
Also Check: 6 Great Communities for Swift Developers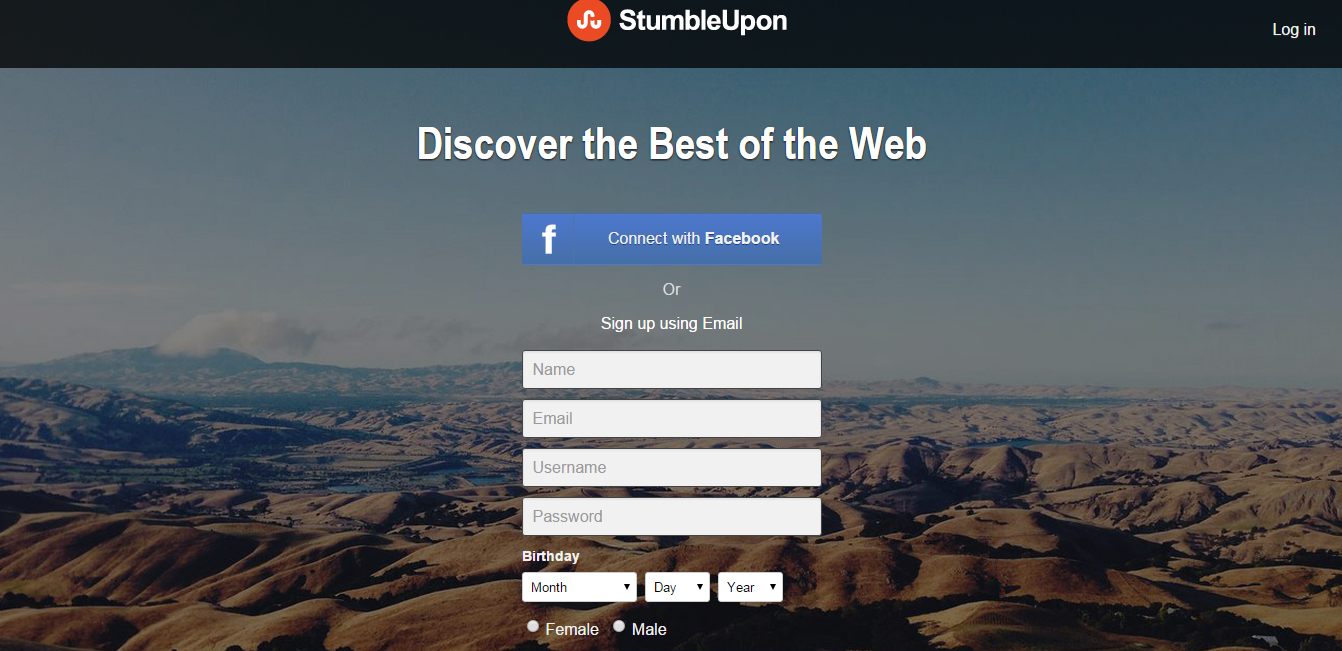 Ah! You were waiting for this, eh? Come on, who doesn't like StumbleUpon? This belongs to the brightest corners of the Internet as it brings you shareworthy and saveworthy content from the farthest corners of the virtual Internet world. Tons of good posts that are buried in the dimmer pages of Google (anything beyond page two) see the light of their target audience at this amazing site.
Every post is voted by a thumbs up or thumbs down, and the site has earned a great reputation as a massive source for referral traffic as well. You must check out!

Here is one more Reddit material in our list, but one that is slightly better. Discover unlimited web stuff ranging from articles and URLs to photos and videos – all divided by friendly user-managed communities. Posts go up or down by Upvotes and Downvotes respectively. Privacy? Freedom of speech? You bet.
Also Look: 14 Programming Communities for Developers, Hackers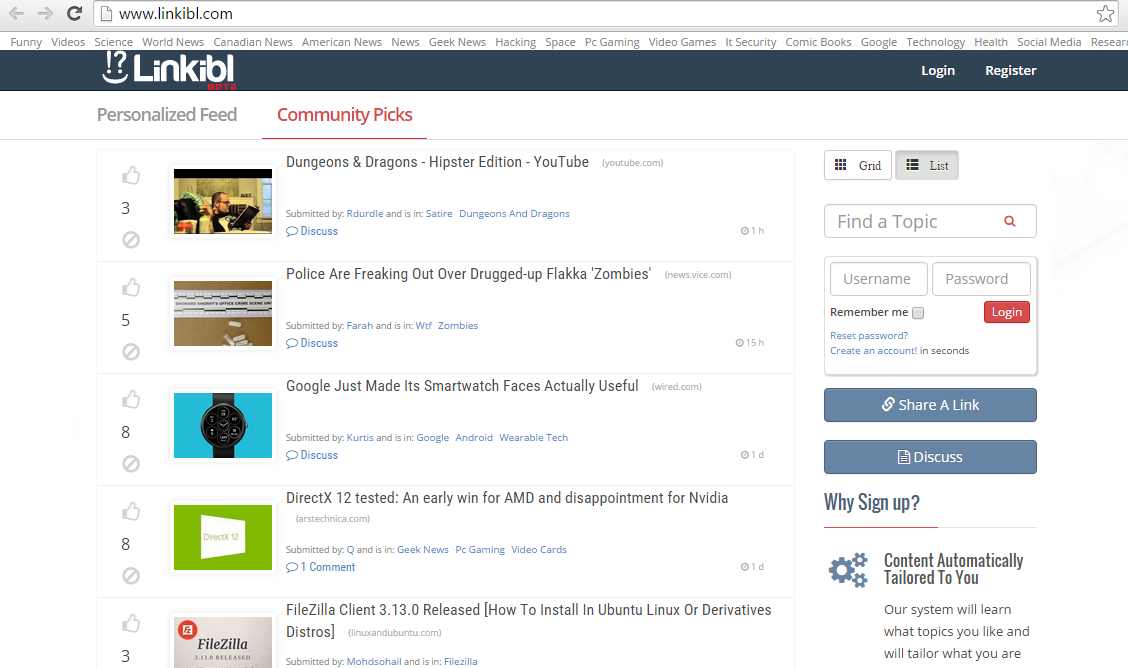 Linkibl is our 10th best alternative to save you from Reddit addiction. Yet another look-like and do-alike of Reddit but at least here, users don't sound like they went to the same coffee shop for a debate on whether you should stop using Reddit or not. Discover new stories, experiences, and opinions from a completely new community of users – you'll love it.
Conclusion
There is always something or someone more interesting than Reddit and Redditors. We hope you've started exploring these alternatives. And we hope it helps. Once you do, we'd love to hear your experiences. Until then, happy community-ing. Cheers!