A content management system is an important revolution in the online publishing solutions field. Since last decade, we have been witnessing a tremendous rise in the availability of various web development technologies which continue to improve the quality of various website building tools, application building tools, content creation/management solutions and more. This trend has provided us with a range of content management systems with modern features. Earlier, building a simple website involved a lot of complexities to deal with for developers. But, with a CMS, the whole thing has changed quite dramatically.
Now, one can easily start a basic or even a complex website in a single day. A modern CMS contains all the necessary features to manage both, frontend and backend of a website. Moreover, it is so easy to operate that even someone having no technical knowledge can manage any type of multimedia content, including text, photos, e-books, music, videos and documents. This makes content management systems quite popular with professional developers, content marketers and editors as well as large companies and start-ups.
These days, modern content management systems come with a lot of advanced features which allow developers to create any kind of website. A modern CMS allows building small business websites, e-commerce websites, corporate intranets/extranets, personal/portfolio websites and more. Moreover, one can also add new functionality and features to an existing website by integrating the right plugins. There are thousands of extensions available in categories, such as administration, editing, security, maps, site management, marketing and more.
So, here I am providing you with a list of 10 open-source content management systems which can be useful for any kind of website building project. Most of the names mentioned in the list allow both hosted services and self-hosted websites. Alright, so lets check them out.

WordPress initially started out as a blog publishing platform, but gradually evolved to become one of the most popular content management systems in the world.  Based on PHP and MySQL, it has been installed on more than 23.3% of the top 10 million websites. Moreover, with an extensive range of modern plugins and themes, WordPress is still one of the most preferred content management tools systems amongst a large of community of developers and content editors.

Joomla is one of the most popular multilingual CMS platforms powering millions of websites across the globe. With over 7000 extensions and over 200,000 community users and contributors, it is one of the leading open-source CMS platforms in the world. Joomla is based on PHP and MySQL and allows developers to create various add-ons for websites, such as inventory control systems, data reporting tools, integrated e-commerce systems and business directories.

Following the biggest update to Drupal's content management platform in November 2015, Drupal 8 has been released with a ton of improvements. Drupal offers full compatibility with PHP7 as well as PostgreSQL and SQLite databases. Its other features include comprehensive content modelling, responsive HTML5 output and integration of popular libraries such as Composer, Symfony2, Guzzle, and Twig.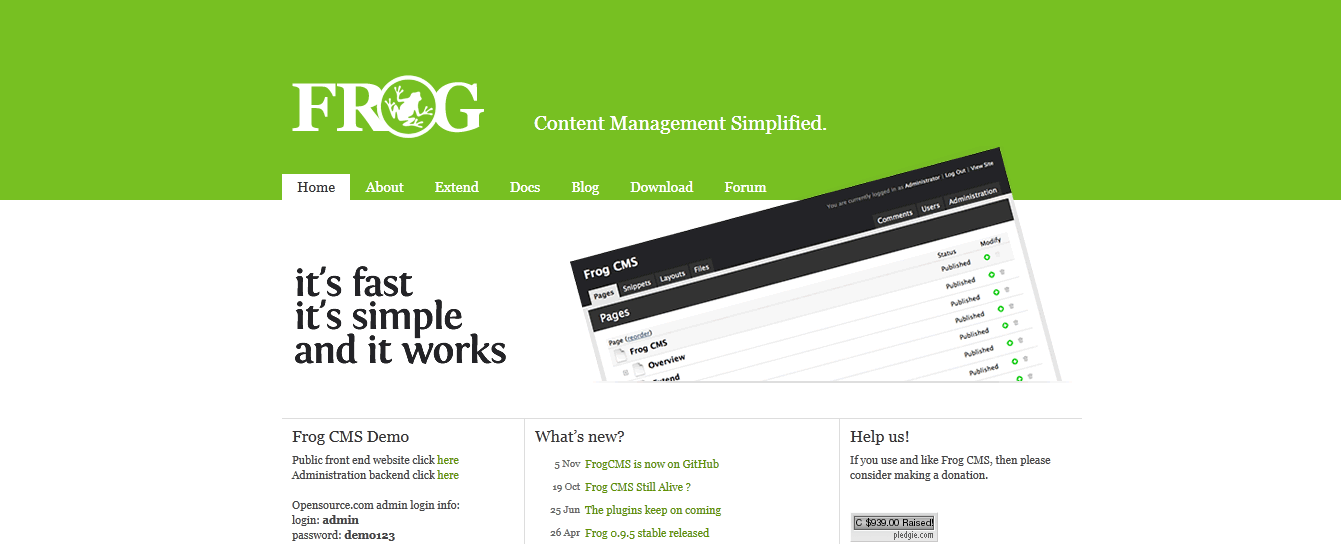 Frog is a modern CMS based on PHP 5, MySQL 4.1 and Apache server. The CMS offers a ton of features for customizing and managing the display as well as the backend functionality of the website. It offers a flexible system for managing page navigation menu, page organization, layout customisation, reusable content snippets and backend administration. Frog also provides a broad selection of UI themes, administration design themes and plugins.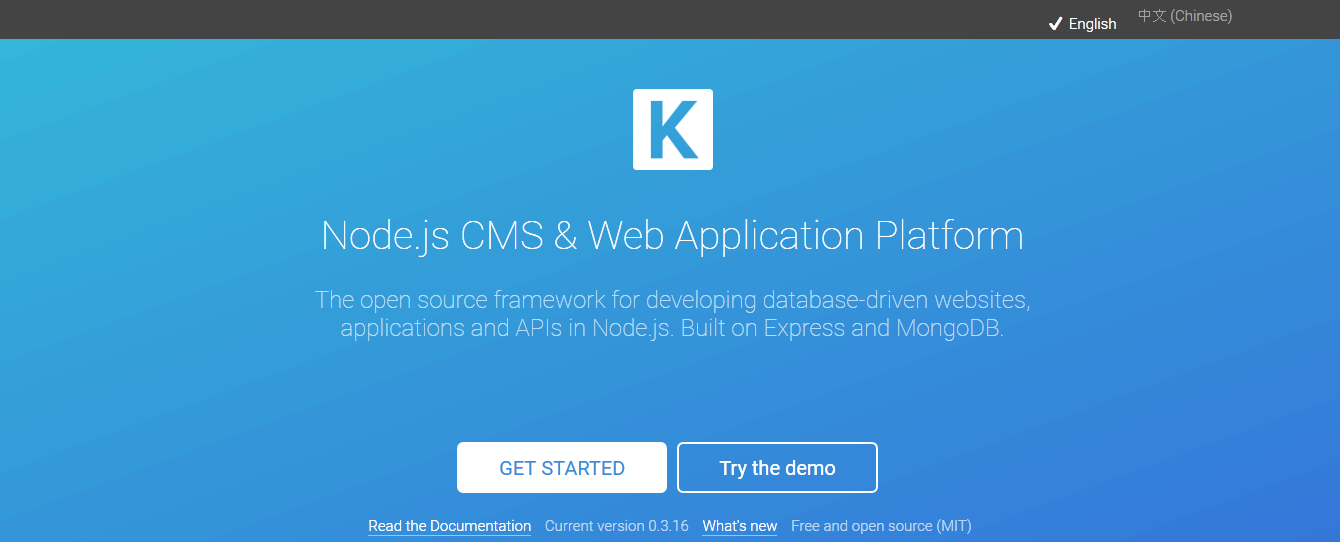 Keystone is a lightweight and flexible CMS and web application platform based on Node.js. It uses Express web server and MongoDB Database. Keystone powers a range of large and complex websites, web applications and APIs. Some of its popular client users include SONY, Vodafone, Continental and Macmillan. Keystone provides a plethora of features, including a customizable Admin UI, robust authentication, form validation, easy template management and more.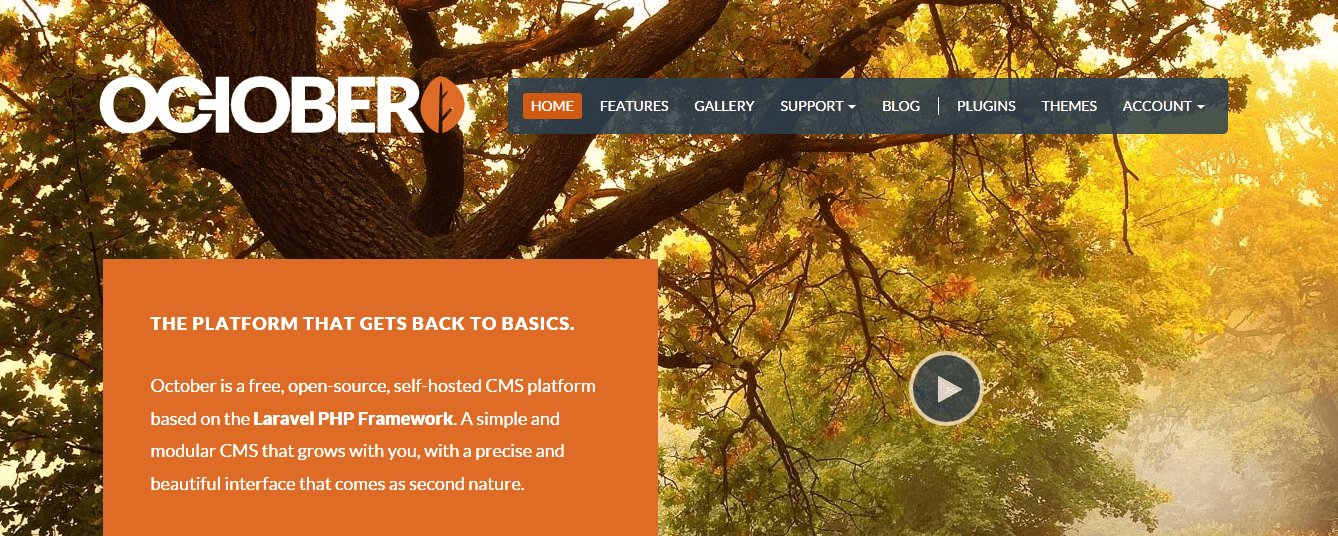 October CMS is a modular CMS based on Laravel PHP framework. The CMS is widely used for building complex websites, promotional/portfolio sites as well as high-powered web applications. It is very easy to use from the point of view of both developers and designers making it ideal for client projects. October CMS offers powerful features, such as file-based CMS templates, minimalist backend interface, page component and blog management, plugin integration and more.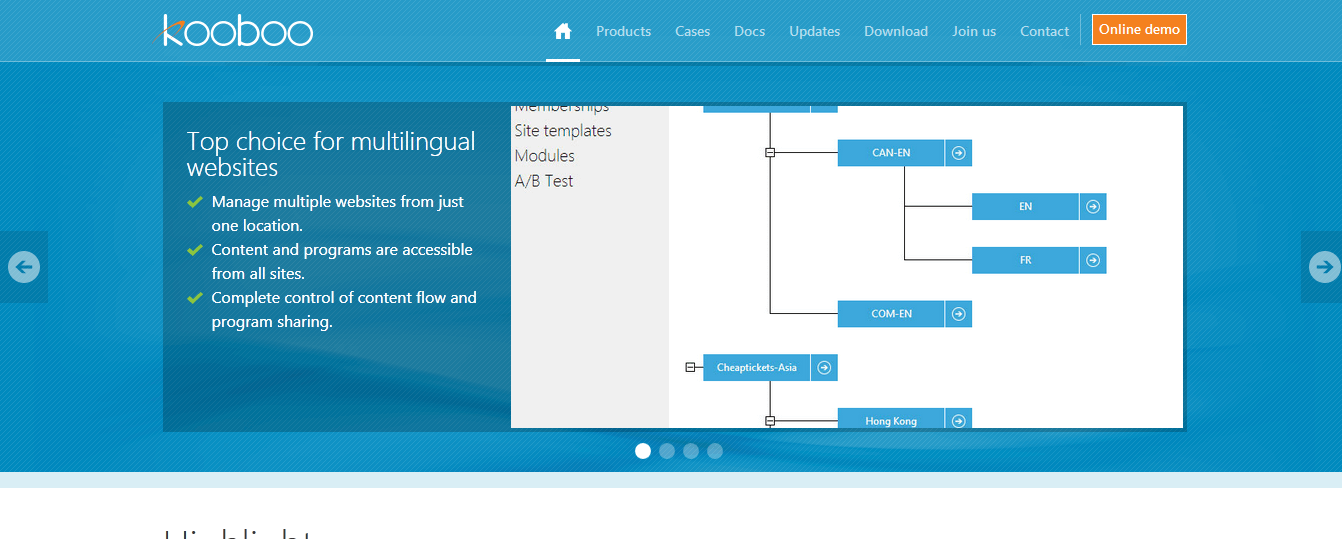 Kooboo is an enterprise-level CMS based on ASP.NET. The CMS supports XML, SQL and Non-SQL databases as well as Microsoft Azure Cloud services making it suitable for powering high-traffic websites. Besides, it provides user profile analysis, email marketing and SEO, built-in e-commerce solution, a robust backend UI and asset relation management. Kooboo also allows easy management of multiple, multilingual websites from a single database.

Refinery CMS is a multilingual CMS based on Ruby on Rails that supports Rails 4.2. It features a simple 'point and click' functionality for editing content and adding pages or sections. Refinery CMS is completely modular and extensible and one can also create custom extensions for it.

Plone 5 is a Python-based, enterprise-level content management platform which integrates with web servers as well as SQL and NoSQL databases. The CMS effectively manages corporate intranets and large public websites. It has a new and robust templating engine named as Chamelion which makes Plone 5 sites up to 20% faster than before. Moreover, Plone 5 now comes with built-in social media integration, HTML 5 responsive theme, modern authentication features and more.

Magento is one of the most popular content management platforms for building e-commerce websites. The CMS offers tailor-made solutions for building a variety of e-commerce websites. Magento is built using PHP and elements of the Zend framework. It uses the entity-attribute-value model (EAV) to store data.
Conclusion:
All of these content management systems have free versions, though some of them require charges for enterprise editions and technical support services. It is important to note that every CMS is unique in itself and comes shipped with a set of features. So, it is important to choose the right CMS for your project depending upon the kind of website you want to build. A CMS like WordPress or Joomla is always a safe bet considering the vast contributions coming from the open-source community's development works. But, it is also true that some CMSs are designed to work well only for specific types of websites. So, one has to pick the right CMS depending upon one's project requirements.
If you have a few more names to add to the list then you can mention them in the comments section below. Thank you.