The time that users spend on apps compared to mobile browsers is growing. The number of available Android Apps on Google Play exceeded 2.6 million and 2.1 million on the App Store in 2019. By now users have downloaded 205 billion apps. Analysts expect that this number will increase by about 50 billion in 2022. This growing tendency on the market incentivized more and more entrepreneurs to use app development services. 
Despite the growing competition, developers can make serious revenue on free and paid apps. Experts predict an annual revenue growth at an 8% rate of the app market (Compound Annual Growth Rate 2018-2023).
On both marketplaces paid downloads, in-app purchases, and advertising has been the most popular methods of app monetization. However, in today's overfloated market the tendencies are changing. Users might be less eager to pay for apps if they have free alternatives. Those who use paid apps or features expect to have ad-free content or some bonuses. The audience's needs and the market's conditions define the appropriate monetization methods for certain types of apps.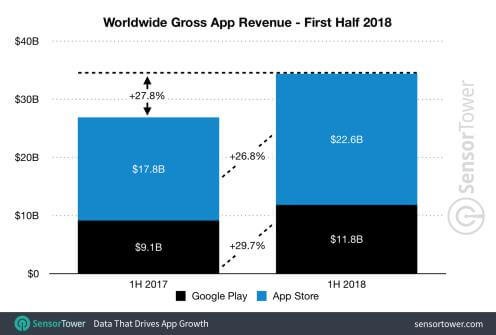 Paid Apps
Apple Store charges 30% for the first year of cooperation and 15% for the following years. Placing apps at Google Play costs 30% of revenue. Altogether the App Store and Google Play made more than $35 billion in 2018 on app downloads. In the third quarter of this year, the App Store earned almost twice as much as Google Play despite Android platform dominates the market.
The paid app is a straightforward monetization model. A customer pays a certain sum of money and downloads an app. However, this method won't lead to a huge audience reach as not all potential users are ready to pay. Paid apps demand tremendous marketing work. You should have really outstanding features to be ahead of your competitors' apps that are free or cheaper.
In-App Ads
The market overflow made it harder for apps to become visible for the audience. And the audience is less eager to buy apps instantly. In 2018, about a third of Americans used free apps. The growing number of apps also led to the growth of free applications. The majority of apps on Google Play (94.24%) are free. On the App Store, there are four times more paid apps.
Free apps can earn in the advertisement. App developers can use advertising as the main or subsidiary monetization source. They can use pop-ups, banners, video or native ads. The last kind of ad is getting more popular. Native ads are built to suit the surrounding of the content. They look less intrusive than banners and resemble editorials. Moreover, they have higher user engagement rates. For example, a travel planning Kayak app implements advertisement from booking services such as Airbnb or Booking.com. If the ad contains useful information or offers something relevant, there are more chances that a user will click on it.
Advertisement deals with users' personal data and requires keeping to certain restrictions of their use. Also, the advertisement can be intrusive and annoying unless it is related to the specifics of apps.
Freemium
This business model is not new. Its name originates from two words: "free" and "premium". It is widely used by developers of the antivirus software, where users can get certain software for free and then pay for the extensions.
During the last years, this monetization model has become popular among gaming apps. Many games require payments to open new levels. But this turns the whole gaming experience into the uncontrolled money spend. Some experts claim that it is much better to give users full access to the app's content for free. This is good advice not only for games but also for mobile applications other than games. If you give access to the app's content for free, the money you make may come from donations. For example, you can find donation banners at the Duolingo language learning app. 
Freemium can broaden app users' opportunities in other ways. For example, Step Tracker enables to remove ads by purchasing the extension.
With a freemium model, be ready that a minority of users will pay. If users have to pay for unlocking every new piece of content, they might lose their interest. So be cautious with implementing the model not to make it "pay to use" or "pay to access". It's better to consider the possibility of optional in-app purchases.
In-app purchases
In-app purchases easily combine freemium, advertisement, subscription and other models. For many apps, it is the only and the main method of content monetization. According to Statista, more than half of the total app revenue was created by in-app purchases. It is possible to use this model with free apps as well as paid ones. In this case, in-app products or services can bring surplus income.
Subscription
This model enables users to make in-app purchases to access content and services for renewable or non-renewing durations. Auto-renewable subscriptions give them access to content or services from within an app on an ongoing basis. At the end of each subscription, it automatically renews until a user cancels it. Netflix and Spotify, which belong to the world of highly profitable apps, exploit this monetization type.
Auto-renewable subscriptions can offer in-app purchases to get extra features or extensions. As an example, a dating app Tinder has Plus and Tinder Gold in-app subscriptions, which offer access to premium features such as Unlimited Likes, Passport to chat with people from anywhere around the world, Rewind to take back accidental swipes, one Boost a month to be one of the top profiles for 30 minutes, etc.
Subscription has been growing in popularity (App Annie Market Forecast 2016-2021) during the last years. In perspective, more apps will use this business model to monetize their products. 
Commerce
A lot of companies make revenue on commission from online purchases. It relates to both websites and mobile apps. Taxi, booking, delivery, medical and other services connected to online transactions use this business model. For example, Uber's share for each ride is 20-25%. Booking.com charges from hotels and hostels 10% to 25% for each booking depending on the type of property for rent and its location. Your share of profit from transactions depends on the popularity of your service and the performance of your employees. Commerce is one of the most common ways to monetize apps.
To sum up, there is no one right method of monetization for all apps. Different products demand unique approaches related to the specifics of products, marketplaces, and financial capacities of the audience. In the future developers will use more mixed types of monetization, combining pay for download and advertisement methods, or subscription and buy-in-app models. Also, the freemium model and subscriptions are going to grow in popularity in the upcoming years.
Global surveys of app development firms recommend using social media, paid advertisement, and app store optimization (ASO) to attract customers to apps. But it is hard to say what exactly will "shoot" in a particular case. The only thing to say for sure, you need to keep abreast of technology to build your app monetization strategy.