After Microsoft, HP, IBM, SAP, and Oracle, now Amazon also joins the list of technology organizations that offer Blockchain-as-a-Service (BaaS) to all the companies who are looking forward to work in Blockchain considering no risk and expenses. While blockchain-as-a-service (BaaS) was launched to help the clients get benefits from this technology without any capital and risk involved, companies are also utilizing blockchain as a way to tackle the shortage of quality Blockchain developers who have a huge demand in the market while the supply stays short.
Amazon Web Services (AWS) joins the team of supplying the blockchain service to the clients and therefore, helping them to deploy blockchain in an efficient way and earn profits. However, this service would not be the same as other cloud services offered by Amazon Web Services (AWS) because this is quite complex and enable clients to make use of Blockchain in a simplified manner. Although Amazon is yet to declare the date of actually opening their services for the interested companies, it seems to be an attractive option, and hence the number of IT providers have spurred on by customer inquiries and are quickly deploying both the consulting and technology backing.
Keeping in mind, Eduonix has introduced a course on AWS certification program on Indiegogo that will bridge the gap between the theory and real-world projects, by helping people gain the confidence to start developing their skills and cover more complex ideologies in the new AWS field.
According to Michael Fauscette, chief research officer of G2 Crowd, "While Amazon's BaaS offering may seem like just another tool in the AWS box, the adoption of BaaS isn't going to look or function anything like the adoption of other cloud services".
How Amazon Became Part Of Blockchain-as-a-Service(BaaS)
Recently ConsenSys provided all the companies with a new blockchain business cloud service named Kaleido. Also, Steve Cerveny, enterprise lead at ConsenSys and the founder of Kaleido explained its need by saying, "If blockchain doesn't become dramatically easier to use, then companies will have to walk back their investments and our society will be far too slow in realizing blockchain's significant promise, So, We designed the Kaleido platform from scratch with new user experiences and tools to radically simplify the entire enterprise journey".
Amazon got fascinated with Kaleido's use to establish an open-source Ethereum-based blockchain platform so that they can provide cloud services to different companies without any problem. This led to Kaleido becoming the first blockchain SaaS which will be available as a tool on Amazon Web Services (AWS) and will help the clients to use it for their needs.
Not only this, there are many more blockchain projects that are being undertaken by Amazon Web Services (AWS) by investing in them and helping other companies by providing extensive blockchain services. Two months back, Amazon announced that it has blockchain developer templates that were mainly based on Hyperledger and Ethereum which are known to be other open-source, blockchain business platforms which will help different developers in creating their own blockchain-based projects by making use of them.
How are others reacting to this move by Amazon?
According to Fauscette, "Amazon's model centralizes everything in their offering, but it's still very distributed. So, some may have to find a way to work around data residency in some countries. That could be a compliance challenge". This was referred towards Amazon's complex blockchain service system that they had developed.
Amazon Web Services (AWS) Vice President and Chief Evangelist, Jeff Barr wrote in his blog describing the use of the templates that he has developed, "Some of the people that I talk to see blockchains as the foundation of a new monetary system and a way to facilitate international payments. Others see blockchains as a distributed ledger and immutable data source that can be applied to logistics, supply chain, land registration, crowdfunding, and other use cases. Either way, it's clear that there are a lot of intriguing possibilities and we are working to help our customers use this technology more effectively". The main fact to note is that AWS Blockchain Templates will be a great help to AWS users who are working on blockchain apps so that they can set up an Ethereum or Hyperledger Fabric networks in a quicker way.
Gartner's Survey to understand the trend of Blockchain use by companies
Gartner has performed a detailed survey on the use of Blockchain technology by various companies and has told that the blockchain technology is yet to accommodate all the strata and is still present in the hype to phase. According the research, it was found that only 1% of CIOs indicated any kind of blockchain adoption within their organizations, and only 8% of CIOs were in short-term planning or active experimentation with blockchain.
Along with this, 77% of CIOs surveyed several organization and found that companies have no interest in the technology and/or no action planned to investigate or develop it. Out of 293 CIOs of organizations that are in short-term planning or have already invested in blockchain initiatives, 23% believed that blockchain requires the newest skills to implement of any technology area, and 18% were the ones that mentioned that blockchain skills are the most difficult to find. Apart from these, 14% indicated that blockchain requires the greatest change in the culture of the IT department, and 13% of them said that the structure of the IT department would have to change in order to implement blockchain.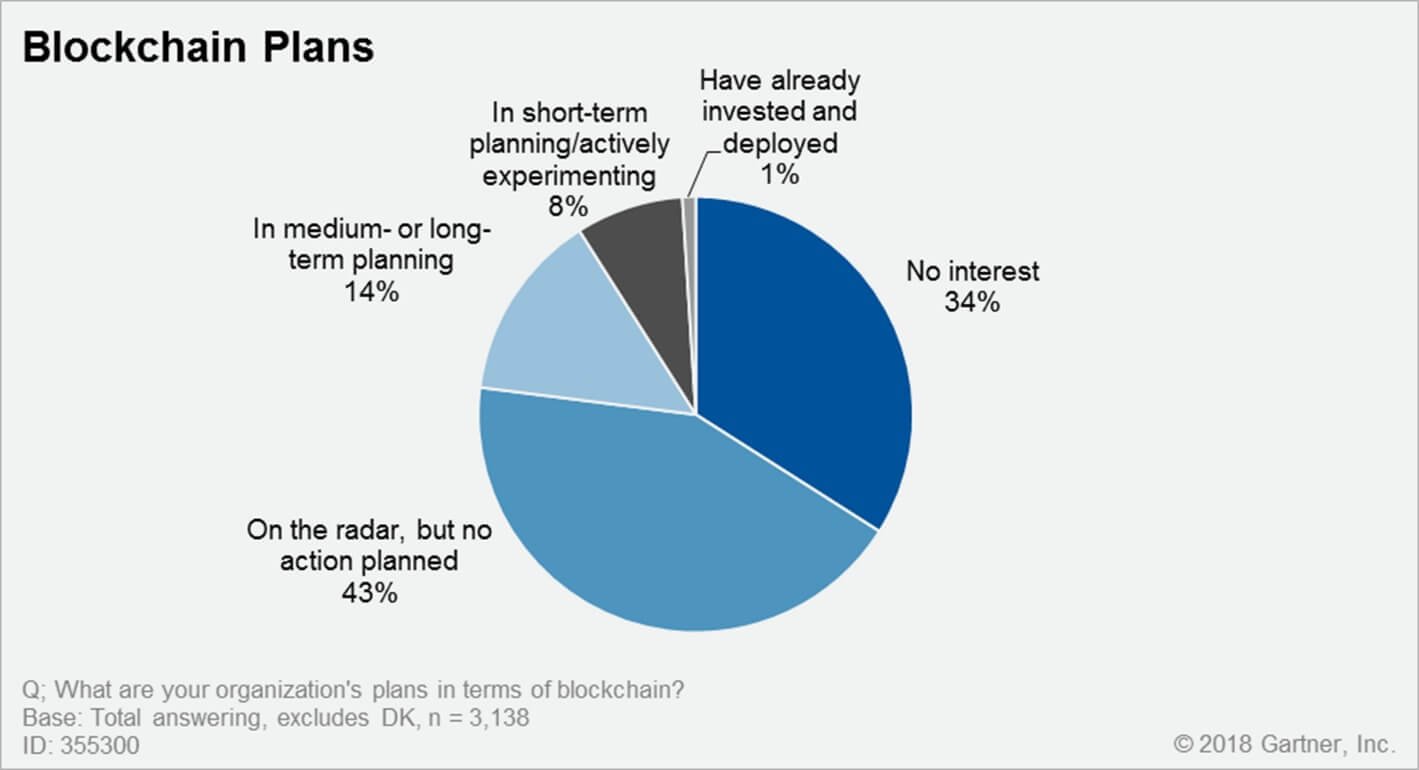 According to David Furlonger, a Vice President and Gartner fellow, "This year's Gartner CIO Survey provides factual evidence about the massively hyped state of blockchain adoption and deployment. It is critical to understand what blockchain is and what it is capable of today, compared to how it will transform companies, industries and society tomorrow".
He also mentioned, "The challenge for CIOs is not just finding and retaining qualified engineers, but finding enough to accommodate growth in resources as blockchain developments grow. Qualified engineers may be cautious due to the historically libertarian and maverick nature of the blockchain developer community".
Furthermore, He added to his statement that companies are in fear as blockchain can lead organizations to significant problems like failed innovation, wasted investment and rash decisions along with even rejection of a potentially game-changing technology.
Some Useful Applications of Blockchain-as-a-Service
Blockchain has enabled cross-border money transfers without the need for a banking intermediary, which greatly reduces costs associated with fees and speeds up the financial settlement times through disintermediation. Adding to this, the purpose of blockchain is to provide decentralized solutions and this decentralization isn't perfect yet as is usually the case with a new technology. Due to this, BaaS is a viable solution that blockchain desperately needs to get to where it needs to.
As HTTPS is completely useful as the best way to enable secure online business, and there's nearly no sign of it when used by end users and making use of BaaS allows the blockchain part of the technology to help in implementing it on the end users side as well.
Conclusion
Blockchain Technology has a promising future and is known to be the future technology that has a prominent role in bringing several qualsolutions to the existing problems. With the use of such reliable BaaS services, there can be a reduction in the issues that companies may have with the manual developers. Such simplified use of Amazon Blockchain services will benefit them in the easy implementation of the Blockchain technology for their various purposes.