Few weeks ago I had written a post on ways to learn Android programming for free, which was a success, and so today I have decided to write about how much amount of salary you can earn as an Android Programmer in 2015 and later.
The piece I wrote on top framework for android app development was also well received, but I guess some people mainly college grads are still finding it confusing, whether to choose their career in Android development or not. Looking at the top programming languages to learn in 2015 might help us make a better decision, but the fact is that programming in Android is extremely worth it, and hence you can begin learning it the right away.
The mobile world has created revolution in past few years, with the evolution of Android and iOS platforms and is still constantly growing. It is estimated that by the end of 2015 the number of mobile phones on Earth will exceed than humans on the earth! In the middle of this ever-expanding mobile industry, dwells the mighty Android.
You can check for the global market share of Android in Smartphones in below pie chart. It accounts for more than 81%, leaving its competitors far behind.  Also in coming years, it is estimated that the number of low cost Android powered smartphones would exceed more than 2 billion.
You can also check out an average salary of Android Developer as of today's date in below image extracted from Indeed's website. I am sure by seeing this figure, you will definitely switch yourself towards Android programming whether it be fulltime or as a part-time Android programmer. I expect this number is definitely gonna increase in coming few years. But still I can say that, this average salary is reasonable considering how you can learn this technology within few months.
Source: Indeed.com
Also Check: Learn Android Lollipop Development by Building Real Apps
In Below report you can look over the salaries of job titles related to Android programming. You can see how most of these job titles are playing with more than 100 thousand dollars per year.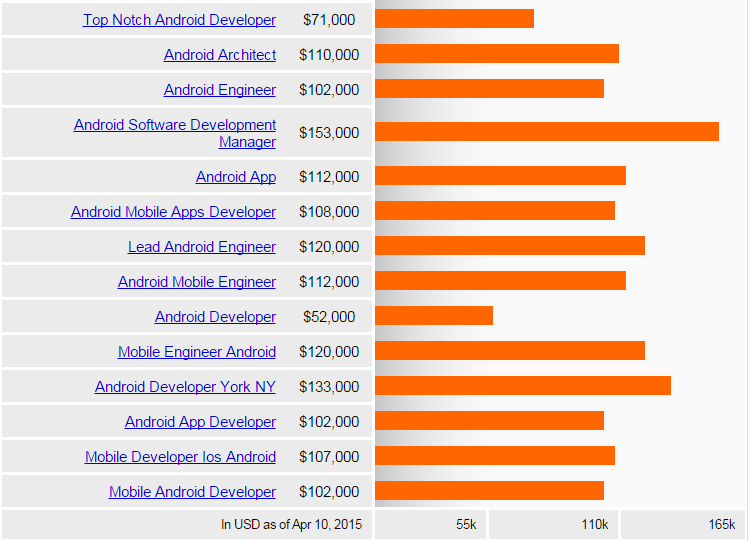 Conclusion
Within few years Android has become most popular platform and will remain in coming years because of continuous adoption of smartphones, and till then it's going no-where. I would love to have a feedback on this topic, if you are an Android programmer and have been working in this field from a while, and I'd also love to know more about your average salary if you won't mind. Any changes within this year of your job title and more, please let us know.