When having a discussion of 3D printing, often people talk about creating fun knick-knacks, but in reality, it has become more advanced than ever before. It is used in healthcare, automobile & even aerospace industry. But what makes people more wonder is about the tools that make all this a reality. What are the 3D printing tools? Or the top 3D printing software? To know these answers check out this article on top 3D printing tools & software currently being used.
3D printing has definitely revolutionized the way we create or manufacture objects. Today, anyone can get a 3D printer for under $300, which is not even a fraction of the cost when compared to the cost of the earliest 3D printers. Because of the high adoption of these printers, one common problem that has arisen recently is what are the essential tools behind 3D printing. To answer this question, there are 2 categories of  3D printing tools that people are currently using. 
One is hardware that generally involves adhesive, support materials, sandpaper, base, and so on. But the more important one is the 3D printing software that requires more time & skills to master. You can find a variety of 3D printing software that has the ability to turn your average 3D printer into a powerful machine. But for some, learning these tools can take time, and if you are an experienced user then you might switch these to experiment with your designs. 
No matter who you are, we have created a list of top software that is suitable for every type of user – no matter whether you are a beginner who is looking to utilize a 3D printer for a new project, or an experienced user who wants to switch for experimenting. Some of these software are free, others are paid, some are easy-to-use, and some may take time. So without wasting any time, let's begin with the list of top 3D printing software.
Top 3D Printing Software (Best 3D Printing Tools)
1. Blender

Suitable for- Amateurs & advanced users
Price- Free
Highlights- Feature-rich, open-source, packed with tools for animation, rendering, sculpting, simulation, video editing, and motion tracking.
Apart from being free, Blender meets the majority of the requirements for 3D printing like modeling, simulation, animation & others. Thanks to its steep learning curve, it is suitable for anyone who is ready to design complex 3D models.
As said earlier, it is free and open-source software that was originally created for 3D modeling and rendering. This 3D-printing software is based on polygonal modeling techniques and was a favorite among the artists. Despite being favored by artists, it is quite accessible for anyone. Among many of the features of Blender, one that outshines every other is its option for photorealistic rendering. It literally gives your model the sense of realism that very few free software is currently providing.
2. Tinkercad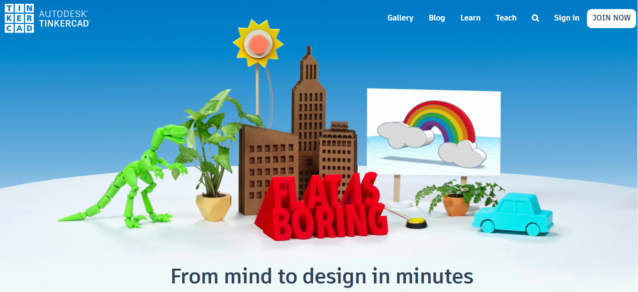 Suitable for- Beginners
Price- Free
Highlights- Anyone can create 3D printable models, the majority of the users start solid modeling with Tinkercad.
It is one of the software that has gained immense popularity among users for 3D printing. It is a browser-based 3D design application created for beginners. It is based on the intuitive block-building concept that can help anyone to create models from scratch by using basic shapes. It has hundreds of tutorials & guides that you can go through for advanced level designing. With Tinkercad, you can also export or share files without any hassle.
Moreover, Tinkercad has literally a library of having millions of files that help users to find almost any shape that is suitable for their design. Users can use any of these files to manipulate as per their needs, and can also integrate it with any 3rd party services that let you print with a press of a button. Though it can be quite basic and simple but is the best option for learning 3D modeling from scratch.
3. FreeCAD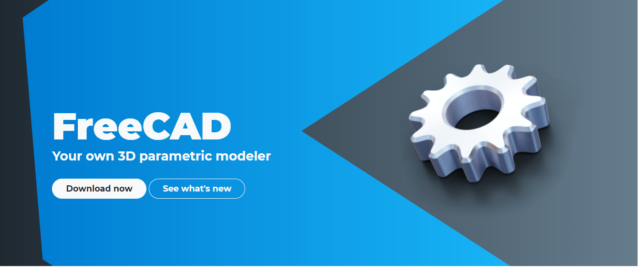 Suitable for- Amateurs & advanced users
Price- Free
Highlights- Fully parametric models that you can recalculate as per your need, undo/redo stack. Robotic simulation, path module for Computer-Aided Manufacturing or CAM, & architectural tools.
It is also a popular 3D printing tool that is free & open source. It allows parametric 3D modeling that helps you to build real-life objects of any size. Its parametric feature also significantly simplifies all types of design. To generate any other type of model, you just have to go to your model history and change its parameters.
As its name suggests, it is completely free with no hidden costs, and another major advantage of this tool is that none of its features are backed by a paywall. This allows you to tweak your model as per your needs.
Though it is free, many experts don't recommend it for professional jobs but is definitely a great tool for training. If you are new and are not looking for a paid option before exploring the waters, then FreeCAD is the best 3D printing software that you can start with.
4. OpenSCAD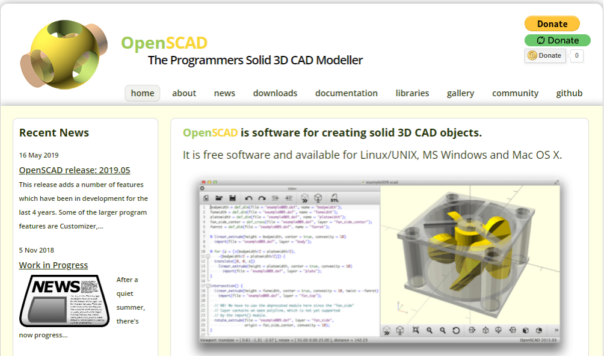 Suitable for- Amateurs & advanced users
Price- Free
Highlights- Exclusively designed for programmers, & you can generate models by writing scripts.
It is another free software that is preferred over others because of its tons of features. It provides a unique way of creating models for 3D printing. It is based on a programming concept, wherein instead of a traditional modeling interface, you have to write scripts for creating your model. Your program has to describe all the parameters of your model. Once you have written the program for your model, you can view it by clicking on the button called 'compile'. It is one of the unique software on this list.
Apart from the programming, it also gives you the ability to import 2D design and convert them into 3-dimensional. Despite all its features, it might attract some but alienates others because of the requirement of programming. Regardless of everything, indeed it is one of the most powerful and free 3D printing tools.
5. BRL-CAD
Suitable for- Advanced users
Price- Free
Highlights- US army uses it for supporting electromagnetic & ballistic analysis, includes geometric analysis & ray-tracing tools.
BRL-CAD is also an open-source & free software for 3D printing. Compared to other software listed till now, it is created for more advanced users and provides a solid modeling system with an interactive geometry editing. It is used by the US military for model weapons systems probably because it is highly dependable and is also advanced.
This 3D printing software is famous for providing high precision because it uses coordinates for arranging geometric shapes. Other than this, you will also get a huge library full of simple and complex shapes that you can implement into your designs. You can also select multiple shapes and combine them as per your needs.
Initially, it used to be an expensive software but after some years, it was converted into an open-source 3D printing software. As of now, it is packed with more than 400 tools that are incredibly fast considering its sizes.
6. DesignSpark Mechanical

Suitable for- Amateurs & advanced users
Price- Free
Highlights- Comprehensive library of 3D models directly from industrial suppliers, electrical & PCB CAD tools, & can generate a bill-of-materials for designs.
This software is again the free one that is suitable for advanced hobbyists and professionals. Its user interface is relatively direct and it is known for its speed. DesignSpark creates an efficient design and with this, you can also generate the bill-of-materials that help you to calculate all potential printing costs for 3D design projects.
Moreover, it is also packed with an in-built library that you can use for your own designs. Among all its features, one that is more popular is its 'pull feature' that helps in creating 3D models from just a surface. When compared to other software, it is more feature-rich considering it's free of cost and is quite beginner-friendly as well.
7. Wings3D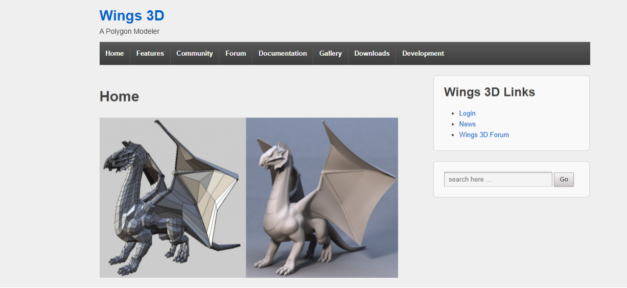 Suitable for- Amateurs & advanced users
Price- Free
Highlights- Polygon modeling for creating organic shapes, basic tools easily accessible via a right-click menu.
It is also an open-source free software for 3D printing & modeling. It is based on polygonal modeling and includes a wide spectrum of mesh & selection tools. Thanks to the tools such as mirror make & few others, symmetrical modeling in Wings3D is very easy.
Though its difficulty level is for amateurs & advanced users, it's learning curve is not that complicated and is user-friendly. Certain features like a simple user interface & customizable hotkeys are enough for the beginner to get started with Wings3D for 3D printing.
Apart from these, it includes all the essential features like inset, circularize, plane cut, intersect, bend, sweep, sheer & circularize that is useful for making outstanding models. Forget features, but this software also supports a wide variety of file formats for exporting and importing. Some might find it simple & plain, but if you are looking to create impressive models without spending any money, then this software is worth checking for your next 3D printing model.
8. Fusion 360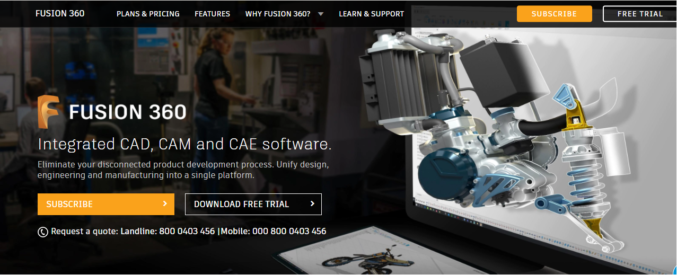 Suitable for- Amateurs & professionals
Price- $595 per year for commercial use, & free for personal use & startups
Highlights- Packed with features, generative design, collaboration, simulation, 3D printing, CAM, assemblies, and tons of tools for modeling & sculpting.
It is another unique software that we have included in this list. Fusion 360 is a cloud-based software for 3D printing. It is a 3D CAD program that has the potential to bring the various teams together over the cloud by collaborating for complex projects.
Another important feature of Fusion 360 is that it stores all the history of your project or model along with all the changes that you make in it. Also, you can find several designs such as solid, mesh & free form modeling.
If you want to use it for commercial purposes, then you can take its subscription on the monthly basis as well. To constantly make this software better, all its developers continuously update it. Lastly, this software for 3D printing can also run on multiple platforms, and you can access your information from wherever you want.
9. 3D Slash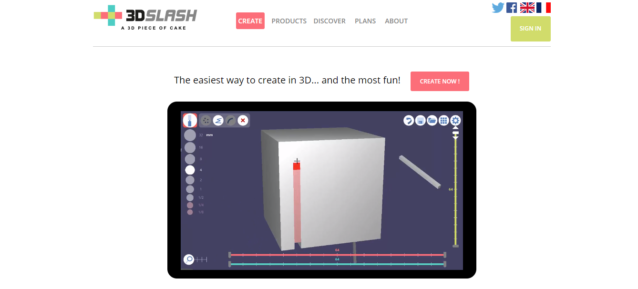 Suitable for- Beginners & amateurs
Price-
$240 per year for a commercial license
$24 per year for a premium license & free web version
Highlights- You can create your model by slashing 3D blocks to shape it as per your needs. 
It is the software that attracted us the most. It has a very unique user interface and includes probably all the advanced features that you require for complex projects. It provides a high level of precision. With this software, you can also make 3D text & logos & it is ideal for beginners.
Despite being labeled as beginner-friendly, there is a range of advanced features that comes with commercial or cooperative use as per your project requirements. Though it has a free version, there are a lot of limitations when it comes to its functions, colors & resolution.
The creative interface of 3D Slash with the block cutting style for creating a model allows anyone to use it like a pro. And in case, if you are finding difficulties in where to start, you can find hundreds of files for your projects. You can download these & then import it to start slashing for your model.
Certain features like cursor mode will be a great addition for you since it makes the interior design very simple. Apart from all its features & standard mode, you can also use it with VR headsets. When it comes to a range of shapes, its blockish style becomes a little limiting, however, it is very practical and efficient.
10. SketchUp

Suitable for- Beginners & advanced users
Price- $299 per year & free web version
Highlights- User-generated library, powerful, intuitive, & manufacturer produced models.
We have included SketchUp to this list mainly because of its ability to balance usability and functionality. This makes it suitable for individuals having any skill levels. Moreover, it has a simple learning curve, and you can use all its advanced features with some extra cost.
This software is suitable for designing exterior or interior architectural projects and has additional tools for other purposes. Though complicated and complex designs may take time for you with this software, but more simpler designs will be created fast.
11. Maya
Suitable for- Advanced users & professionals
Price- $1545 per year
Highlights- Powerful word & character creation tools with procedural effects.
Though many of you consider it as an animation tool, but it is way more than that. It is true that Maya is primarily marketed for animation professionals, but you can use it for 3D modeling as well, especially when it comes to geometrical shapes & smooth surfaces.
Originally, it was created for 3D animation, but now numerous people are using it for 3D printing too. Because of this, it now provides numerous interface options for sculpting and animation.
Today, it is more used for artistic printing requirements and is the best option for creating super detailed models having many intricacies. The best part of using Maya is that it has a super-fast rendering engine, but on the other side, it is very expensive as well. Apart from its pricing, don't forget that it is also used for high-budget CGI movies and it allows realistic representations of color & reflection.
12. MoI 3D
Suitable for- Amateurs to advanced users
Price- $295
Highlights- Pen-tablet friendly, & easily lets you create smooth meshes from CAD models. 
MoI is short for moments of inspiration, and it offers a sleek user interface with a powerful range of tools. It is heavily used for polygonal modeling. With this 3D printing software, you will also get advanced boolean functions for quickly designing any hard surface models.
MoI 3D is also user-friendly and is based on the NURBS modeling system. Though it is not free, but definitely cheaper than other popular names from this list along with some good advanced functions. Despite so many features, this software has managed to have a clean look rather than being cluttered.
13. Rhino3D
Suitable for- Advanced users & professionals
Price- $995
Highlights- Powerful, and includes hundreds of features for modeling, rendering, analysis, CAM, and 3D printing.
Its parent company is marketing Rhino3D as the most versatile 3D-modeler in the whole world. You can download this software in numerous bundles at varying prices from their website. It is based on the NURB system that is known for providing high precision. It allows you to manipulate meshes, surfaces, points, solids, curves, and others in different ways.
After considering all its features & functionality, it is difficult to argue against the claims made by its parent company for Rhino3D being the most versatile 3D-modeler. Though some users have complained that it is hard software to get along with, knowing its capabilities, it doesn't seem a concern. And it might be not best for beginners but it is indeed currently one of the best software in the market.
14. SolidWorks
Suitable for- Amateurs to professionals
Price- $1295 per year or perpetual license at $3995
Highlights- Efficient & powerful editing tools and trees for simulation, CAM, 3D printing, manufacturing, assemblies, & cost estimates.
Now it's time to discuss SolidWorks, a CAD program heavily used by a majority of the professional designers. It includes thousands of advanced features including reverse engineering and design validation tools. Also, there are 3 versions of SolidWorks from which you can choose depending upon your needs or the features required for your projects.
This software is practical, used more for industrial applications, and is detailed. On one hand, a majority of the software are inclined more towards flat structures, but this software is known for creating detailed curvatures by using NURBS systems. Moreover, resizing in this 3D printing software is not that difficult.
15. 3DS Max
Suitable for- Advanced users & professionals
Price- $1545 per year  
Apart from Maya, it is the 2nd software in this list that is widely known for animation. But apart from animation, 3DS Max also offers powerful and great 3D modeling features like polygonal modeling, shading tools & parametric mesh modeling. Moreover, one major limitation that I have found out about this software is that it is only available for Windows. Despite this, it is famous among game developers, 3D modelers, and others.
16. Modo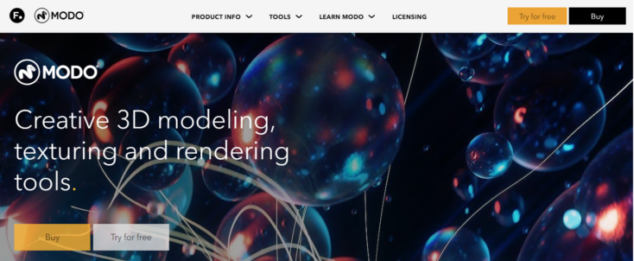 Suitable for- Amateurs to professionals
Price- $599 per year or perpetual license at $1799
Highlights- Artist friendly tools for animation, modeling, rendering & texturing. It is based on procedural modeling.
This software provides flexibility in tools for subdivision surface & 3D polygonal modeling. You can create both the types i.e. precision meshes & freeform organic models using this single software. It is designed for professionals & comes with a number of features that you can leverage for advanced designs. Probably this is the main reason behind its price. 
It does have a huge number of features and functionality for creating smooth and advanced designs but is not user-friendly as much other software listed. When it comes to baking textures, its speed is significantly better than its rivals. For additional customization, you can also integrate partner software and extensions.
17. Cinema 4D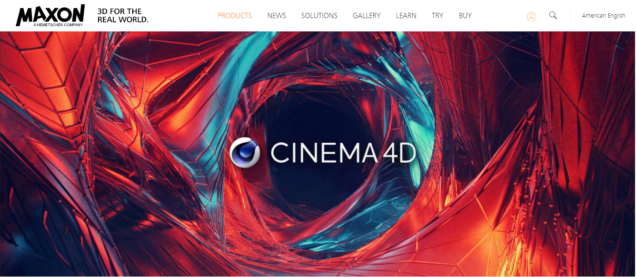 Suitable for- Amateurs to professionals
Price- $720 per year or perpetual license at $3945
Highlights- Parametric modeling, procedural workflow & intuitive interface
It is a super powerful 3D modeling tool with which you can develop complex 3D designs. It also has a simple learning curve which often forces all the newbies to experiment with all its advanced features. It is created as a cross-platform software and is being regularly updated for the optimization and improvements.
Cinema 4D has a user-friendly interface that makes it easily accessible, and the options of shading or scaling make modeling far simpler & easier than others. Upon launching, within a minute you will realize how good its sculpting tool is and it really separates this software from others for editing models and pre-existing files. 
18. Inventor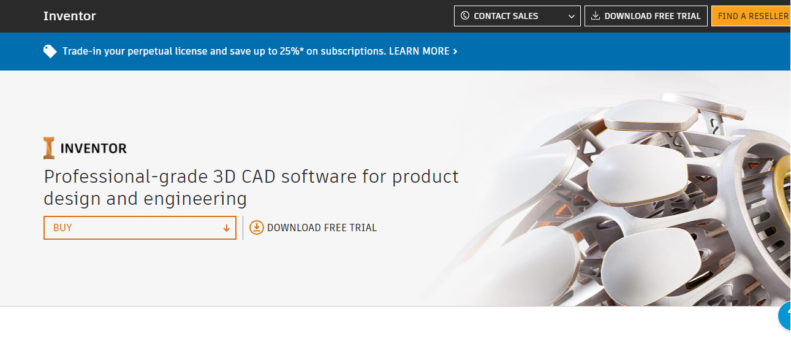 Suitable for- Advanced users & professionals
Price- $1985 per year
Highlights- Good for engineering application & product design. Packed with functions and tools for manufacturing & stimulation.
This software provides professional-level 3D mechanical design & comes with options to choose from parametric, freeform & direct modeling. Apart from this, you will also have the option of simulation & automation tools.
It was created by Autodesk, & is available in various options or packages as per the proficiency. You can buy the students, or professionals, or other versions. One thing that separates the Inventor is that they heavily consider user's feedback and implement them for enhancing their software. With its latest versions, you get 3rd party designs and visual data representation.
Which 3D Software You Liked It?
Here we have listed all the important 3D printing software. All these 3D printing tools were listed as per their costs, skills level, and most importantly the features all of these are packed with.
After using these tools for 3D printing, you might find some easy, or some software way out of your league, but we are sure that you can make the most from any of the 3D printing software listed here.
If you are a beginner, then I would suggest starting with the free versions, then once you are confident, you can start with the paid options. And if you are searching for the right software for your next project without worrying about the money then, I am sure you might find some of the software very interesting.
If you think we miss any other 3D printing software, then feel free to mention it in the comment section below. So, go and try out all the software!
Also Read: 5 Digital Business Tools to Drive Faster Product Development