Referral marketing is a great alternative to affiliate marketing, whereas with affiliate marketing you're focusing on promoting the product of another business, with referral marketing you're usually looking to promote your own product through the means of people collecting referral points. Both marketing types are very similar, but there are lots of people who like to focus on just one at any given time.
Just like any other marketing method, referral marketing is also widely written about on the web, and you can easily find content that showcases the best way to approach this type of marketing, and what kind of initiatives to look out for in order to generate more trust, and essentially sales.
Explore: 10 Insightful Marketing Tactics for Extra Traffic and Revenue
Though, if you're dead serious about launching your own referral program, there is a great and insightful tutorial available over at Shopify that covers 7 ground points on getting this done.
Study after study has proven that referral marketing is one of the best forms of marketing when it comes to sales and conversions. Simply put, referral marketing, sometimes also called word-of-mouth marketing, is just people purchasing products based on someone else's opinion or influence. It's a powerful marketing channel because people trust the opinions of other people in their lives and people they respect, whether that be family, friends, social media influencers or big stars.
Now, lets take a look at our available list of tools/apps that can help us get inside of this market and learn more about it, please feel free to leave comments about tools that didn't get mentioned in this post and we will make sure to update the list as quickly as humanly possible.

Social referral marketing can be very powerful, and always provides instant results, though you may need to opt for a tool such as Invitebox to give you a platform that allows the distribution of instant rewards for anyone who is participating in your offers. Not only can you offer instant rewards, there's also the ability to offer goal-based rewards, which means that users need to accumulate a list of referrals to get their prize. It certainly can do a lot of good for any business that has any social presence on the web.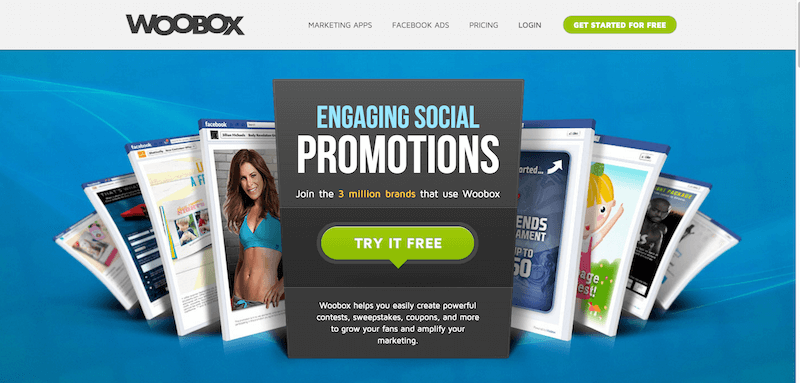 Woobox is a serious promotional platform that offers a dozen of tools and apps to promote your business through the means of referrals and rewards. From something as simple as sweepstakes and photo contents, to a more sophisticated approach such as 'pin to tweet' (anyone who pins the image has a chance to win), or create video contests to really build solid brand engagement.

ReferralCandy is probably one of the easiest ways of adding a refer-a-friend program to your store, and it's also nice to know that the team over at RC takes their job very seriously; their design, approach and content that they share is definitely a foreteller of that. It integrates so seamlessly that anyone who becomes your customer will also want to become a referral partner. It just works, right out of the bat.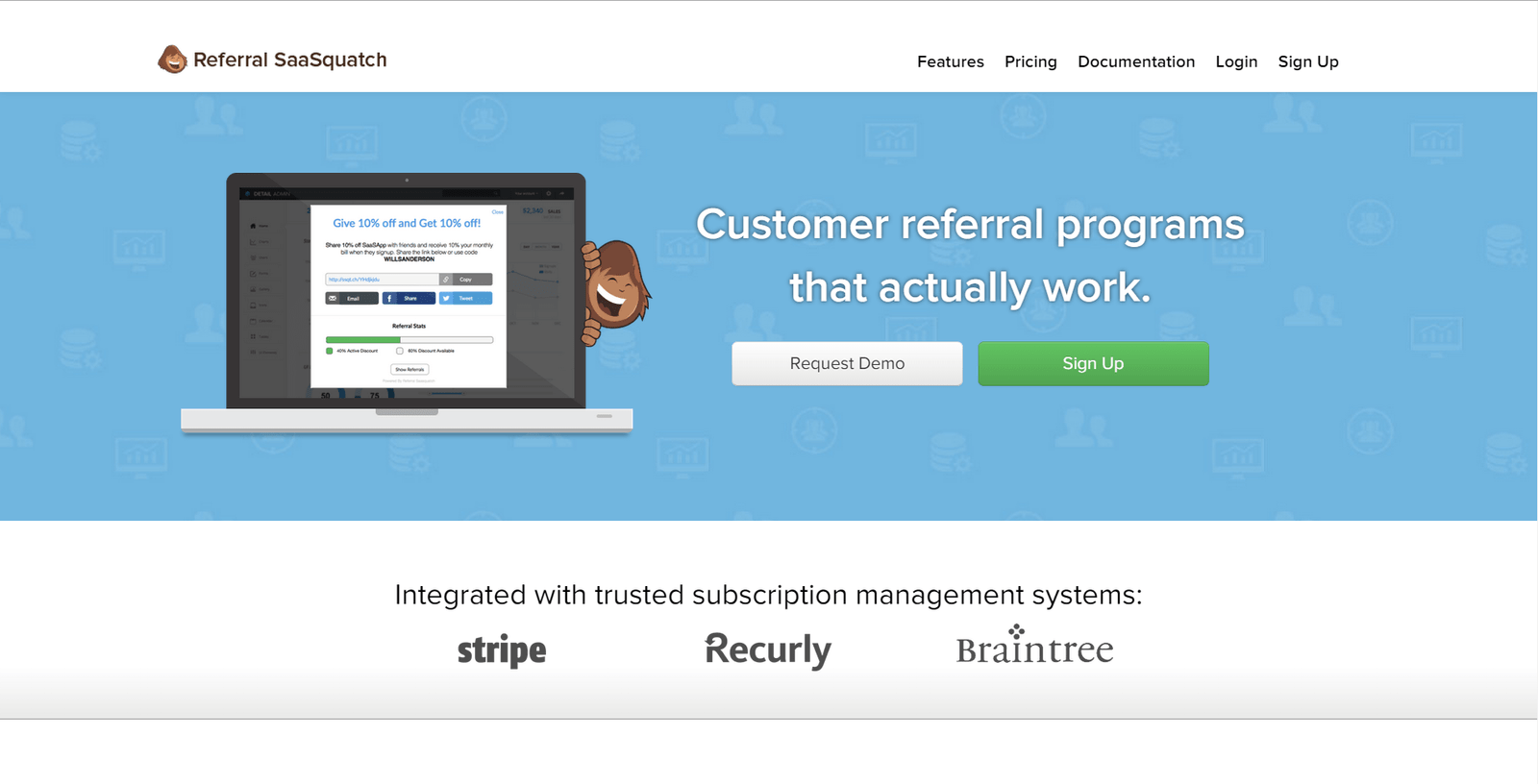 Referral SaaSquatch's software focuses on user experience and cross-channel promotions. Their platform gives you the ability to run a referral program across your web/mobile/offline experiences. Flexibility is the name of the game with Referral SaaSquatch as their software helps you give out different rewards, prevent fraud and give out rewards. Their analytics platform lets you understand program performance and find areas for optimization. With an awesome blog full of helpful content on growth marketing I definitely recommend checking them out.

The RewardStream platform allows marketers to quickly and easily integrate a digital, web and mobile, promotional referral platform straight into the customer acquisition funnel, which further allows to instantly generate brand awareness. The highlight of this particular platform is that it works great with mobile devices, giving you the freedom to use a referral program on sites that only mobile visitors visit.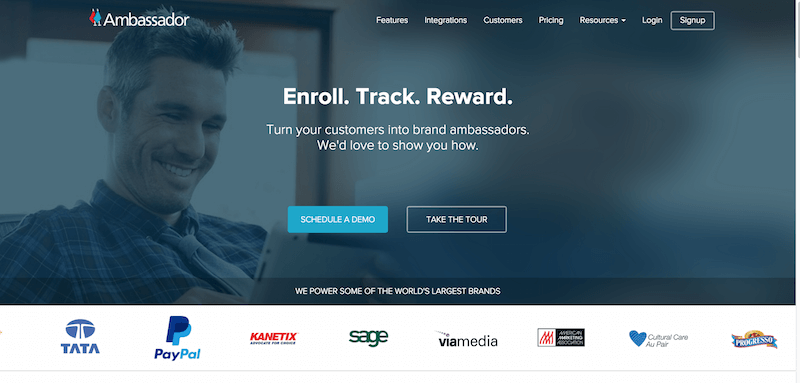 I haven't used this on any of my projects, but I've definitely been a referral marketer on other sites that use this platform, and with good results as well. As far as the interface and ease of use goes, I definitely recommend Ambassador to anyone who wants to explore the whole referr-a-friend thing. Track your sales, track your customers, track the performance. It doesn't get any easier than that.

Social Annex is an enterprise Software-as-a-Service company that connects all the steps of buyer's journey to deliver a remarkable customer experience that accelerates acquisition, conversion, and retention. It is the only company that puts unified Social Commerce and Customer Loyalty capabilities in one platform and offers fully managed service for the world's leading enterprise and mid-size companies including the Internet Retailer Top 1000 brands. Social Annex suites of products include Customer Loyalty Programs, Sharing and Referral programs, Login Services, User Generated Content, and Visual Commerce.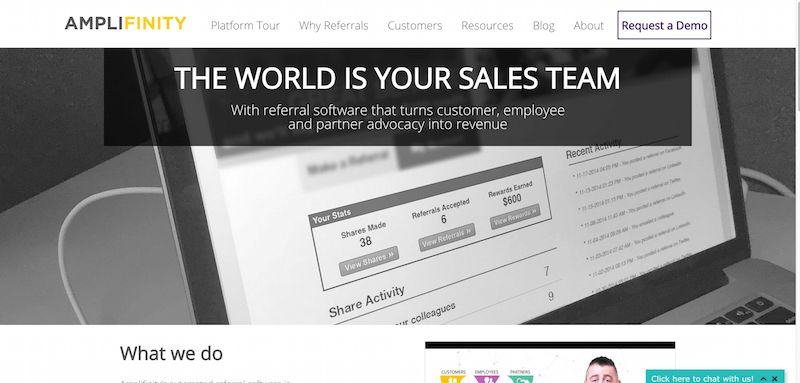 Amplifinity is a referral marketing platform designed to run large-scale customer and partner referral programs for midsize enterprise companies – with 100% accuracy. It integrates fully into a wide array of CRMs, including Salesforce, and is highly configurable to meet the needs of each and every brand. Offering fully white-labeled programs and Single sign-on (SSO) integration, program participants (customer, employee or partner advocates) receive a seamless experience as they participate in the program.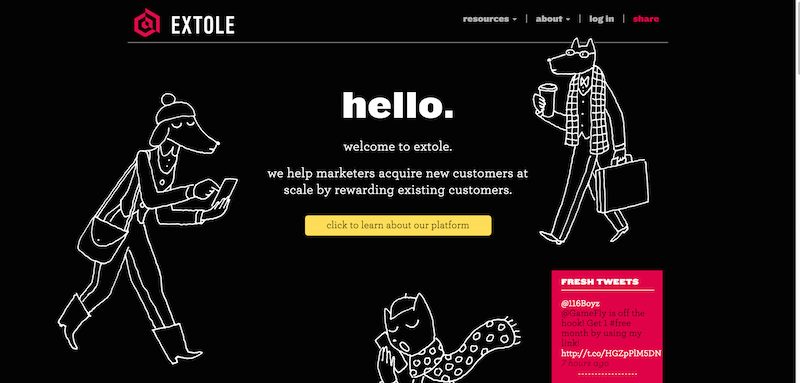 Extole love its place in the market, they've got a solid list of 300+ clients and are happy to work with individual business and individuals themselves to work out a plan that works just for them, as in their own words — they're ready to tackle even the special kind of problems. Other than that, a very attractive platform, lots of content available in the blog, and other goodies spread out around the site.

InviteReferrals are currently working hard to deliver three different types of referral marketing programs, which are; invite to unlock, most influential referrer, and goal based referral programs. All of which have their appropriate demo pages available on the homepage of InviteReferrals.
Invitereferrals is the Simplest Referral Marketing software trusted by 6000+ businesses in 25+ languages including customers like Foursquare, Digitas, Motorola and many more. You can check out their introduction video on YouTube here.
Tools for Generating Sales with Referral Marketing
If you're truly serious about this type of marketing, then these tools are pretty much everything you need in order to get started. Even if you choose jus a single one, subscribe to others to read their content and research papers to learn more about how to maximize your potential to earn and satisfy your customers.