Whether you wish to earn a few bucks outside your job or just experiment with your creative spirit in your leisure time, video making has turned out to be quiet easy these days. YouTubers and Vloggers take a lot of time and softwares to make their videos appear immaculate.
Creativity is crucial to the process, especially with the critical response one receives on his or her video or short movie. Season 8 of the epic saga, Game of Thrones is being criticized severely for its editing blunders. One episode had the "Starbucks opened in the North" while another episode had a hand replaced. To cease such issues, one needs to keep an eye out for the final version before releasing out to the audience.
Softwares and tools make such work much easier. Today, we have a plethora of choices for such tools and softwares. But as usual, people will have a hard time determining the best tools or them to use. So, here is our list of the best tools we believe are made to ease the work of the video and movie creators.
Being a product of Adobe, it raises the bar when it comes to professional editing tools. Occasionally hailed as "the best" in the bunch, the tool is used by many in the industry, owing to its impressive features. Some of its key features are clarity, ample organizational tools, flexible interface, excellent stabilization, a fertile ecosystem of video production apps, responsive speed and much more. It comes in handy regardless of the product being a minute long clip or akin to a full-length movie.
The tool has gone through many changes and evolved itself as the ideal choice for the users. Which is why with every update, the application develops new features.
This software will let you work in several projects at once and transfer clips from one project to the other. Precise and simple color grading, smooth workflows, responsive interface, and complex VR editing is also available here. The software also integrates well with other Adobe products, making your experience smooth by providing you one robust creative suite. The pricing option differs for students, professionals, universities, and organizations, with each having their own set of benefits.
To learn how to use this application and become proficient in no time, you can try out the 'Premiere Pro CC for Beginners: Video Editing in Premiere' online tutorial. With 8 hours of content and expert teaching, it will surely help you, master Premiere Pro quickly.
Being an Apple product, you can expect its strive to give the users a premium experience. The advantages this software has comes from the professional level audio/video editing capabilities designed to harness the powerful computing of MacBooks. The fast and flawless video editing is attributed to the amalgamation of robust hardware and software, along with the ability to create brilliant videos.
The features of this software entail several built-in effects, enhancement tools, filters, and motion graphics. It can even support 360-degree videos along with HDR materials and RAW formats. This tool is also praised equally for its ability to deliver videos directly to your devices to your Apple iPhone or online video sites.
The Magnetic Timeline is one of its key features that allow you to trim parts of the video without having any effects on the overall video. It also has one of the most impressive ecosystems of tools that allows you to integrate third-party tools, devices, content right into the software interface, and plugins. Compared to others, however, this software is comparatively expensive, however, it allows a 30-day free trial. Also, it cannot import projects from previous versions without a third-party plugin and its nontraditional timeline editing might be new to many users.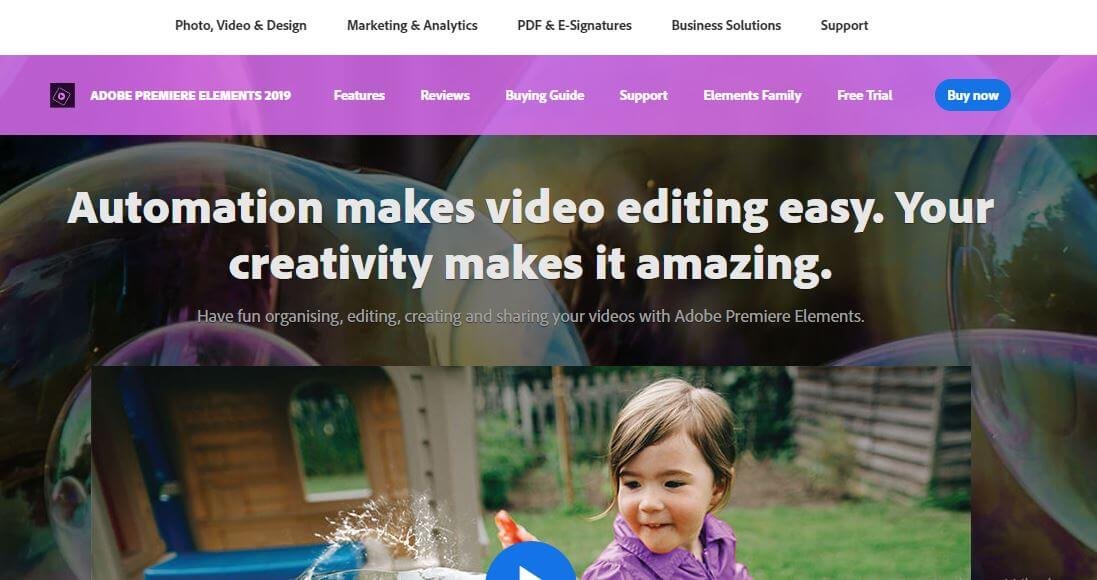 It is deemed as a user-friendly product with a lot of tools that assist you in producing compelling movies from the video clips at your disposal. Since the 2019 update, the software allows for automatically generated creations such as slideshows and collages along with a new window and a helpfully redesigned easy-editing interface.
The software doesn't care if you are a newbie or a pro, automated functions such as smart toning and motion tracking make you edit with ease. Similarly, the video stabilization option is also quite helpful. However, it doesn't come with 360 editing VR, 3D editing, screen recording abilities or multi-cam feature.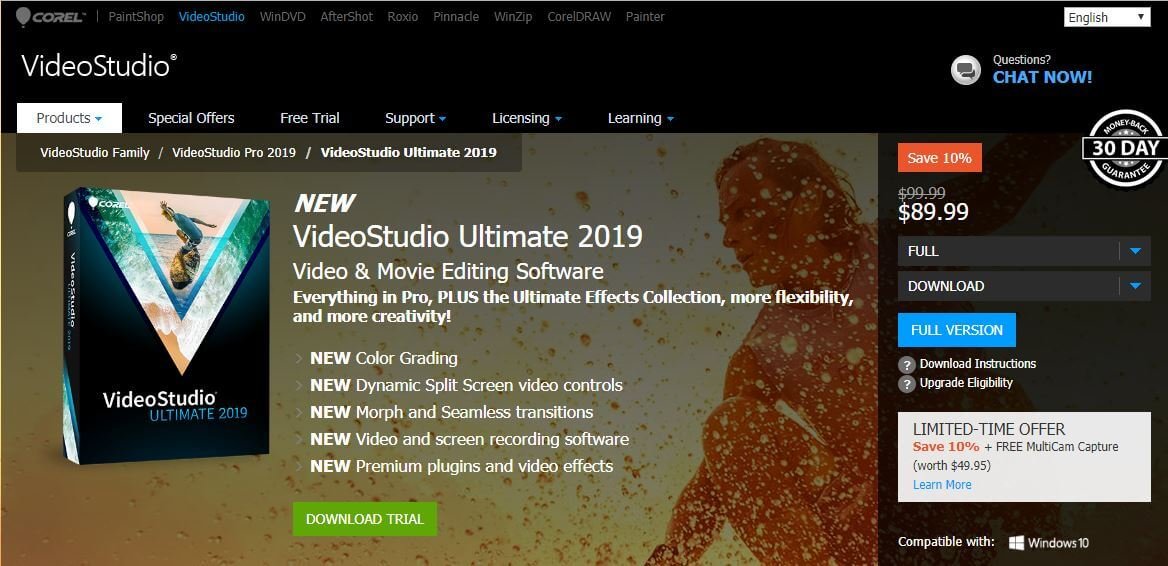 If you are a beginner in this field, this software is the best to get you started. It is not really praised much among the experts, however. A New user can navigate through this application quite easily but that doesn't mean that it lacks features.
The features involve 4K video support, 360-degree video VR support, multi-cam editing, and a music library. The features justify the features greatly since it's fairly affordable.
Having stark contrast with the above one, this software is meant strictly for professionals. Newbies will have a hard time using this software. The software allows you to create fantastic videos without a Hollywood movie budget.
Cyberlink has a heap of features designed to give impeccable outcomes. The tools help you input together with a compelling digital movie with titles and transitions. The best part of the software is its speed at which it functions. The application runs on Windows 7 and on all the versions till Windows 10 with a 64 bit as the recommendation. The 30-day a downloadable version doesn't support 4K and also gives a watermark in the videos.
CyberLink being the most nonlinear editing software, it allows you to join and trim clips on the timeline. With the recent version, the time has been altered slightly where instead of clips that are dragged to the timeline would stick to its predecessor, now the same can overlap with the previous clip on the left. The tooltip now carries 5 options: insert, insert and move all clips, overwrite, cross-fade and replace.
PowerDirector offers the most 360-degree video capabilities of any video editor in existence. However, there a few cons to it as well such as no trimming in source panel, weak color-matching, and a number of options can make interference overbearing.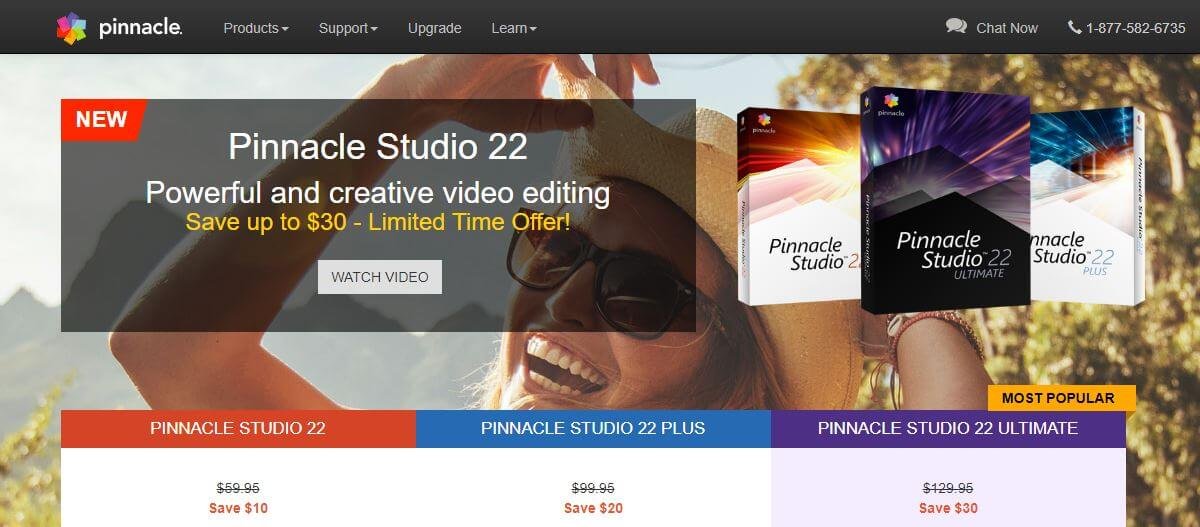 Like Adobe Premiere Elements, this tool is highly recommended for those who are a novice in this field. The software is criticized by many experts for being too basic. So, if you are someone who wanted a simple interface to navigate and start your journey in this field, this application is would be of immense help.
The price is also justified for the features that are handed down to its users which includes 1,500 effects, titles, and templates, time remapping, stop motion feature, handy coloring tools along with so much more. Most features are very easy to use.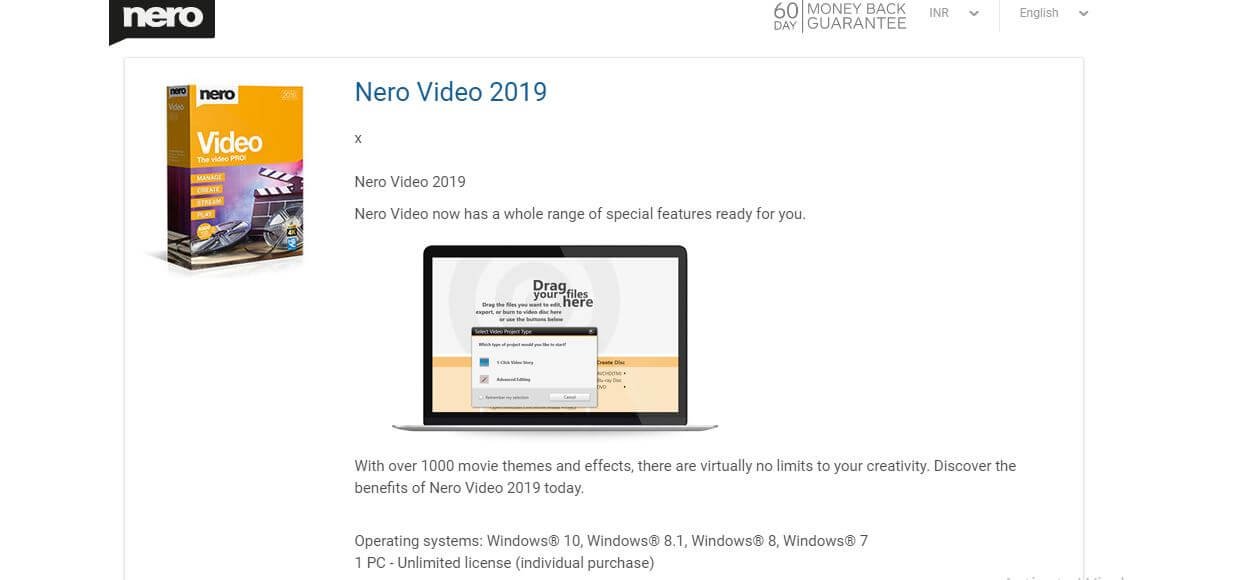 One of the ideal reasons why Nero is used by people has mainly to do with its low prices. The application is blessed with many video effects and many excellent audio tools. Nero is compatible with 4K content and burns AVCHD, Blue-Ray, and DVD. It also consists of everything you need to used to update your video such as color, audio, text, transitions.
However, it has an unconventional and (many would say) outdated interface for usage. It doesn't support 360-degrees or 3D. It doesn't even have motion tracking and no direct output to social networks.
So, if you are someone who enjoys making movies, these softwares will make your work way easier aside from giving amazing edits. If you think we should have edited other video editing softwares, let us know in the comments below.