Trade fairs, shows, and events are strategies businesses employ to market their products and services. However, in the present-day society where advancement in technology has caused a paradigm shift in the way marketing is done, why should anyone spend money on stands for events and trade shows?
We are in modern-day society, and online marketing is fast becoming the dormant means of marketing. Many businesses have shifted their marketing base to various internet marketing platforms like Google hangout, webinars, video conferencing, and social media. We cannot question the evident advantages these online platforms provide. They are easy to use, and they provide the highest value for potential customers and real customer reach. 
Some business owners no longer see the benefit of personal contact marketing. The benefits and values of online marketing put offline marketing value out of the question. Therefore, the big question is, why should anyone invest in personal contact marketing?
The Relevance of Personal Contact and Offline Marketing
Is offline marketing still beneficial? The importance of marketing is not up for debate. No business can survive without marketing; that's a known fact. However, which of the types of marketing is more crucial in modern-day society?  
Digital marketing has proven its worth in a short time, while the relevance of offline marketing gets questioned in the business world. However, we must all agree that as effective as it can be, digital marking cannot be the only way to get results.  
Companies do offline marketing before now, and it has also proven its effectiveness before the advent of online marketing. The method cannot, all of a sudden, go wrong now. Offline marketing, maybe not all, must still have some impact to make. Here are some of the reasons you should always get involved in offline or personal contact marketing in the digital age.
1. Authenticity Value
Customers get to authenticate what they are about to buy physically and determine if it's what they want or intends buying. In online marketing, customers are not sure that what they see is what they are buying,
2. Faster Feedback
Responses, replies, lodging complaints, etc. online can be complicated. However, it is not the case with offline business marketing. Customers get answers and replies in real-time.
3. Establishes Relationships
People like it when businesses take time to reach out to them. It is one of the ways to build customer loyalty. Offline marketing is the best idea if you want local customers to use your products and services
4. Convince Customers
While there may be customers who prefer your competitors' service, offline marketing lets you convince them to patronize your business. With little materials such as your business pamphlet, banners or posters, etc., they get to think about your business each time they see these offline marketing materials.
5.  Nail the Details
Potential customers can quickly forget little details like your business address, contacts, etc. but they can easily reach for the offline marketing materials you give to them.
These are some of the reasons many businesses still do offline marketing while also participating in online marketing. They seek to blend the two forms of marketing to get the maximum result. 
5 Critical Advantages of Events and Business Fairs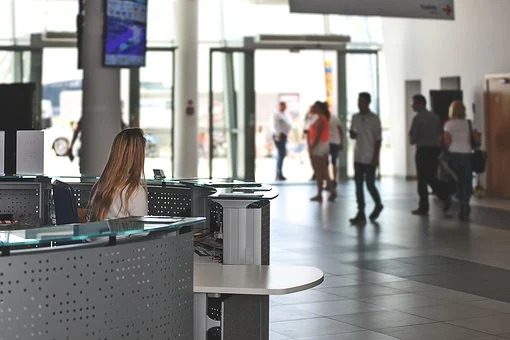 Trade shows are no longer a popular way to market your product. Technology is rapidly changing the way marketing is done, and many businesses prefer to use various online platforms for marketing purposes. Since online marketing gives many companies satisfactory results, why should anyone pay attention to trade events and fairs?
Here are five key reasons your business should have a trade show and business fair marketing appearance:
1. Raise Brand Awareness
An excellent way to raise awareness for your business brand is through trade shows, especially for start-up businesses.  It can be challenging for start-ups to find footing amidst giants already established within the industry.
However, trade shows allow start-ups to stand where the giants stand and get potential customers to know your business also exist, having great products and services to offer.
2. Forge Strong Business Relationships
Everyone needs help in business, most especially start-ups. Big companies in the industry also need help. Trade shows and business fairs are where strong relationships get formed. These relationships stand as the support required to scale heights in the industry.
Big companies can help start-up enter into markets start-ups may be unable to break into when standing alone. Also, big-companies can form partnerships to scale more significant heights in the industry. In summary, trade shows are where you meet potential partners.
3. High Lead Generation Potential
A majority of trade show attendees are those who have a particular interest in the industry. Many trades fair have huge followership with a majority of attendees seeking to buy the right products. 
Your marketing team would love to be a part of trade shows for this reason because the leg work has been done. Your sales team no longer needs to seek targeted customers because of the trade fair followership.
4. Competition Analysis
When you take your business to a trade show, you can see what other companies are doing. Trade show exposes the best offering and strategies top brands use.
You have to pay attention to it because it helps you strategize how to scale your business to the top. You can walk around the trade show floor to see what competitors are doing to entice customers. Also, pay attention to what poorly performing booths do. 
5. Education
Trade shows are a good learning ground as you get to see how things get done in your industry from a different perspective. You also get to learn new things about the way your business industry operates.
As a businessperson, making time for education can be a challenge. You can learn directly or indirectly when you attend trade shows.
Final Words
Now that you know we cannot underestimate the benefits of trade shows, even in this digital age, offline marketing remains intact. All that's left now is to try and get the most out of the process. Seek the service of the best stands for trade shows and let your business thrive upon the shoulders of the advantages trade events and business fairs have to offer.