One of the biggest hurdles to scaling up your business is the plethora of moving parts and thousands of raw data entries. It's not easy to comprehend and get a holistic view of your brand or business. 
That's because the marketing world is humongous and complex – and with the constant bombardment of new information in this digital world, it's becoming increasingly difficult to manage a business. 
Fortunately, there are tools available now to automate your campaigns and create efficient sales and service workflows. However, these tools are often complex with steep learning curves – and with different software providing solutions for marketing and sales, the cost could run up to thousands of dollars. 
This is not a viable option for small or even medium businesses. 
The solution? Your business needs an affordable all-in-one platform that is easy to use. 
This is precisely what EngageBay offers: simple, affordable, and integrated. Plus, it's effortless to scale up. 
An Overview of EngageBay
In a nutshell, EngageBay is an all-in-one marketing, sales, and service management and automation platform – with a free integrated CRM solution. This platform is built with small and medium businesses in mind – so it contains tools specifically to help these businesses grow and thrive. 
The software offers various tools classified into three separate categories, or 'bays':
Marketing bay: This bay contains powerful tools to create, manage, and automate various marketing campaigns. Its salient features include web analytics, sequence automation, landing pages, form design, and broadcasts. 
Sales and CRM bay: Here, you can manage your leads, customers, and contacts. Easy to use tools provide seamless workflows to create schedules, manage deals, and automate sales.
Service and Livechat bay: These bays include ticket management, live chat tools, and service automation. 
The best bit? You can either purchase the integrated all-in-one suite or buy a specific bay – depending on your business needs. Once you purchase one of their services – you can also opt for their free onboarding sessions. 
Also Read: AI Marketing vs Marketing Automation – Differences Between The Two
A Detailed Review of EngageBay
This article provides an in-depth review of all the powerful tools and features present in EngageBay. You can also watch the EngageBay software's official demo below. 
The Dashboard
The dashboard is where you access all the different features, metrics, and reports. You can access the three main features of EngageBay from here: Marketing, sales, and service categories. With the reports feature, you can add specific metrics to the dashboard to track and analyze the performances of various sections. A navigation bar gives you access to different tools arranged in an easy-to-use structure. 
In a nutshell, the dashboard is an intuitive and powerful way to keep track of marketing, automation, and much more. Its modular structure helps you customize everything to suit your business perfectly. 
The Marketing Bay
The marketing dashboard, or bay, houses some of the most powerful marketing automation tools to help create, manage, and automate marketing campaigns. You'll find a plethora of tools neatly categorized into various sections at the top of the dashboard. 
A vital feature of the EngageBay platform is its reports. Using this feature, you can add reports to the dashboard modularly – this provides a modular way to add various metrics to your dashboard to deeply analyze a plethora of performance data to arrive at meaningful conclusions. 
In essence, this bay contains tools to create social media and email campaigns, automate manual tasks, use templates, and much more. 
Contact database: With EngageBay, you have complete control over how you create and organize your contacts. You can use a robust set of filters at your disposal to extract the needed contacts and create data-oriented lists. 
Design tools: With EngageBay's state-of-the-art and intuitive design tools, creating forms, landing pages, and engaging email bodies has never been easier. You can choose from a wide selection of inline and popup forms, customize them, and add them to your website. You can also create landing pages for your marketing campaign using EngageBay's WYSIWYG landing page creator. Finally, you can choose your email templates or create your own – a boon for email marketing. 
Campaigns: With just a few clicks, you can create and manage campaigns right from the dashboard. You can use various filters and lists to segregate your customers and use EngageBay's multi-channel marketing – SMS, email, website – to create powerful campaigns. 
Automation tools: Using triggers, sequences, and workflows, you can automate a myriad of tasks to scrub off the daunting manual tasks – thus improving marketing efficiency. 
You can use various indispensable metrics and data, including opened emails, clickthroughs, views, and subscribers, to gauge your marketing performances. Briefly put, EngageBay is designed to help you save time and improve results. 
The Sales Bay
To help build robust and strong relationships with your customers and help you keep track of sales, EngageBay offers a free CRM and sales dashboard. The sales bay is a true marvel, integrated with compelling features like task management, a powerful CRM, deal pipeline management, appointment scheduling, and much more. 
You can even buy their sales bay as a standalone product. It is filled with powerful features. Logging into the sales dashboard will give you access to a plethora of useful tools: 
Contact management: This is one of the best features of EngageBay. You can store all your contacts in a centralized location, track interactions, and use the platform's smart scoring system to prioritize and organize your leads. Gone are the days of wasting time on cold and inefficient leads. You can also segregate your contacts into various lists. 
Task management: You can create tasks – either manually or using automation – so that you don't miss anything important. You can use this feature to remind yourself of follow-up or call a prospect.
Automation: Automation is the new normal; With EngageBay's built-in automation and sequencing tools, you can automate data entry by tracking calls, leads, and emails using various triggers, which are then stored for future reference. 
Calendar and appointments: The built-in calendar is a fantastic feature that helps you share appointments with your leads and clients. You do not need a third-party application as the calendar is built right into the platform. Moreover, you can sync with Office and Google calendars – so that you don't miss anything. 
Deal management: EngageBay also allows you to visualize your deals – essentially creating a deals pipeline. From this section, you can track your leads on different cards: prospects, proposals, won, etc. This visual structure can help your sales team follow-up, upsell, and close deals at the perfect time. 
The Service Bay
Also known as the help desk software, EngageBay's service bay helps you provide customer support tickets, solve queries, and track problems – all from the same intuitive dashboard as your marketing and sales bay. Once your service account is set up, you can receive and solve customer service tickets right from the platform. You can even automate your ticketing system, get insightful reports on response time, priority, and customize the experience using various settings.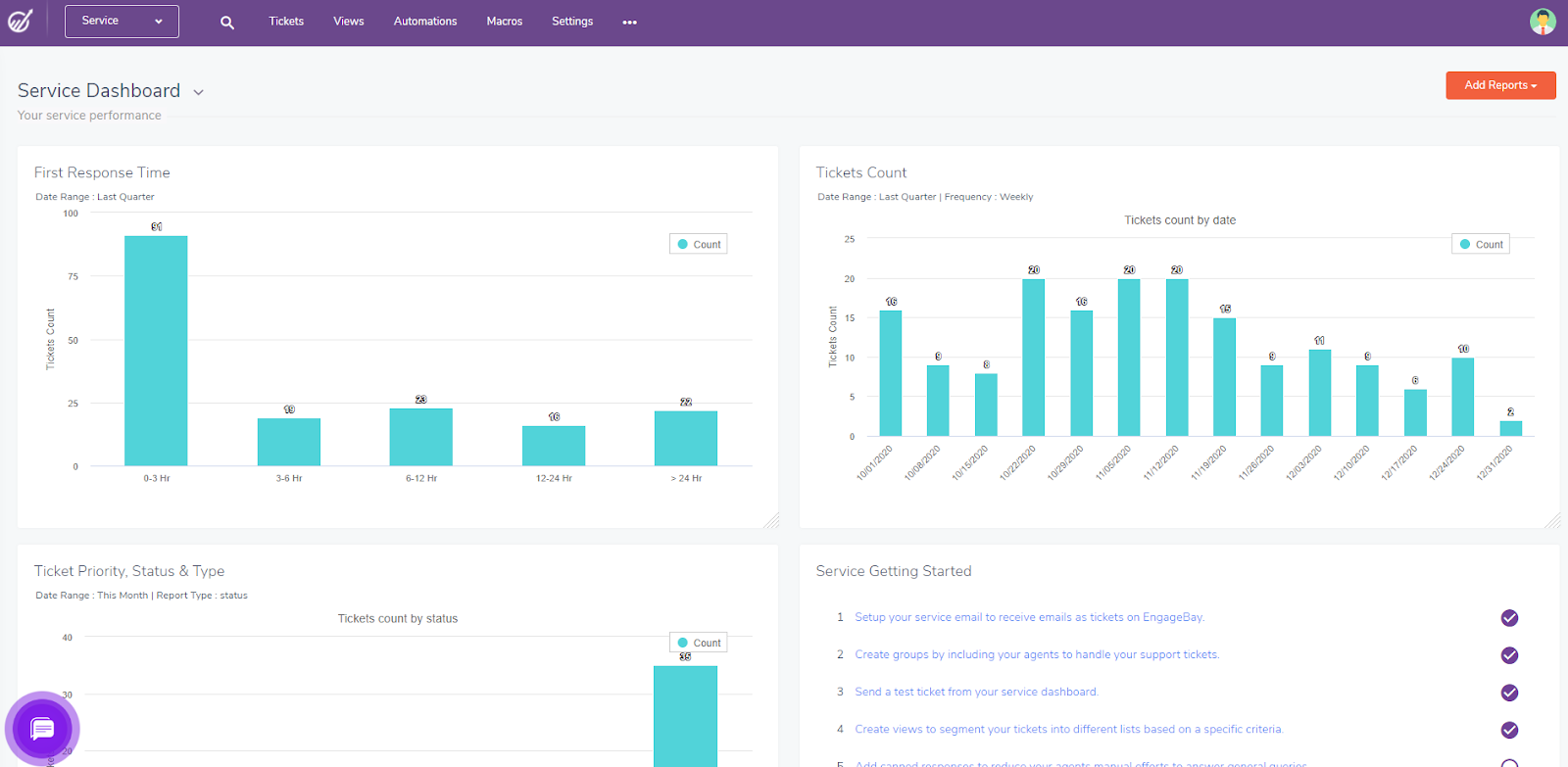 Tickets: Through the Tickets tab, you can have an overview of all tickets, customer information, query statuses, and the person the ticket is assigned to. Various filters help sort and prioritize the support tickets. 
Views: You can create different view categories based on custom rules. For example, you can segregate tickets based on these factors: opened, closed, unsolved, pending, and much more. This helps your customer support team track the status of each ticket, all from one place. 
Automations and macros: Similar to marketing and sales automation, you can automate tickets based on triggers such as status, priority, type, and tags. Ticket automation saves a lot of time and makes the customer support system a seamless experience. You can also set up macros to close tickets based on certain satisfactory conditions.
Canned responses: Using EngageBay's canned responses, you can quickly and efficiently answer your customers' common queries. 
Support Groups: You can categorize your service agents, and even your customers, into different groups and assign appropriate tickets to produce the best possible service. 
The Livechat Bay
With Livechat, you can get access to EngageBay's Live chat tools that can help your customer support team interact with customers in real-time. The live chat bay gives access to all of your past and current conversations and categorizes them on different lists such as assigned, unassigned, and much more. 
You can even create forms and widgets right from the Livechat bay. Canned responses help you "pre-fabricate" live solutions to common queries, thus saving time. The dashboard also provides insightful metrics and reports to help you arrive at informed decisions. 
Pricing
One of the best features of EngageBay is its tiered and modular pricing structure. You can opt for an all-in-one suite for your business, or you can choose a specific category – marketing, CRM, or sales. You can also choose to pay monthly, yearly, or biennially. 
The platform's tiered pricing structure ensures that you choose a plan with the best value for your business. Let's look at the pricing structure of EngageBay's all in one suite: 
Free plan: With the free plan, you can store up to 1000 contact information and send 1000 branded emails per month. This plan is ideal if you are a very small business tinkering with a CRM and marketing platform – you can use this plan to determine if the platform is the right fit for your business. 
Basic plan (for small businesses): You can store up to 15,000 contact information and send 10,000 branded emails per month. Pricing: $8.99/user/month. 
Growth plan (for medium businesses): This plan allows you to store up to 50,000 contact information and send 25,000 branded emails per month. Pricing: $29.99/user/month. 
Pro plan (for large businesses): With the pro plan, you can store up to 15,000 contact information and send 10,000 branded emails per month. Pricing: $47.99/user/month. 
EngageBay also offers similar pricing tiers for its standalone marketing, sales, and service bays. It even offers free migration services from other platforms – for seamless transitions.
Testimonials
Here are some testimonials from business owners and managers:
"Enabled me to easily capture details of interested parties for my products. Ease of use feature set. Excellent customer service."

Raymond B – IT project manager, BespokeIT/Corp Networking Limited.

"The software is easy to set up and implement. I feel EngageBay is quickly becoming a marketing automation competitor to premium SAAS offering. EngageBay's customer support has been very responsive and helped me resolve an implementation issue almost immediately."

Shawn L – Marketing Manager, List Biological Laboratories, Inc.

"I highly recommend the tool. It's an awesome tool for a startup like us."

Garma Gay D – Technical Helpdesk Support Analyst, Atos.
Company Information
EngageBay, Inc. is a for-profit software company based in California, USA. The company was founded by Sreedhar Ambati (CEO) in 2017 – to produce an affordable alternative to existing expensive marketing platforms. 
Verdict
The best part? It is effortless to use. 
With free migration and onboarding sessions, EngageBay provides the best value-for-money package. EngageBay is carefully designed to provide the best user experience. The dashboard and categorized navigation bar provide a seamless movement between all the powerful tools EngageBay offers. 
Briefly put, EngageBay is hands down one of the most affordable all-in-one software for startups and medium businesses. With a single integrated software, you no longer need to purchase separate expensive software for each of your business needs – this is what makes EngageBay stand apart from its competitors.