No news that users less willingly trust brand accounts than those with real people behind. Many aspiring business owners who choose Instagram as an eCommerce platform make typical mistakes that deprive their profiles the desired credibility. Thus entrepreneurs have to pay for Instagram ads and collaborate with influencers. Yes, all of these have to be in your Instagram marketing strategy as well, but first, you have to gain the trust of potential clients and bloggers. 
But how to build credibility, exactly?
The first thing you need to do is to determine your business goals on Instagram.
Before making an Instagram account, answer this question – why do I need an account there? Your possible answers and goals are:
Selling your goods and services

Increase of audience loyalty

Increase of brand awareness
Set your goal right and build your winning strategy based on that. 
Your next steps are a profile picture, nickname, name, bio, Instagram business tools and analytics, content plan, hashtags, and organic promotion. And now let's talk about each of them in detail.
Step 1. Profile Picture
Make it distinctive, clear, and attractive. Your potential clients need and want to see what your profile picture depicts. You shouldn't place there anything small or hardly visible. Choose something that reflects your business. 
The example above is one of a poorly chosen profile pic. The pic doesn't give even a small hint that it's an account of sportswear. Would you guess?
Make sure your picture contains no captions that can hardly be read. If this is your logo, one letter, short word, or a drawing will do. 
Step 2. Nickname
Your nickname should be simple and catchy. Instagram allows you to use 30 characters for a nickname, but you'd better do not more than 15. The shorter and clearer your nickname is, the more people will remember it. Besides, it's easier to search such nicknames on Instagram. 
The picture above showcases the nickname that you will hardly remember.
Also, you shouldn't use the names of well-known brands before the nickname of your account. Thus, users will find this brand while searching, not yours. 
Step 3. Name in Bio
It's time to sort it out with the account name. If you choose your name right, other users will easily find you because Instagram indexes names. So if your name in bio reflects your business, you have much more chances to gain new followers and customers that are interested in your services or products. 
As a business owner, you can analyze your competitors searching for them by name within Instagram or Combin app, a tool for organic and safe Instagram promotion. 
Just put the keyword, and Combin will sort your potential competitors on Instagram in a convenient way and notify you about it. 
Step 4. Bio 
One of the essential steps in your credibility increase is your profile bio. Make sure your bio tells the most important things about your company, reflects a unique selling proposition, your services or products, and contacts (website, address, email, or phone). Instagram offers you only 150 characters to describe your brand in the most attractive and interesting way. 
You can use different fonts, emojis, and hashtags to make your bio look attractive for relevant followers. By putting a hashtag describing your business, you raise your chances to be discovered by genuine users. 
This women's clothing brand has no contacts in bio or any other unique information. Such a presentation incites no trust, even if their clothes are of the highest quality. 
Step 5. Instagram Business Tools
You surely know that Instagram Business tools provide the statistical information about your account, ability to create ads and add contacts button. 
You can use statistics inside Instagram or within Combin to get more detailed data and analyze your page growth. 
Analyze and compare the results to change and improve your Instagram marketing strategy. 
But don't check the statistics every day. Make an analysis 2-3 days after your last change was made.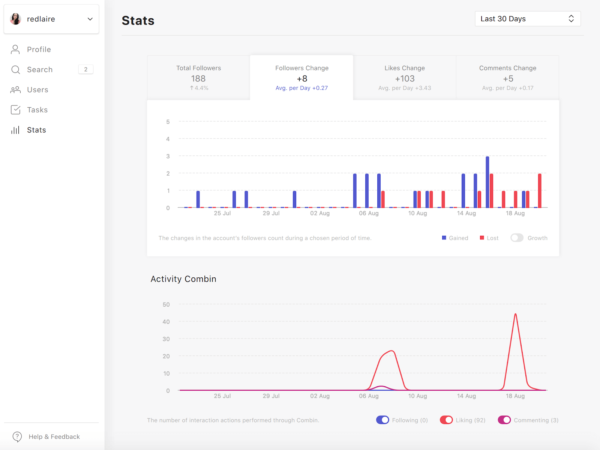 Step 6. Content Plan and Content Strategy
After bio, nickname, and the name, it's time to work on the most crucial part of your account – content. Content is what will hold people in your profile and convince them to buy your services, so pay attention to what you post in your brand account. 
Make sure that you have these types of content:
Selling. No business owner can do without this content type. Don't be afraid to sell but at the same time don't post ONLY selling content. Tell your audience about the features and advantages of your product, do reviews of it, and show its value. 

Entertaining. This content will make your audience interact with you. Do giveaways, challenges, contests, quests, and use Stories features to entertain your audience.

Social proof. Include user-generated content in your account, such as reviews made by your clients, their feedback, photos with your product, cases. Be transparent, show your behind-the-scenes, tell people your story, and add more personality to your brand.

Educational. Guides, tutorials, Q&A sessions in Stories, useful articles are all types of content your audience would like to get from you and share it with others.
Based on the content types above, make up a content plan. Schedule all the posts you're going to publish this week or this month in a table and follow the plan. But be flexible. If your business has something interesting to tell about, don't hesitate to change your strategy on the way. And don't forget to maintain your own Instagram style and aesthetics. 
Step 7. Hashtags
Another vital thing is hashtags. Hashtags are something people use to search for interesting topics, bloggers, or brands. Before posting random tags under your posts, do some research and find ones that characterize your business as a whole, this particular post or this particular product/service. For better results, set several packs of hashtags for each content type and even post.
With tags, you can analyze and find your competitors within Combin doing a simple Search by Hashtags. Or with this feature, you can figure out which hashtags you should use to describe your business.
Step 8. Organic Promotion Tools
When your account is ready to get its followers and is interesting for your target audience, you can attract people to your account. Tools like Combin will help you attract genuine users to your profile. With liking, commenting, and follow/unfollow features within Instagram daily limits, your account will grow safely and organically. Filter the results and attract your relevant audience.
Human-like algorithms of Combin make sure you won't get shadowbanned or blocked by Instagram.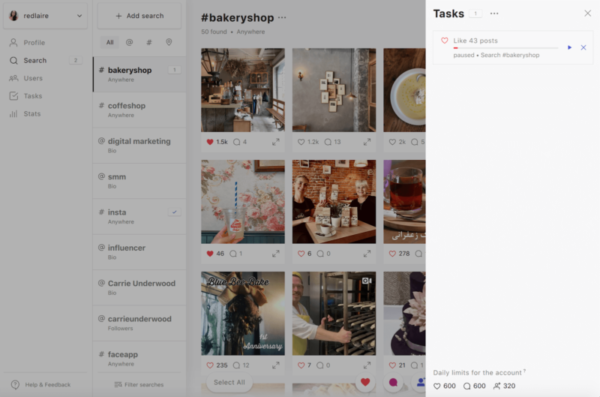 In Conclusion
Though these steps may seem obvious, many aspiring and already grown brands ignore them and waste vast amounts of money on paid ads and collaboration with irrelevant bloggers. The tips above are crucial pillars that any business owner should keep in mind before creating a brand page on Instagram. 
Make sure that you follow the checklist points and add paid ways of promotion; thus you'll increase the credibility and sales via Instagram.