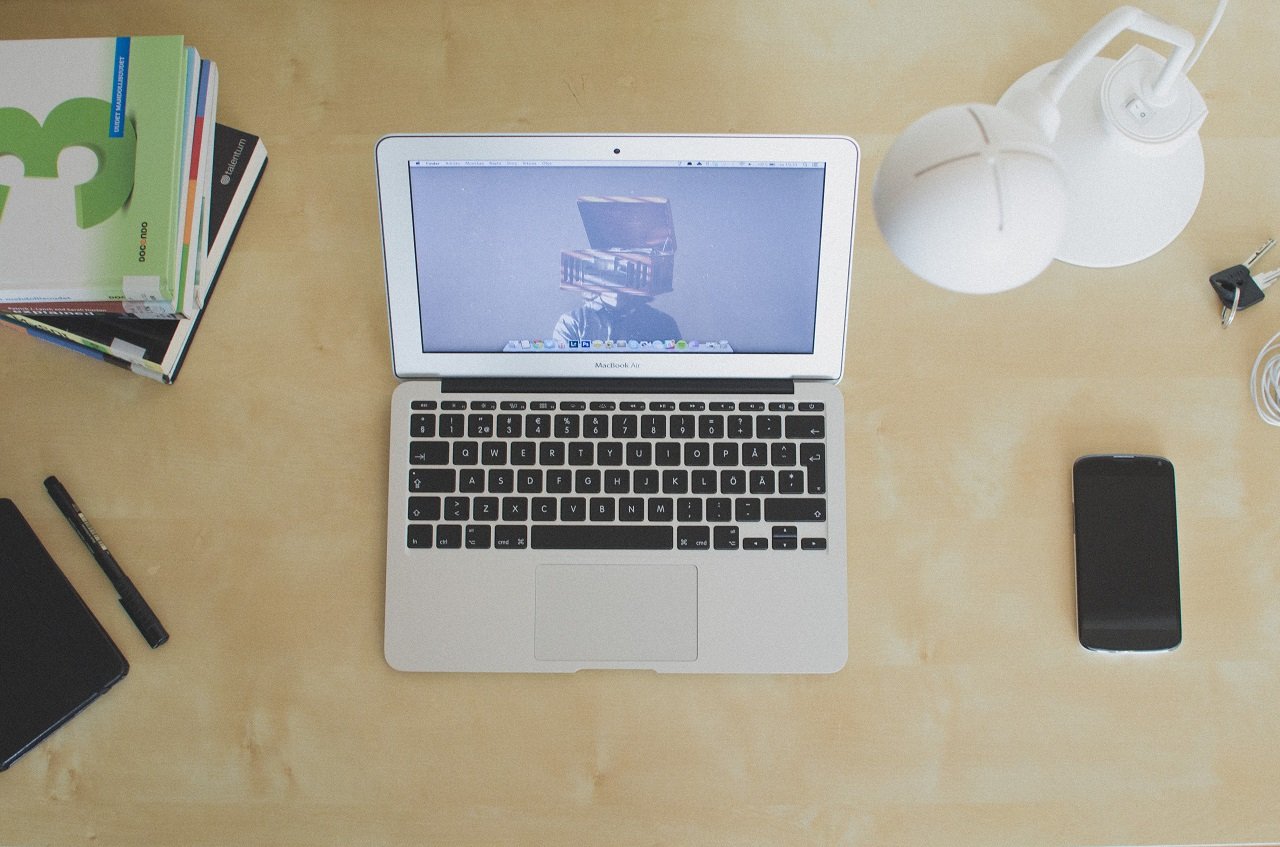 You're building something new and exciting, something you believe will change the way people do things, and while you're approaching the deadline – you still question whether you'll be able to afford a proper marketing campaign to really maximize the initial launch results.
It's not cheap, but luckily – there are plenty of free ways of promoting your newly founded startup to a very large proportion of entrepreneurs, investors, developers, engineers, hackers, etc,. etc,. I've got them all rounded up nicely in this post, so I do hope you'll find something that works for you, and perhaps even changes your whole life.
Every site on this list is in some way unique, and to your benefit – hardly any of the sites are interconnected, so you could be in for a nice surprise, and perhaps even a successful first launch, given that you've built an appealing and interesting product. I'd love to hear about it, so please do leave a comment about your project!
I'll try and list the benefits for using each of the websites, and also, I'll be mostly focusing on sites that provide direct exposure, rather than free press. If all that sounds good enough to you, lets get to our list of platforms that can help out with promoting your new startup!

Why 'Show'? Well, Hacker News has a specifically built section for the purpose of letting the world know about your newly built startup, tool, library, app, or whatever it is that you might think is going to be of value to someones life. You can begin by introducing yourself to the short guidelines that you need to follow, and when all that is done – go ahead and submit.
Benefits of Hacker News:
Insightful and honest comments. (feedback)
People actually try your application.
Lots of traffic and potential clients.
Quite often, someone from the same field as you will come through and leave a comment that will inspire you to add new features, or look at things from a different perspective. It's the perfect site to submit to for new entrepreneurs and business personas. Large businesses usually have a budget for these types of things!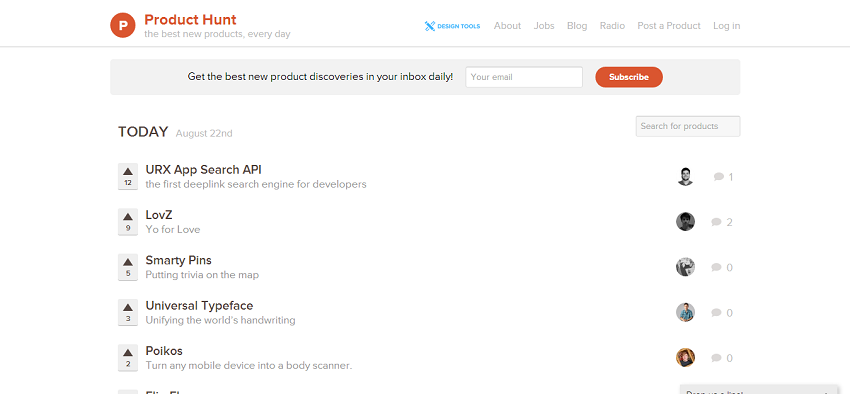 I have actually covered Product Hunt already, you can see my review of Product Hunt and see for yourself the potential of this amazing media platform. But, because this is a separate post, I'll give you a quick intro to what it is and how it can help you, starting with the benefits.
Benefits of Product Hunt:
Insightful discussion, timely feedback.
New customers, signups and email subscribers.
Potential for investment, media coverage and partnerships.
Yes, it is quite the platform and it is worth every hard worked minute to try and reach the top of that page. You only get one submission, so make it a good one. But, I highly recommend to read my review, as I've included a lot of examples and success stories in there as well.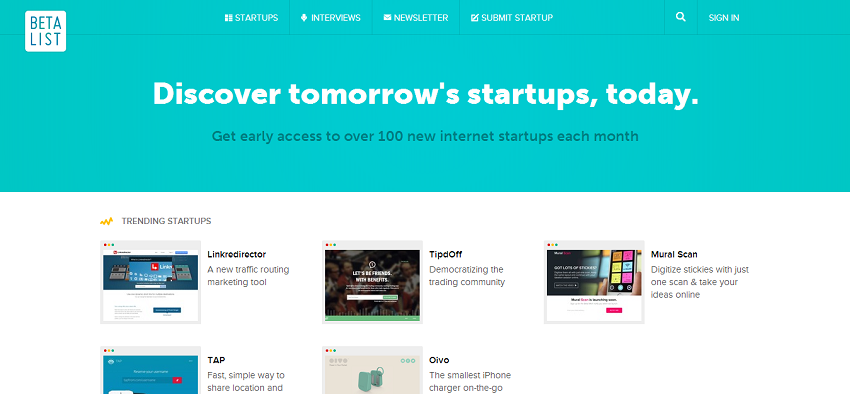 You're looking at 20,000 early adpoters; eager to discover the latest breakthroughs in technology. Beta List can help you to accelerate your beta testing, as well as increase your visibility in the particular niche you're working in. On average, a startup listed and accepted on Beta List will receive anywhere from 100 to 1000 new signups!
Benefits of Beta List:
Direct exposure, eager audience.
Lots of potential for signups and customers.
Partnerships and offers are common.
It does aim to list only sites that are still in their beta stages, but it could be a good opportunity for you to analyze what seems to work the best of your particular set of features, and people are surely going to send in a lot of email based feedback on what they'd like to see added or removed.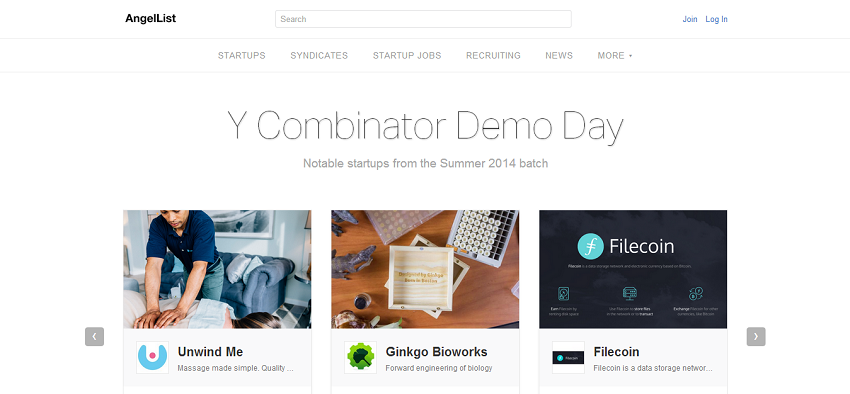 AngelList is a community of startups and investors who make fund-raising efficient. You get to make a unique page for your startup, within which you can list all of your information, details, contact details, team members, etc,. etc,. In itself, it is a good way of putting your startup out there.
Benefits of AngelList:
Startup-only directory, good for exposure.
Promoted through several Twitter accounts.
Exposed to investors, business owners, and geeks.
There is money to be found on this website, as well as a lot of partnerships, everyone is exposed and can be found and looked at, without any additional costs attached. Great platform for any startup to be a part of, as long as the idea of what you're building is legitimate.

This is a directory for all types of businesses, including startups. It will not provide immense traffic opportunities, but I think the long-term benefits are quite good and worth signing up for. Besides, it is owned by TechCrunch; and they'd be pleased to see you on their side platform, if they ever decide to promote your startup.
Benefits of CrunchBase:
Exposure to search engines.
Compact page of all the info about your business.
Long-term benefit of being quoted / learned about.
As shabby as those benefits sound, they will make an impact in the long-term strategy, and it takes only a couple of minutes to sign up. If you do happen to receive investments, those can also be displayed through CrunchBase, at that point you're guaranteed to attract some attention.

It's the perfect place for early adopters, and so it makes for a good site to submit your startup to. Actually, it is one of the few rare ones that can offer a significant volume of traffic and signups, given that your startup does get accepted and listed. I know many people (like myself) who've added StartupList to their RSS feeds.
Benefits of StartupList:
Potential free press from bloggers.
Signups and sales from early adopters.
Long-term exposure in search, and the web.
Try and make your submissions as genuine and unique as possible, these few sites we've looked at are also the ones that are going to bring the most exposure and press, always keep that in mind.

KillerStartups is a user driven internet startups community. Entrepreneurs, investors, and bloggers are staying informed on up-and-coming internet startups using our blog platform, where internet entrepreneurs submit their startup to see what others think about it.
Benefits of KillerStartups:
Direct exposure to bloggers, tech-oriented people.
Feedback, insightful suggestions.
Free traffic.
It's actually a reasonably sized community. Since 2007, KillerStartups has featured over 80,000 startup companies from around the world. To submit your startup, visit their 'Submit Startup' page for more information on their three submission options.

AddictiveTips is a tech blog focused on helping users find free and simple solutions to their everyday problems. It's a highly-admired website in the technology sector, and you can rest assured that getting your startup on this site is going to be very beneficial, potential for many long-term users.
Benefits of AddictiveTips:
30,000+ email subscribers.
Community eager to try new things.
Positive and resourceful feedback!
Overall, not a direct community for listing startups, but a great place to try and get listed on. I think the process has to happen through the writers of the site, or one of the general managers, but everything can be arranged! (:

If your startup is a physical item, this might not be the site to submit to, as AppVita will only accept submissions from startups and apps that are web browser based, and not that SaaS isn't popular these days. However, it has potential to accelerate your app to new heights, so definitely submit to it!
Benefits of AppVita:
Link juice for long-term search success.
Specific niche directory, targeted audience.
Free, and has reasonable community size.
It's a lovely resource, and you can often find some interesting apps there, one of those interesting applications could be yours!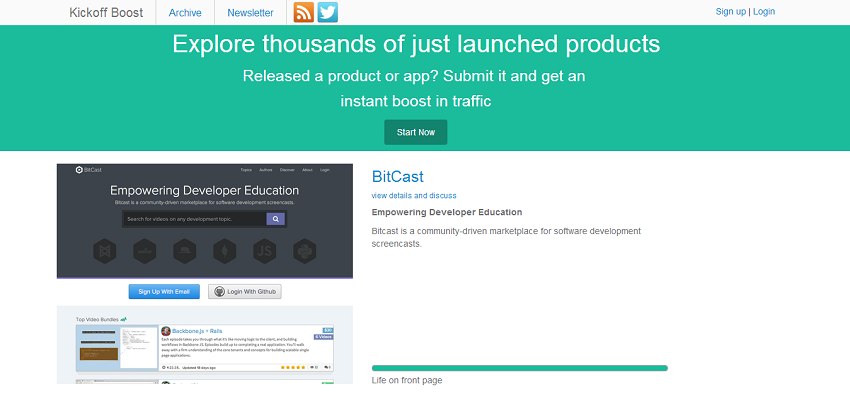 They're quite new, but we can hope to give them some time to mature and perhaps establish themselves as a reasonable community to submit your startup to, for now, there are a couple of benefits that you should take into account.
Benefits of KickoffBoost:
Front-page listing, good for traffic.
New community, potential for awesome.
Long-term benefits for being found on the web.
You probably noticed the trend, we started with the more resourceful and awesome places to submit to, and finished off with those that still have room for growth – let this post be as an inspiration to continue working hard, as success is just around the corner.
Where to Promote Your Startup?
Well, I hope that I've managed to answer that question for you. I had a lot of choices and interesting sites at my disposal, but I chose the ones I did – because I believe they'll be enough to help you get started with your newly launched startup. Remember, you can always email me and tell me how it went!
I think that it's also worth a try to signup on some of the programming communities that I wrote about a few weeks back, it goes into detail about where developers and technology enthusiasts are hanging out, and those places are usually keen on learning about new ideas and ways of doing things. Just keep it civilized, and play by the rules.
Also, if you know of more good sites like the ones in this list, please share them with the community as they'll appreciate the effort and the advice, in more ways than you can imagine. Good luck, and happy launching!