LinkedIn deals with B2B sector. A fruitful businessman may improve his business using the LinkedIn advertising platform, as it is one of the greatest ways to reach out customers. LinkedIn is a platform for professionals who are interconnected to each other. In this article, we will cover basic hacks to improve LinkedIn Ads Conversion Rates. It is a powerful social media ad to explore, of getting more from your resources and strategies.
When web advertising becomes an issue the vast majority of people consider Facebook or Google advertisements as their first priority. We concur, in digital marketing, they stand out with their marketing strategies and modern methods. If you wish to set up a little publicity for your organization and to find some money as an impact of Google advertising, you are in the right way.
But it may be an ideal opportunity to begin considering unheard options, like, the LinkedIn ad is sitting tight for you! LinkedIn has taken on strategies that make Twitter valuable, and they also chase off some potential Facebook audiences by their exclusive ads ideas. In recent few years, LinkedIn made major changes in their ad ideas and strategies which really brings customers and make the B2B space successful.
Some people think that social media ads are used for generating awareness of services and products. It does not create leads, nor it generates potential customers. But the thinking is a huge wrong. The results are outstanding when social ads are compared with LinkedIn ads. More than a few higher advertising platforms to work on, LinkedIn stands out best, in terms of conversion rates because of its engagement functionality with the professional people.
LinkedIn advertisements give advertisers a chance to use this gold mine of information, offering a few challenges to disregard benefits:
Focusing on highlights, including work title, capacity, and industry.
A wide scope of ads choices, including self-serve advertisements and Partners Solutions.
Flexible budget.
Lead generation tools to expand conversion rate.
Various dialect choices.
LinkedIn advertisements even offer ensured impressions. Before you pay, you can make your LinkedIn ads to know how many people can reach you out.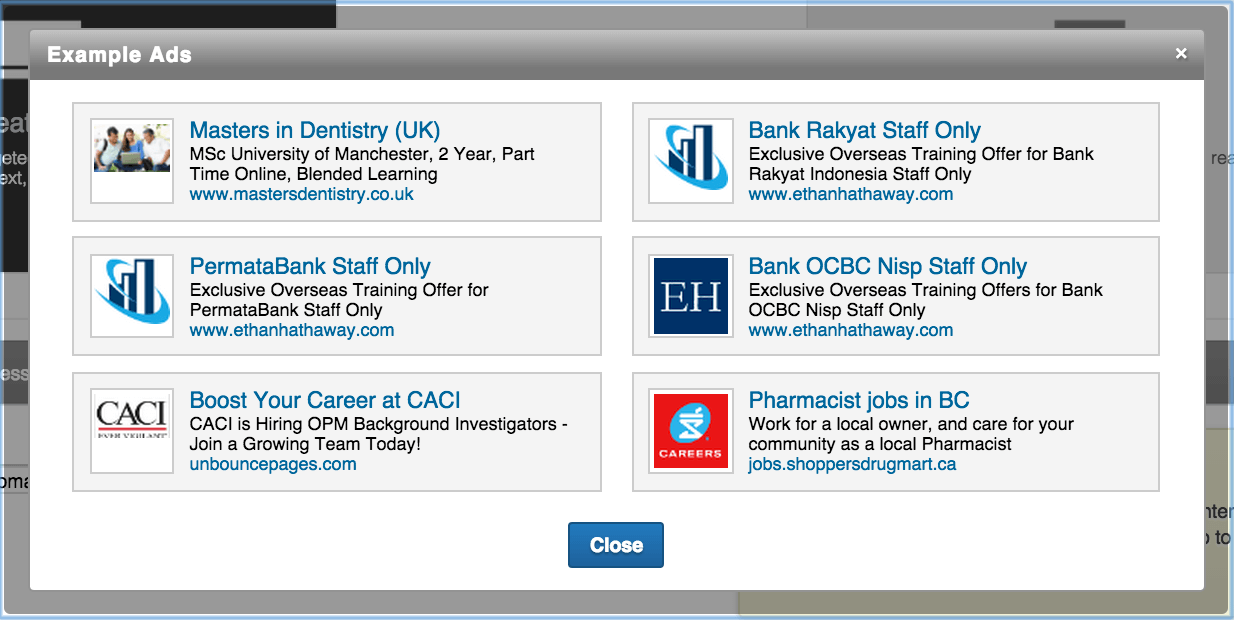 Let us try to know about the top ten ultimate hacks that you can use to drive more quality leads to improve your conversion rates from LinkedIn ads. No matter who you are, a company or an individual. Your target is to reach out to your customer just hack these ideas and converse rate.
Read more:- Learn How to Use Google Analytics UTM to Measure Social Media ROI
Following are the Basic Hacks To Improve LinkedIn Ads Conversion Rates
Hack 1. Clicking On Ads Is Important:
Target a bunch of potential audiences who will generally click on your ad. You can fix the target based on your customers choice, aim, and persona. Most importantly, you should change your ads on a weekly basis to maintain regular engagement of your customer towards your ads.
The professionals are interested in news, career, learning new things, training and workshop information, and some more interesting professional staffs. Your ads should be based on these topics and the content should cover interesting parts of the professional's choice. Always focus on making innovative ideas which will create interest in the audience. Images are more attracted, try to incorporate larger images so that they can't resist clicking on them.
Hack 2. Ads Campaign optimization:
People get bored at looking same ads for a long time, it should be changed at regular intervals. You can blend the ads with new ideas. Try an ad campaign optimization. Let people know about you and your company, but not in a sluggish way. A good advertiser always views his Click through Rate (CTR) to know the happening on his ads. You will see a graph of CTR and when it turns into downward be alert and change your ad campaigns.
Hack 3. Fixing up the size of audience:
Your ads will worth your time when you will make a group of people who will click on your ads regularly. The size of the group or audience may be about 1000, but having it 5000 would be great. Because you gave time towards your ads and will expect a worthy income from it. Six clicks per month from 5000 audiences will worth your time with a lot of money.
Hack 4. Analyzing most conversion ads:
When you see customers are involved in a pattern of ads you must follow the ad style and what new things they added to the ad. The main focus of your analysis is to see how creative of their ads are. Because creative ads will give you more leads with low cost. Before launching a campaign, you should try to add different images and CTA's. All similar ads take all advertisers on the same page and in the same rank, but a little bit creative idea can make a twist in the lead generation and rank you high.
Hack 5. Combine ads and see the impact:
Advertiser promotes their ads to many sites, blogs, and social media. All the buyers want to approach the ads more than one time and researching it very intensely before buying. So that combining ads help to reach them and make them buy. In this perspective, LinkedIn is a very authentic place where people come to know about the product and services and the process to buy them.
Read more:- Different Ways to Earn An Income Using Social Media
Hack 6. Sponsored Content is very effective:
LinkedIn advertisement has two categories, one is sponsored content and other is Text Ads. It is seen that sponsored content works enormously for lead generation. But in text ads, CTR is comparatively low in leads. On the other hand, text ads need more promotion and CTR gets low in promoting content. According, to the advertiser with a different point of view, we've seen that these two ads wind up costing around a similar sum of cost-per-click. So if you want to cost low, you should use sponsored ads because it contains a big image with various fields in the same cost-per-click. It has also been said that sponsored ads see 10X higher CTR over text ads.
Hack 7. Impact of the intro of text ads into CTR:
Text ads contain two fields; one is the intro and another is descriptive text. Think, which impacts more in leads? If you peep into a testing version you will see the intro field has a very positive impact on conversion rate. Actually, description field is displayed on the desktop. Consequently, a mobile user of LinkedIn missed it. So, to get 100% impression you should pay more attention to the intro field. So that both mobile and desktop users will find the text ads and will create impressions.
Hack 8. Budge and bid carefully:
Budgeting and bidding are crucial in LinkedIn ads. There are two types of campaign budget, one is CPC (cost per click) and other is CPA(cost per thousand impressions). In the CPC you have to pay for each click, it is the best option for low cost if your campaign responses directly. The second is CPA the cost of an impression. You have to pay if LinkedIn shows your ads thousand times, no matter how many clicks came on it. It cost more than CPA. You are recommended to use this option if you want to do ads for branding awareness.
Hack 9. Improve ROI:
LinkedIn ads help you to exploit Social Media ROI. Improving Social Media ROI will ultimately converse your rate high. The LinkedIn campaign manager has options to see the impact of costs, clicks, impression, and ROI. With measuring ROI you can decide your further steps for improvement.
Hack 10. Change ads, add creative or make brand new ads:
You cannot change sponsored ads and you will not be able to edit it. So better go for creating new and obviously adding brand new ideas with a creative look. For text ads, you can change and modify text and it will reset your leads score.
Final Words:
People work with variously dedicated marketers who are really benefiting more from advertising on LinkedIn. Some difficulties may come across the conversion rates in running LinkedIn ads, such as challenges for the higher lead conversion and ranking better in the competition. In recent years Google ads were at peak point but the scenario has changed.
The considerable favorable position of LinkedIn is that it is an interestingly centered, informal community of business and professionals. This makes it the perfect system for B2B associations specifically. With LinkedIn advertisements, organizations can browse a scope of promotions to target and contact the suitable individuals when they're in a business-y attitude.
Throughout the years, people facilitated virtual occasions to instruct promoters about LinkedIn, talked with several cross-arrange PPC advertisers, and worked intimately with a LinkedIn representative, we came to know every one of the intricate details of their stage. The above hacks will help you to overcome all the challenges in LinkedIn ads and to improve your conversion rate.