Being an entrepreneur are you on the right path of running successful campaigns on social media. But the question arises- does the time or money invested in your social marketing campaigns is proving its worth? What is the output even after spending hours on your social media outreach, you are still clueless whether it is successful or not. Consequently, it becomes crucial to have a proper strategy that could facilitate you to measure the return on investment (ROI) from social media with Google analytics UTM.
Social Media ROI
If we go with the definition of Social Media ROI, it refers to the actions that facilitate you with the value you or your company had gained in comparison to the resources you invested on social media. In other terms, it is the calculations that tell you whether the money or time you spend on social media is worth the investment. Today, where the competition had got tougher to reach out to the potential customers, calculating social media ROI is important because you can:
Recognize the influence your social media campaigns make on your business' bottom line
Determine wherever your resources are used efficiently
Detect drawbacks in your social media campaigns and correct them for good
You just cannot solely focus on driving immediate conversions; it is vital to have a look at few other metrics to calculate your social media ROI. Google Analytics can be a cohesive and powerful tool for the social media ROI calculations.
Step 1 – Make a Strategy for ROI
Before initiating towards Google Analytics, it is worth taking a moment for deciding the objectives for social media marketing. Pre-deciding the objectives before starting any campaign and measuring its ROI is very vital. 66% organizations don't feel that their social media strategy connects to their business outcomes. Key objectives for setting the social media campaigns are:
Drive traffic

Drive conversions

Improve customer retention
Go to Google Analytics and steer to your account by following the given steps:
1. Click on the Admin tab.
2. Click on Goals tab in the 3rd column and go to the red "+New Goal" button.
3. You'll get the numerous templates, but just select "Custom."
4. Click the blue Continue button.


5. Give your goal a Name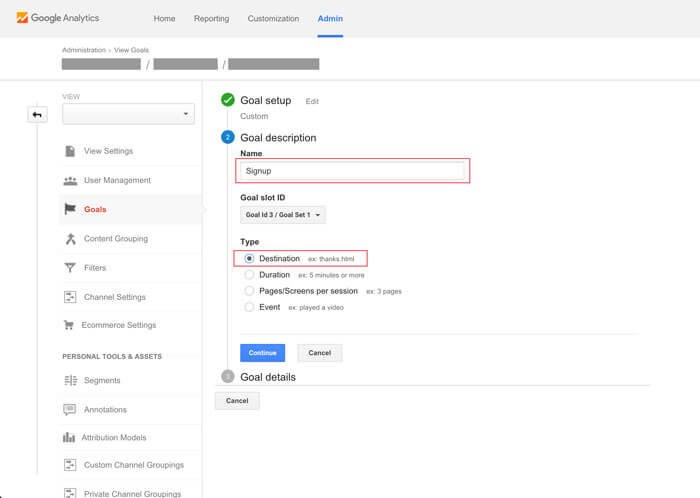 After you have added the Name you now need to select they Type of goal.
Read More: – Google Algorithm Updates – Google Plans To Tackle Fake News
Step 2- Create your marketing source codes
Once you are very much clear about the objective or goal, you can add additional marketing source codes. The great aspects of these codes are it facilitates you to track every social media post that is ideally meant to drive customers to your website.
Google Analytics makes use of five standard dimensions for a campaign that you can incorporate into the query string of the URL for each social post. Let us have a look at the example:
http://www.domain.com/landing_page.php?utm_campaign=influencername&utm_medium=twitter&utm_source=promotion1
Tips on Google analytics UTM:-
utm_campaign – The name that you have given to marketing campaign.
utm_medium – This is the medium channel (i.e. email, banner, CPC, etc) in which the link was shared and can be found in GA under Acquisition > Source/Medium also.
utm_source – This is the source of where the link was generated/shared and can be found in GA under Acquisition > Source/Medium.
utm_term – The search term purchased (if the link refers to keywords). This is not always used and NOT included in the example above.
Step 3 – Create Influencer Tracking URL
Use the Google URL Builder to help create these links.


Before you complete the URL builder fields, always take care of the capitalization and spacing. You got to be very consistent if you are using title case or lowercase. For example, Ecatalogue, catalogue, E-catalogue, and ECatalogue will display a different set of data in Google Analytics. In the URL builder, you need to type the URL that you need to share and it should be the link to your website.
NOTE: URL builder is a platform to add Metadata to your link that Google Analytics will read and include in your data set.
Read More: – Everything You Need to Know About The Google Adwords App
Step 4 – Set up ADVANCED Segments for Social Media
Finally, in order to see and have a good look at the decided goals in relation to your social media referrals, setup a custom advanced segment in Google Analytics as follows.
1. Click on ADVANCED Segments, go to under Custom Segments, and then select the button for + New Custom Segment.
2. Give a new name to your new custom segment Social Media, and after that add social media referral domains by choosing on the drop down to the right of the Include and selecting Source.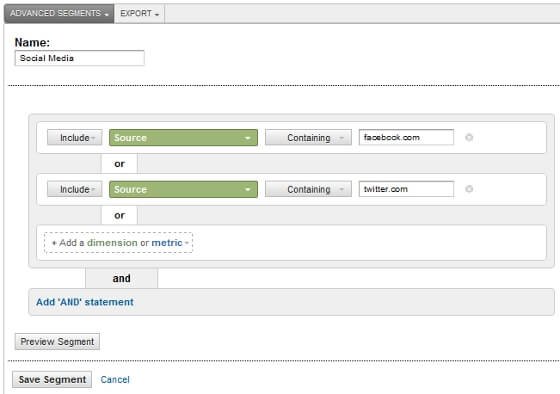 At last, conduct the analysis, by using the custom segments that got created for Google Analytics default social users and social link clickers. Thus, you could easily navigate to the reports that fetch the metrics you want to analyze to measure ROI.
Metrics that matter
Let's take a look at how you can measure the ROI.
Verify Social as a Traffic Driver: –
With the help of Google Analytics, you can easily get an idea about the overall traffic sources that deliver visitors to your website or blogger. Monitoring and comparing the social media traffic from other channels, you can get a clear understanding of the social media impact on your site's traffic. To see this report in Google Analytics, just you require to go to Acquisition > All Traffic > Channels.


With this you can view your traffic sources at a high level:

Search (individuals who are clicking through from Bing or Google)

Social (Facebook, Twitter, etc.)

Direct (individuals who are keying your website in their respective browser)

Referral (individuals tapping the links from other websites to reach to you)


The above given images illustrate that 15% of traffic comes from social media. To monitor the traffic you need to click on Acquisition > Social > Network Referrals.

How Visitors Consume Your Content: –
With the help of Google Analytics, you can track three other types of goals.


Analytics helps you to track the visitors on your site, by activating the Duration goal.
It is a good practice to post or submit blogs regularly, but whether your content is grabbing attention with the social media crowd or not can be a mystery. You require to set up the Pages/Screens per Session goal for that.
You can even track the number of times visitors from social media play video on your website. Create an Event goal to track it.
Measure Impacts of Conversion Path: –
No matter whatever be the nature of your business, running a campaign on social media is not worthy unless your brand or company fails to grab the attention. It is essential for you to know how social is contributing to something called an acquisition. Using Google analytics, you could get the conversion funnel reports that allows you to see how influential social media is making these conversions happen.
To set up conversion funnels in Google Analytics, use the Goals section and connect any type of conversion event. After this, you can have the access to the funnel report by going to Conversions > Multi-Channel Funnels > Top Conversion Paths.


Now the funnel shown below illustrates the paths searched by the people for your website and converting it into a sale.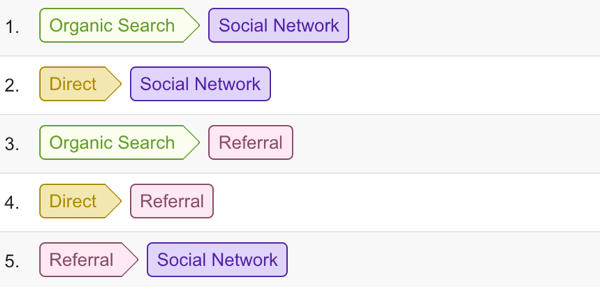 The amazing report from Google Analytics allows you to see the exact influence of social media on your business. In fact, the report shows the traffic that social media diverted to your site, along with the revenue that can be attributed to social, or conversions social brings you, and more.
Conclusion: –
Once you get your hands on running the campaign, you will observe all the data and thus could easily figure out whether you can reach out to specific goals. Google Analytics makes it very simpler for you to examine the services, pages, images, etc. Consequently, with a right and proper strategy, you will be able to move ahead impeccably through your campaign.