How is increasing fans on Facebook different than increasing followers on Twitter? I suppose it's the fact that Facebook is more visually appealing, presenting the content in it's full glory, instead of showing a robust 140 character message that is associated with almost ten different options.
Yet, the same rules apply almost to all of the known social media networks out there. It is not because each of these social media websites have written manifestos which clearly state you cannot do this and this, instead it's the users themselves who have created community trends for stuff they like.
Twitter is all about sharing tiny content in a tiny tweet, while Facebook can be made to focus around contests, giveaways, longer video content and advertising.
I understand how frustrating it can be, to stay on the same amount of page likes for months, without any real social engagement at all. I think of it as a natural process, I will be posting content and doing things by the rules, but I will avoid getting frustrated over not having enough likes.
Read More: Twitter for Bloggers: Tools to Enhance Your Blogging Career
I want to share with you a list of 5 crucial tips that will change the way you present your Facebook page, and it's guaranteed that you will see an increase in community engagement. These tips are easy to digest and not hard at all to start implementing straight away.
Content, Of Course
You want me to like your page?
Of course.
Have you got quality content?
Of course.
Well then, it looks like I will like your page then, I enjoy reading content that is well presented and useful to me!
Thank you, so much.
That is the only thing that should be on your mind when sharing something. You don't have to share JUST your blog posts, you can share anything you like. It's your page, your community. Give people content they will want to share with their friends.
Learn from already populated pages, see what others are sharing and how well the content they are sharing is performing. The hardest part is getting to that "Publish" button on your page. If you like something you see, share it with your community. People already like your website, that means they like the way you think.
One Look Is Worth A Thousand Words
Attention grabbing images, controversial photos and inspirational quotes put on an picture are just some of the ways you could populate your Facebook page size. Photographs are great because they are simple, and quick to observe. If someone doesn't find the photograph and its content funny, useful or appealing he is going to move on, simple as that.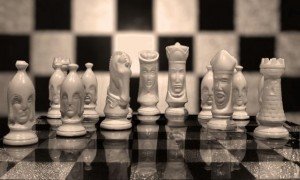 On the other hand, if that someone does find the content funny and useful it's guaranteed he is going to share it with his friends. There is probably science behind it, but I wouldn't be the one to ask about that. It's proven that people like to share with others that they somehow found of value to themselves.
Contests, Giveaways
I haven't got a doubt in my mind that you are in fact making money from your business, and the only reason it's so is because people are supportive of your products and content. It's time you consider giving back to the community and your peers if you haven't done so already.
Businesses, bloggers, brands. We all make a decent amount of money from what we do, sometimes so much we don't even stop for a second to think about it. I'm sure you can afford to put back a couple of hundred dollars a month into your business. It's only healthy and is going to prove very positive for you.
I am willing to give you an example of a good giveaway, so here it is.
The iPhone 5S is the newest phone from Apple. The 32GB version that comes unlocked (sim-free) is going to cost you $749 per phone. ($100 less for a 16GB version) Let's assume that you are willing to make 6 giveaways in a year.

6 x 749 = $4494

Seems like a lot of money, right? Well, I doubt it's actually that much. You could invest that money in advertising which would maybe give a profit of another $5,000 dollars, but is it going to be worth it in the long run?

The beautify of such a contest is that you could give away 1 iPhone every two months. Spend a month promoting the giveaway, then in the first week of the second month – give it away to a lucky winner.

The amount of engagement and popularity you can gain from such prestigious giveaways is insane. Imagine being a blogger who blogs about Apple and it's products, and then all of a sudden you decide to create a giveaway strategy for the next year, that involves giving away one of the most modern phones in the world.

By the time you finish your second giveaway, you will have found yourself with hundreds if not thousands of new followers and subscribers to your Facebook page, blog and other social networks. It's a complete win-win situation, but it requires for you to commit investing such a "large" amount of money.
Facebook Ads? No!
One of the well-known tips floating around the web is that it's a good idea to publish Facebooks ads about your page. It might have been nice when Facebook was still a youngster, it pretty much has become a bunch of rubbish by now. The conversion rates are terrible and generally people are avoiding anything that comes up on their sidebars or homepages.
The other thing I myself have noticed that people have lost trust in Facebook ads, so many marketers and other businesses with a lot of money are creating pages for a sole purpose to play with peoples minds, promising the world to them – when in fact you end up on a 12 month subscription and in return you get to talk to other people who are on the same subscription. I hope it makes sense.
KYM – Know Your Market
The last thing? The last thing is to get to know your market you are working in, if you haven't done so already. By knowing the market you are operating within, you double your chances of knowing what people really want and what people really need.
The easiest way of learning how your market works is to do research, subscribe to other sites about the same topic and closely follow for the newest trends. Eventually you will be able to tell the difference between where is the content originating from, and where is the content not originating from.
The need to increase your Facebook likes, and community engagement can be overwhelming at times, all because it has supposedly become a standard for the web, the businesses and everyone else – who is interested in becoming popular through a social network.
I put my faith in time. This way I can focus on creating compelling content that not only converts well, it also gives people value.