Do you remember the buzz word "Paperless Office" from the time when computers were creating their impact on an individual's life? On the very same dream of "Paperless Office", Adobe created PDF or Portable Document Format in the early 1990s as one of their pet projects for creating a file format of documents that can be spread & displayed on any computer having any OS throughout the company.
Since then, it's been over 25 years and PDF still continues to rule every office, business meetings, presentations, and others. Because of this, today, you can find a "n" number of PDF editors or creators that can help you with managing PDFs in a super-easy way. Among all, we found one that goes above and beyond with its free plan, intuitive interface, customization options, and built-in features. Enter: JotForm PDF Editor. 
More About JotForm PDF Editor
As the name suggests, this PDF editor is the part of JotForm, an online platform that is providing services for creating robust forms and collecting important data for more than 12 years. Going by the numbers and for credibility, JotForm is trusted by over 6 Million Users, is available in 18 languages, you can find around 10,000 templates, and over 500,000,000 forms have been submitted.
What makes JotForm PDF Editor great? 
JotForm PDF Editor has several features that turn teams' collected form data into great looking PDFs in no time. 
1. 600+ PDF Templates and Customization 
Along with hundreds of PDF templates, JotForm PDF Editor is highly customizable. This makes it easy to customize any company's PDF per their brand guidelines. It gives teams the ability to change the background color, fonts, graphics, logo, and more.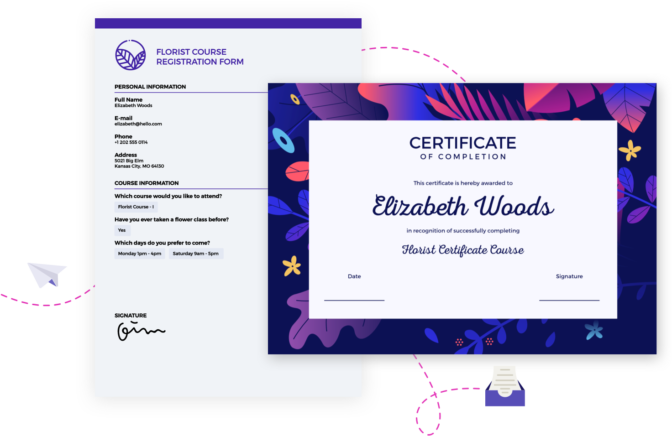 2. Drag and Drop
JotForm PDF Editor also provides drag-and-drop options to move around elements like image, text, line, signature, and more. Another thing that I personally loved is its option for adding customizable "Submission ID" and "Submission IP."
3. Size and Orientation
With just a few clicks, teams can change the size of their document. They can also change the PDF orientation from landscape to portrait or vice versa without any hassle.
4. Electronic Signatures
JotForm PDF Editor also provides various signature widgets to choose from. You can pick any one of them that suits your team's needs. It also accepts electronic signatures whenever someone fills out an online form.
5. Password Protection
Additionally, JotForm PDF Editor has the option to keep PDFs private with password protection features.
6. Easy Sharing
Teams can easily share their PDFs with colleagues, customers, partners, or anyone else via link or email.
7. Fillable PDFs
Lastly, with JotForm PDF Editor, organizations have the option to create fillable PDFs.
The Verdict
There is no question that today, PDF has become the necessities of almost all the workplace. And to meet all the demands, you can find thousands of services related to PDF editing and viewing. 
Among all, one editor that shines in several ways is a PDF editor that is powered by JotForm, one of the most reputable and credible online platforms related to document-based services. 
I really enjoyed the JotForm PDF Editor. It was easy to use, had great customization, and lots of features like security, drag, and drop or any other. If you don't believe me, please check out JotForm PDF Editor for yourself today!