We blog for many different reasons, the majority of online bloggers write because they want to help others, and in turn educate themselves. Blogging should be looked at as a learning tool, a utility that is invaluable to ones life.
I have launched, built and designed a huge amount of blogs since I first began blogging, which was all the way back in 2007ish. I was blown away by the WordPress movement, so I've been sticking to it ever since. But, only a handful of those blogs that I had launched were truly personal blogs.
You're now reading my personal thoughts and opinions, but I don't consider this blog to be overly personal or public about my views of life, or opinions of real-world issues. I use this project to channel and transfer some of my knowledge in technology and development subjects. It's both a learning tool for me, and my readers.
Learn: 15 Tips to Improve Your Blogging Career
Blogging itself is growing very rapidly, with multiple thousands of new blogs being launched every day, but whether majority of them are personal is a different question. I'd like to go over some of the most popular platforms that allow you to create a personal blog within minutes. I'll try and outline the important factors for each.
Yeah, Medium is pretty legit. It was launched in late 2012, by the co-founders of Twitter. At first, there wasn't all that much to say about this publishing/blogging platform, but as the time went by, more and more people began using this overly simple platform to publish their stories, memories, research, journalistic stories, and much, much more.
You could say that for a lot of people, this is the 2nd choice if there is no way of creating your own personal blog on your own hosting account. Medium stands out with simplicity, accessability and a reasonably sized community that will engage you on your stories.
Speaking of which, the Medium community is all about community engagement and storytelling, and people are easily able to leave feedback for each of the paragraphs that you write, if you so desire. It definitely helps to engage in a meaningful conversation.
You should think of Ghost as an utterly stripped down version of WordPress. I like how far the team of these passionate developers and designers have come, and their product is definitely changing lives for many. Ghost was launched in order to help people create blogs that are focused on the storytelling part, rather than making a page look stylish and highly customized.
Ghost is a platform dedicated to one thing: Publishing. It's beautifully designed, completely customisable and completely Open Source. Ghost allows you to write and publish your own blog, giving you the tools to make it easy and even fun to do.
I've written on Ghost a few times before, the last post was their announcement for the new version of the platform, while the first one was my post for free Ghost themes, which I highly recommend to check out – it will give you a better understanding of the basics of Ghost, and what kind of an approach it is taking to blogging and storytelling.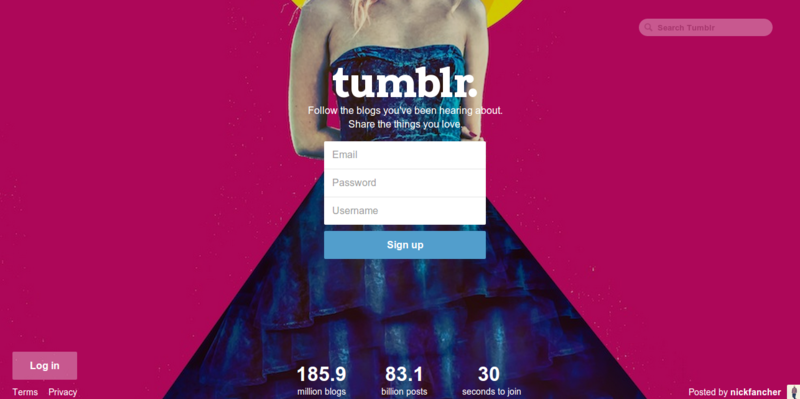 With nearly 200 million launched blogs, it's safe to say that Tumblr is a pretty good choice when it comes to launching a personal blog. But, the thing to keep in mind here is that Tumblr has a very specific vibe to it. It's more of an platform for those who're in their early 20's, looking to have fun along their blogging journey.
Though, many popular companies use Tumblr to power their blogs, so there are multiple ways to look at that statement. I've also learned that this particular platform is focused a lot on creative, photographic content, which does make for a pretty exciting reading experience.
Yahoo! acquired Tumblr in 2013, it was one of the biggest acqusitions that the company had made for a long-time, and to this day – it looks like that was a pretty good decision, considering that the community is thriving.
What are personal blogs about? I don't think they're about promotion, or marketing aspects of the bloggers journey. They're for telling compelling stories, which people can easily engage upon. Svbtle is even simpler than Medium, if we compare the overall design of both websites.
You can easily subscribe to your favorite authors by email, or visit their social links through their author description at the bottom of each post, you can also be kind and give them 'Kudos' for writing such a great story, one of the features that stand out for Svbtle.
I really like this platform, and I'm not saying it just because, they've come a long way and the launch was planned ahead way before it even happened. You can read the initial progress and planning that went into this on Dustin Curtis personal blog.
I remember when I first downloaded Evernote for myself, it was a really good experience as far as keeping track of content and notes goes, but already then it struck me – how could I possibly take the default Evernote editor and make it publish blog posts for me? Fast forward a few years later, and we've got Postach.io to take care of that problem.
Postach.io is the easiest way to publish the thoughts you're already capturing in your Evernote. If you currently have notes in your Evernote account, you're ready to publish right now.

Best of all, Evernote is available on mobile, desktop and web – meaning you can blog from wherever you are and from whatever you use!
It does exactly that, allows you to publish blog posts from within the Evernote software. The signup process is as easy as choosing a username, setting an email address and deciding on a domain name you'd like. It's a really good alternative, a niche type of platform that might be appealing to those who 'live' inside of Evernote on daily basis anyway.
You can also read the introductory article for Postach.io on TechCrunch, where there are a couple of interesting comments, and also insights from the owners themselves on what they think their product is and what it helps to do for people.
Jux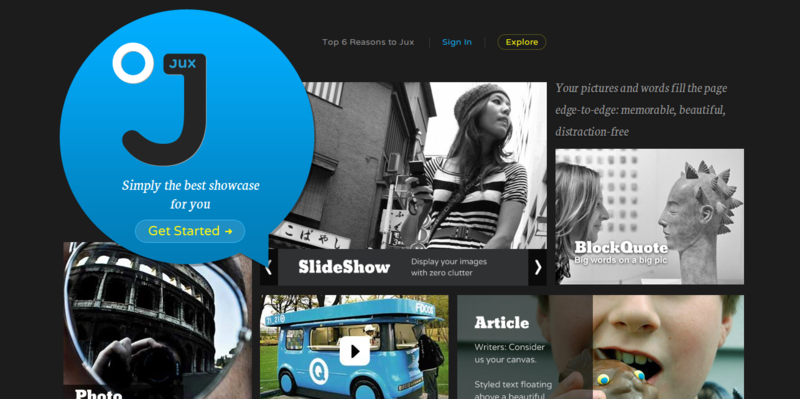 Jux is different, it's sepcifically tailored for those who're into design, exciting things and most definitely creativity. I can see this publishing platform as home for photographers, creatives, fashion artists, and more of the same style. On Jux, everything you publish becomes something of its own, something special.
You need to try it out for yourself, to better understand how it works and what it does. I can only tell you that some of the pages I've seen so far have blown me away, it's like storytelling has been amplified with fashion design!
Lacking a proper audience? WordPress.com might help you with that. It certainly helped me, when I was blogging there. I was able to rake in an estimated 2,000 followers to my content in just a few short months. It has an extensive content directory where people hang out to explore, admire and support each other.
It's free to get started, granted you're going to be using their own domain, or you can just grab your own if you want. Some of the premium features will cost you money, but enable features that some hosting companies won't be able to match anyway.
High-quality blogging service that is great for personal blogs, and also early project adopters who're looking to transfer elsewhere once there is a significant growth rate present.
Launching a Personal Blog
A personal blog is where one can share his thoughts, without feeling intrigued or bothered by what someone might think of your opinion. Everyone has the right of their own opinion, and personal blogging helps you to develop that voice more than we would like to admit.
I tried to include services that I've used myself, and also a few which might be new to you. I might be looking deeper into the Jux platform, as it offers something that I'd never seen before, while keeping that personal aspect of a publishing platform intact.
Are you a personal blogger, do you keep a personal blog that only a few (or, many) people are reading? Where can we read it, and what has your experience been with personal blogs?