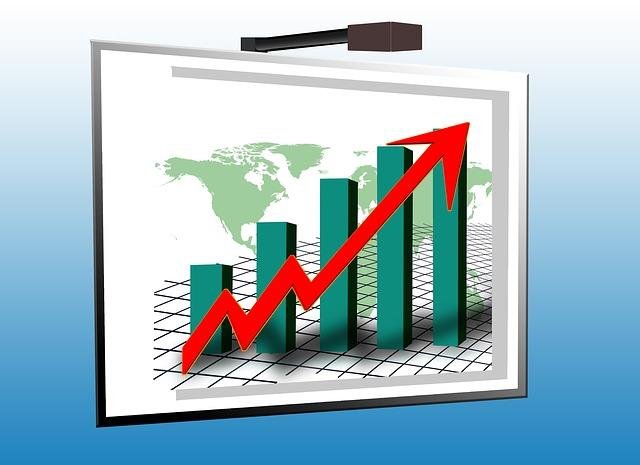 We now got some professional writers writing for us, but how do we measure the success of those investments? We need some professional content marketing analytics tools to help us out, Google Analytics will have to sit this one out.
Professional and premium products require professional analytics, statistics and measurements for the maximum return on investment. The tools below will help you create strategies, learn more about your customers and also maximize your earning potential.
The first on our list is Webtrends, one of the biggest big data analytics and measurement companies out there. With over 2,000 professional clients and over 140 patents, Webtrends could possibly be the only service you will need to change the way your business works.
Webtrends Solutions:
Digital Measurement
Conversion Optimization
Campaign Optimization
Collaboration Optimization
Services
Data Visualization
If you happen to be a big brand with multi-channeled marketing strategies, then Webtrends should be your only choice.
Act-On is a platform (cloud based) for marketers to organize their social media and email, to measure leads and compare performance. The different with Act-On is that the service is very user friendly and you are presented with features that don't take long time to understand or implement. Read more about it
here
.
Act-On Solutions:
Database
Email Marketing Engine
Automated Programs
Lead Scoring
Landing Pages
Forms
Website Visitor Tracking
CRM Integration
Web Event Integration
Social Marketing
Analytics & Reports
Quite a few offers to solve many of the marketing problems for you. The prices are fairly nice at start a solid $500/month, an investment worth making if you are managing multiple clients.
Created by marketers for marketers, you will hindsight find that Marketo is very user friendly and not hard at all to use. This is one of the better content marketing tracking tools out there that I have had the pleasure of introducing myself to.
Marketo Solutions:
Inbound Marketing
Up-Sell and Cross-Sell
Loyalty Marketing
Event Marketing
Lead Generation
Lead Management
Lead Nurturing
ROI Reporting
Marketo has a mission, to be the best marketing tool out there that is easy to use while being powerful and complete, deliver only the best results at the end of any campaign.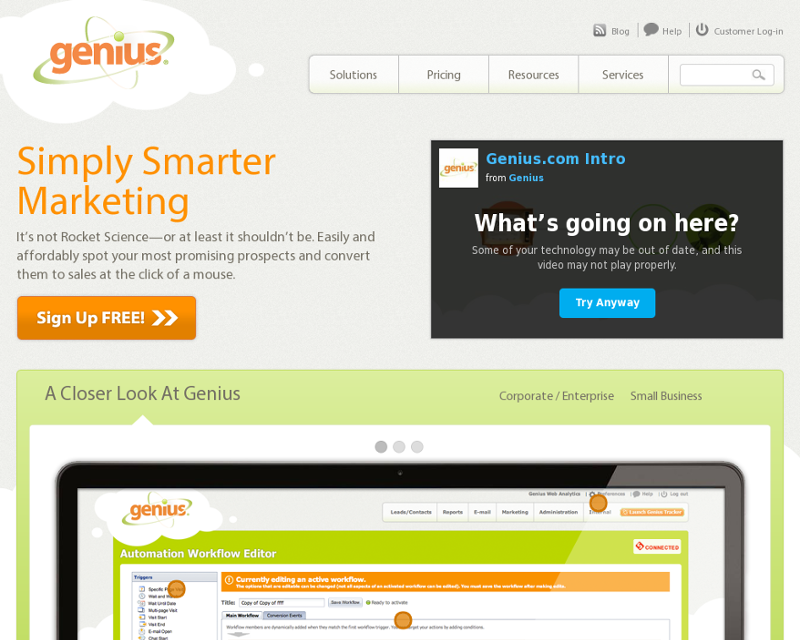 Read More: 12 Free Minimal Ghost Themes
What a lovely brand name, I wonder how much did the domain cost them! With Genius you will be able to manage and sort out your most profitable prospects to make them blossom and deliver you the best ROI. You will be able to track leads, visitors and even generate leads all within a simple and nice UI.
Genius Small Business Solutions:
Deliver more leads by engaging buyers with personalized and 1:1 emails
Track complete website visits using SalesGenius® with no IT required
Capture more leads with easy to create lead forms
Improve marketing efficiency by automating response
Maximize ROI by tracking all marketing activities, including social media and online marketing
Genius Pro Marketing Solutions:
Outstanding email delivery, instant-on full website tracking, and real-time Sales alerts
Superior tracking of inbound & outbound marketing efforts
Robust, automated Lead Nurturing & Lead Scoring with exceptional sales integration
As you can see, a lot of features that reasonable price.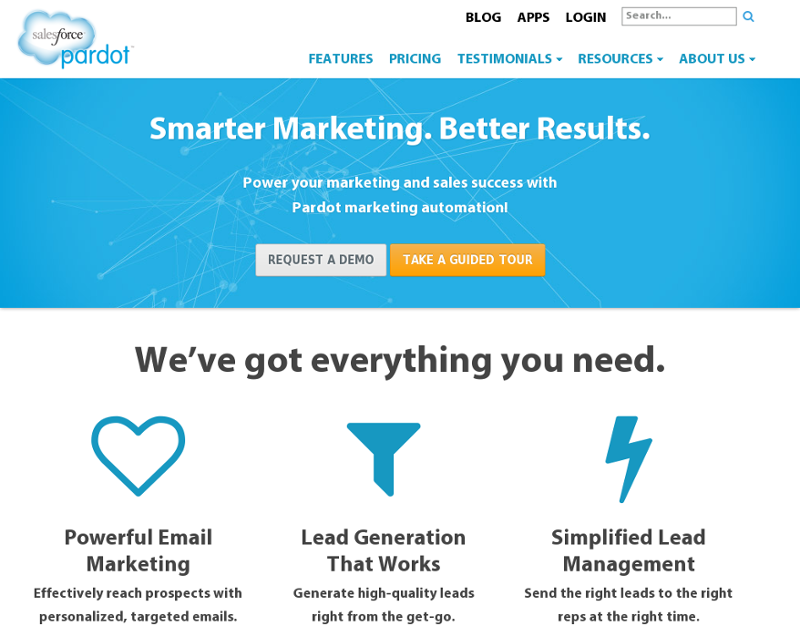 The last company on our list is SalesForce powered Pardot. A B2B marketing automation tool that will help you increase your sales almost instantly. Pardot offers a variety of tools. Lead nurturing, lead generation, social post, and email marketing just to name a few. The user interface is beginner friendly and isn't hard to use at all.
Pardot Solutions:
X-Ray Vision for Sales
Simplified Lead Management
Social Selling
Lead Generation That Works
Powerful Email Marketing
The FYI on ROI
You will be more than pleased to know about real-time sales reports and analysis, something that not every marketing company out there is capable of offering.