I have written before, about the importance of having a blog for a business or a brand. I mentioned the fact that content creation can take up some time, and it might be necessary to hire a content writer, a person to manage the blog for you. Content marketing is exploding and becoming increasingly popular.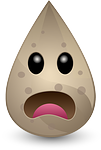 Finding good writers can be a daunting task. The majority of low quality webmasters and even brand owners to some extent, rely on freelance writers who offer a lot of content for very low prices. Though, you don't have to be a genius (or do you?) to realize that low prices means even lower quality. I also wouldn't recommend services like iWriter, while it's an alright place to hire people for writing services, it's very overpopulated and there are much better alternatives out there.
As a business owner, you need content that can represent you and what you believe in. It used to be much more different, people didn't believe in content writers and it was common to hear people getting shamed because someone else would write for them. These days, those very same people are turning to content writing, as it is becoming increasingly more profitable and professional.
Top 5 Places to Find Professinal Content Writers
I am in no way affiliated with any of the following services, I am only recommending them based on my own experience and that of the internet as a whole. There isn't one that is special or one that is worse than the other. Each have their own unique way of appealing to certain types of people and businesses.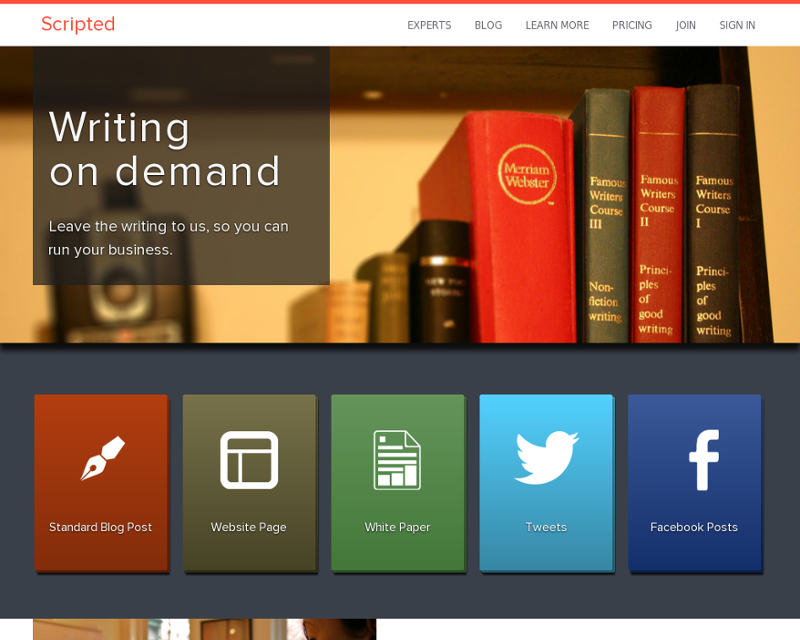 Scripted is a very extensive content writing service. It has got over a thousands experts available at their disposal to work on your projects. It sounds quite unprofessional when you hear it out loud, but the service is actually very nice and has the biggest variety of options available that I have seen.
Scripted Content Types:
Standard Blog Post
Long Blog Post
Website Page
White Paper
Tweets
Facebook Posts
Press Release
Email Newsletter
Video Script
As we can see, pretty much everything we need for a developed content marketing strategy. I was just thinking as I was writing, if you happened to have a couple of thousand laying around, you could very well reside with Scripted and just blast out quality content while eventually becoming a known figure in the market. Where is the fun in that?
Ideas, strategies, everything will be taken care of if you have the money. Scripted is indeed a great service and it offers everything a business would ever need to product quality content. See more information and questions answered on the official Learn page, and also take a look at the writing examples from experts in the mean time.
Among known customers you will find HubSpot, LinkedIn and Adobe.
Contently
Contently is all you will ever need and more, for getting the best content from the best writers. It's an incredibly lovely service that you can instantly feel is all about storytelling and delivering professional service.
Contently Believes In:
Professionalism
Ethical Work Standards
Fair Journalism
Friendliness
A very unusual list indeed, but you should check out their manifesto and about page before you make any further decisions. Their strategist page will gladly show you example work from writers who already enjoy the benefits of being a writer on Contently.
Known clients include TIDE & American Express.
Skyword is dedicated to simplifying the way online content is being written and shared. It's mission is to help brands, agencies, and media outlets to generate content that would raise no questions about the quality, and instead make people want to pass the content to others. It's my own wording so don't take it for granted.
The Skyword Platform:
Comprehensive Content Creation Platform
SEO Copywriting Built-In
Actionable Intelligence
You will find that Skyword is indeed great for businesses who need professional content that offers keyword search and optimization, integrated SEO writing style (which doesn't ring any alarms and actually feels like natural content). You can easily create and manage assignments, while also having the ability to review them and make your final decision only when you are pleased with the result. For more information head over to Platform and Solutions pages accordingly.
Clients include AutoTrader and MarketWatch.
Zerys is specifically designed for marketers and agencies. Zerys offers the planning and construction of effective content strategies, content production through their own platform and professional writing services from hundreds of experts. You can easily build teams of trusted and professional writers that will love to work with you. You won't need to worry about content being written by tens of different people, as sometimes that causes confusion and can be easily spotted where the content is being promoted.
The Zerys very own SmartPost application will help you create and manage all your content needs. In case you still need convincing, you can always apply for a demo and see the quality for yourself.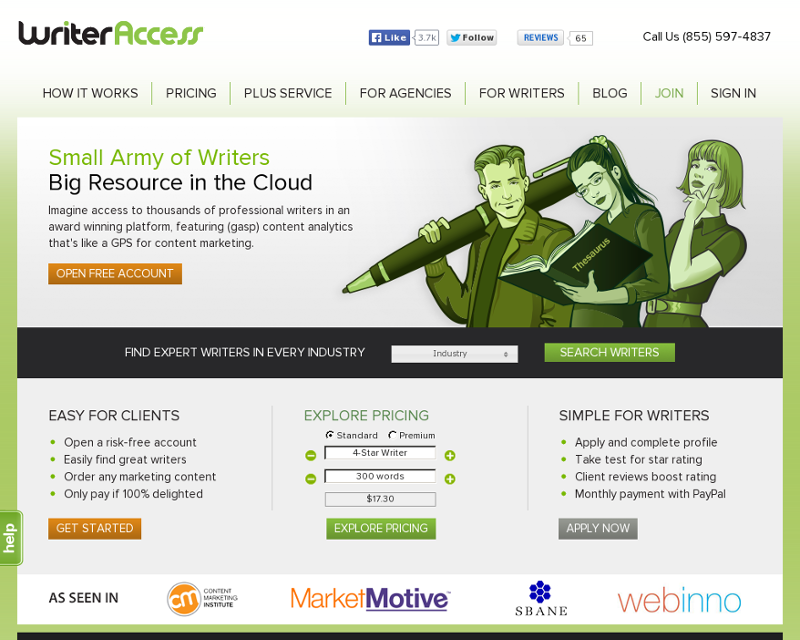 There is plenty of speculation circulating the wide web that WriterAccess is lower quality than the company is trying to advertise for. To clear the air for you, they are, only claims. The thing I love the most about WriterAccess is not the professionalism and quality of the content, but the fact that everyone is open and receiving.
Need a premium article that is 2,000 words long? Well, it's gonna cost you $400 a piece. And that is it. You don't like it you choose a cheaper plan, but you can sure as hell expect the quality that such an amount of money will buy you. I would first ask around your friends circle and see if someone knows any decent writers there that would do a great job.
WriterAccess pays its writers well, and that is why they return to write more quality content.
Head over to the "how it works" section to find out all the tiny details you might need before signing up and getting an article written.
You can review samples from writers on the official blog.
It is a content writing agency that offers high-quality content at affordable rates. The service is fully managed including a dedicated account manager, editorial support, and work delivery through a neat, super-organized dashboard. They offer services under 4 tiers and also offer unlimited revisions for a fixed period.
Godot Media Content Types:
Articles

Blog Posts

Web pages / Other Copy

eBooks

Whitepapers

Social Media Content
The two things I like most about their service are friendly and professional customer service staff (read your account manager), and flexibility in crafting tailor-made content packages (including some great discounts).
In case you still need convincing, you can check out samples by their writers. It's a good place to understand what you are likely to get.
For more information, click through their services page.
Known clients include ING, Sotheby's, Slidely. 
Premium Writing Services
That is all for our list of places to go when you need professional content written by experts. Opinions differ and such services are no exception. Everyone has their own taste and view on how content should look and feel like. I would personally go for Scripted and WriterAccess. To me, as a blogger, they seem the most appealing, while for agencies and bigger brands it might be something completely else.
I welcome any more additions to this list.