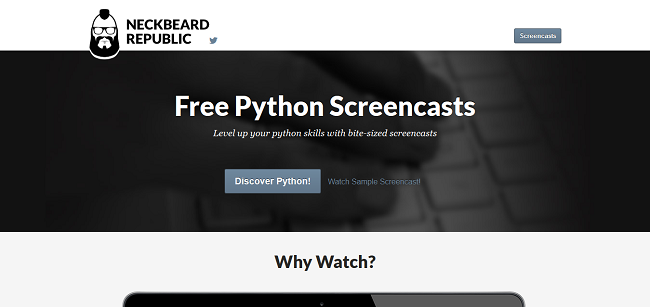 [box type='info'] Neckbeard Republic is a screencasting site which focuses on the Python programming language and related software development tools. The term Neckbeard comes from know it all hackers with large beards (generally with poor hygiene) and even larger opinions. This term albeit male focused does not mean that females cannot possess equal if not greater knowledge. This term is mainly used as a theme and does not mean to exclude any race, gender, or creed.
[/box]
This used to be a paid service, but unfortunately for the owner of the site, he had to change from a premium model to a free one, due to difficulties in maintaining the website healthy and content rich. It's definitely sad to hear these stories, but there is nothing we can do – other than support the project, and now use the material that's given to us for free.
I had no idea this site existed, and only a few months ago I started getting into Python, getting the basic syntax down. It appears that Neckbeard Republic is offering some really good stuff, that's suitable for both beginners and intermediate users. I was browsing the catalog, and I realized that there is quite a bit of Django screenscasts in the list – definitely worth checking out.
They're on average 10 to 20 minutes long, and contain a ton of useful information, source code for each of the screencasts, and also the discussion of the newest platforms, tools and development IDE's available to the public. I recommend checking out my post on free Django hosting, and after you're confident – the one where I discuss Django development jobs!