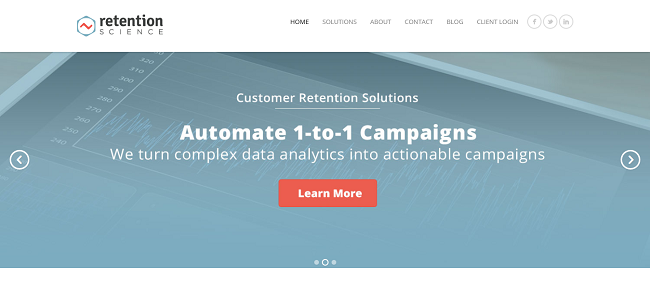 Retention Science is actually not an entirely new startup, and they've been operating for quite some time now, under the radar it seems.
Retention Science leverages big data algorithms to help e-commerce companies retain and re-engage customers to maximize customer lifetime value. Our SaaS profiling engine uses machine learning techniques to predict customer behaviors based on massive data sets to automatically create individually-tailored retention campaigns.

They've got a little bit more of the above information available their solutions page. This is a startup that's looking to work with professional, and serious clients to help you build a brand that can sustain the value of a customer over a long period. They've been backed by tons of professionals, and experienced angel investors, giving them the momentum they deserve.
The official blog is full of marketing tips, and research done by their team of marketers and experts. I'm excited I've found this startup, and I know it might come in handy one day. I'm going to ping this to the official Twitter account of Retention Science, and perhaps we can get a response going for some future plans? I'm always excited to learn about new technology and ways of doing things! :)