The present marketing landscape reflects the predictions made in fiction films from 80's. We've machine learning predictive technology, and computers which can perform complicated actions at a voice command only.
To simply put, we are residing in a new era of internet capabilities, where every discovery results in more continuous possibilities than the previous ones.
The impact this actually is having on this marketing world is great as the brands now look to keep pace with their clients, adopters of these technologies.
In this 15-second video and 140 character era, it is clear that people's attention spans are reducing and with it are the opportunity windows for brands to link with them. It's no longer about just "sell sell sell," however; "engage engage engage".
Therefore, what is the future of social media and SEO and how can the marketers use these tools effectively in order to engage audience continuously?

Social Media
We will now see a new era of social media which goes beyond the customer dominated landscape that it is at present. It'll become a business battlefield, particularly centered on engagement and metrics.
Metrics like likes, followers, unique views, retweets, total story completion or even screenshot, but most significantly click-through rate and the action taken after that actually are what the marketers will be having a look at in more details.
The aim of each marketer is to get a dependable social ROI to be capable to link social efforts with the real world results.
Along with metrics comes customer engagement. The brands have moved on from attempting to make their contents go viral to emphasize on creating contents that reverberates with their audience, especially video, and we'll see many developments in this room
By creating content that is interesting and valuable to audience, you increase their probability to be shared. It may seem a simple task, but it is not. The only method to get it correct is by continually learning and understanding what your audiences expect from your own brand as well as your business.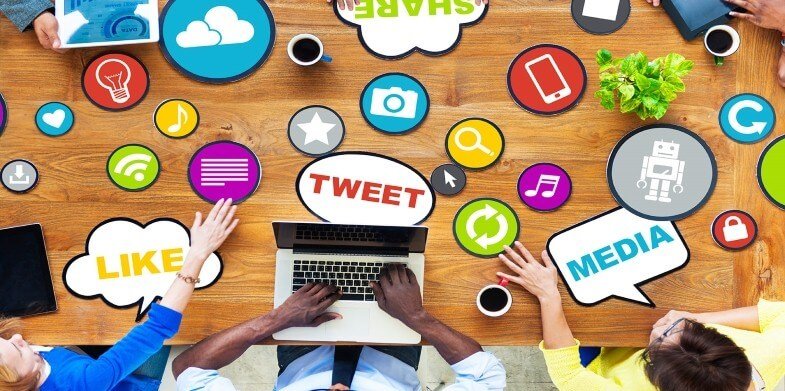 The content strategy will be your marketing strategy for social media. We'll notice social media networks make the interaction with clients more personally and instantly. Instead of emails, audiences will just "inbox" their favorite brand and connect in a two ways conversation, which is beginning to occur with platforms like Snapchat.
Data, data, data. Now, more users can mean more opportunities only for businesses to dig out relevant data about their customers faster.
On one end, the large businesses have a greater chance to connect with clients, while governments and nonprofit organizations can also advantage, predicting disease outbreaks depending on content that's posted by people on the ground. All in all, the opportunities are never-ending.
The world we reside in is super dynamic, new marketing opportunities and channels present themselves constantly. The best approach is to research, test and examine always in order to persist to grow along with your audiences.
Social media is rapidly changing. We are moving from the world of just tweeting about your cat, periscoping regarding our lives, to assuming that information to produce tailored and more impactful messages. This gesture will transform the ways we think about social, and will impact the whole world for better. Fast forward to future, we will see a worldwide social media usage to continue on its upper trajectory only.
SEO
Given the great advances in technologies, it is difficult to see more than some years in the future with great predictability. But, it is possible that SEO will maintain to grow in its popularity, in some form or the other.
As per a recent study, companies are ready to spend about $65bn in 2016 on SEO. What is more, that same study found that the SEO industry also will continue to rise to an expected in 2018 by $72bn and in 2020 by $79bn.


It's not difficult to notice why. There's more of everything out there. There is more looking as older generations, reluctant to technology, are also making way for the younger generations, who utilize it on a regular basis.
The brands have now moved from attempting to make their contents go viral to center on creating content which resonates with their audiences.
There are more and more users as internet becomes more available and affordable to diverse demographics. There also are more outlets for the search visibility. When conventional advertising methods lastly cease to exist in total, businesses will possess no option but to go with inbound advertising campaigns in the digital world.
Though it will not all be simple sailing, we will see competition raise as more and more individuals get involved, which likely is to put up the costs.
SEO will get used to with the time and so will the people utilizing it. In short-term, there's much out there in order to help the businesses keep updated and include a best SEO strategy – you should do it on a regular basis to support your users.


Looking ahead, technologies like self-driving cars also will offer users with more time to do searches at the times when they earlier couldn't. Such changes will definitely make it probable for almost anybody to look for anything and at any time.
The digital assistants will overpass the gap between offline and online searches and as more brands get into grips with the big data, we now can anticipate seeing the search engines particular to individual platforms such as the app store.
As much as the SEO change or does not change, when you learn and get used to, SEO has a great future ahead. Challenge yourself!
Find better procedures and learn about more pieces of this puzzle, and it is guaranteed that you will have a greater knowledge and be capable to find the fast wins as well as better explain to customers what is going on with any campaign. Keep succeeding, and if you discover something remarkable, share it with us.